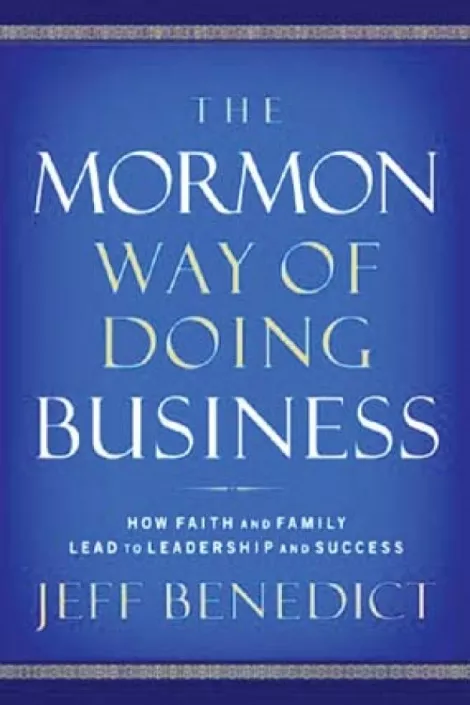 The problem with Jeff Benedict's
The Mormon Way of Doing Business
becomes apparent in the first four words of the book when he writes, "I am a Mormon." Not that there's anything wrong with that—except when you're purporting to explain why eight members of The Church of Jesus Christ of Latter-day Saints have become highly successful businessmen, and you let your desire to proselyte outweigh your duty to analyze. Having a non-LDS publisher assign someone to look at the link between Mormonism and business prowess sounds promising, but Brother Benedict has produced a work filled with enough self-righteousness and faith promotion to have rolled off the presses of Deseret Book.
If the reader is able to get past the relentless preaching of The Mormon Way—first published last year and recently re-issued in paperback—Benedict occasionally makes some interesting points. One reason LDS men (and it's definitely men only, with an entire chapter extolling the happy and fulfilled lives of the stay-at-home wives of these executives) are successful in the cutthroat business world is that their religious background provides them with a variety of reasons not to get too full of themselves. They learn humility at a young age while volunteering as missionaries in Third World countries. They are reminded that all that money they earn isn't really theirs every time they write a tithing check. They feel the need to prove themselves to non-Mormons—although Benedict oversells this point when he writes, "Their religious experience actually gives them an unusual mental edge."
For a bunch of guys doing very well in the Mammon department, these Mormon execs are also remarkably willing to serve God, often working in unpaid church positions that eat up dozens of hours per week on top of an already-busy work schedule. Benedict explains how this actually helps them in their careers. As young businessmen, they spend a number of hours each week in church positions that not only give them first-hand experience in honing their leadership skills, but also allow them to spend time learning directly from the bishops and stake presidents they serve with who are already successful business leaders themselves.
However, when addressing the subject of husbands and fathers working 40 hours per week for their church on top of the 80 or more they are putting in at the office, Benedict doesn't delve much into how they find time for their families other than platitudes about "quality time" and being there when it really counts. That seems insufficient considering these guys belong to a church running television ads asking, "Family: Isn't it about time?"
Benedict is similarly soft when it comes to the reputations and careers of the businessmen. Other than a story about Real Salt Lake owner Dave Checketts lying to a New York Times reporter (Benedict forgives Checketts because he came clean and apologized—after the lie was exposed), Benedict generally has nothing but nice things to say about the integrity and talents of these eight men. That's easy to do, because he apparently didn't bother to interview many people beyond the executives and their spouses. Wouldn't it have been interesting to hear what Salt Lake County Mayor Peter Corroon has to say about Checketts regarding the Real Salt Lake Stadium deal? Two of the eight executives profiled were removed from their positions after Benedict completed the book, so the picture surely wasn't as rosy as he painted it. However, it should be noted, the standard for books in the motivation/business leadership category is often to provide nothing more than inspirational stories strung together with a few catch-phrases. Benedict can assert the defense that he's simply writing to the genre.
Still, in claiming to write about the secrets to Mormon success in business, Benedict might have done more to explore why material success seems so important to so many in the faith. Why does worldly wealth seem to be equated with spiritual righteousness in Mormon culture? Why is "Mormon porn" a rich guy who is never around for his stay-at-home wife and large number of kids?
Benedict also never addresses "the Mormon way of doing business" beyond these eight stars. A Utahn seeing this book's title might assume it's about multilevel marketing, or a business environment where LDS leaders recently felt compelled to send a letter to congregations warning them to be aware of fraudulent investment schemes being pitched to them, presumably by other Mormons. Why do the profiled executives who have ties to Utah choose to live elsewhere, and even show disdain for the Beehive State in some of their comments?
There are many interesting questions to look at when investigating the intersection between LDS spirituality and temporal success, while also reporting how some members of the Church have negotiated the balance between both. But someone as devoted to being devout as Benedict isn't the best person to raise or answer those questions.
THE MORMON WAY OF DOING BUSINESS Jeff Benedict, Warner Business Books New York 2007. $15.99 paperback, 234 pages