Utah is home to publishers catering to readers from the state's dominant religion, regularly putting out titles such as
Ready Resources for Relief Society
or
Scripture Chase Sudoku
. While such works may not appeal to the un-Sainted or the merely inactive, there are occasions when LDS-centric publishers produce works that draw a broader audience—even those who would never dare darken the doorway of a ward house.
Reaching outside of Zion to a general readership requires finding talented writers able to find universal themes in unique experiences that happen only in Utah. Such qualities are on display in two recent releases by publishing houses that generally focus on Mormon themes.
Douglas Thayer's memoir Hooligan: A Mormon Boyhood is an unusual find in an age when it seems that a successful memoirist must have a large reservoir of addiction and abuse to draw from (we are now just starting to be subjected to the next generation in the genre: the "meth" memoir). Thayer, an English professor at Brigham Young University, is a skilled narrator who is able to hold the reader's interest with nothing more than tales of growing up in Utah County during the Great Depression. He recalls his experiences in a bittersweet, matter-of-fact voice that avoids sentimentality while finding humor and truth in any situation—not unlike that of Garrison Keillor, another small-town storyteller from that generation. Even at an event as somber as the funeral of another boy about his age, when told that the boy was needed as a messenger in heaven, Thayer, the boy, can't help noting, "I knew Owen wasn't any prompter than any of the rest of us, so I had my doubts about that being a good reason why he had to get shot."
The recollections illustrate just how much the entire concept of childhood has changed over the years. Gone are the days when kids roamed outdoors for hours on end, on their own, with no meddlesome adults around to supervise, organize and—perhaps worst of all—place adult expectations upon them. "No one seemed ambitious for us," Thayer writes. "We were not often urged to compete, to rise in the world, because there wasn't much for a boy to rise to." Many of those boys would end up being happy that World War II broke out because it gave them a chance to get out into the wider world.
While Thayer grew up in a place and time with "Mormonism seeping into our blood and bones" without our even knowing it, any discussion of LDS doctrine in the book is delivered in the way an 11-year-old boy would see things. For example, getting cast into "outer darkness," the worst punishment in all of Mormondom, isn't bad because you would spend eternity away from God's presence but rather because, in that realm, you don't have a body, which means you "couldn't go fishing or swimming or eat ice cream or Baby Ruth bars or chug Royal Crown Cola, things we hoped we could continue to do in heaven."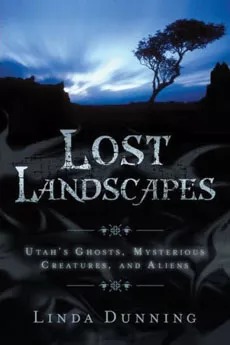 Come to think of it, a place without those things does sound like a real hell—the type of place that might spawn some of the supernatural creatures Linda Dunning searches out in Lost Landscapes: Utah's Ghosts, Mysterious Creatures, and Aliens. From unwanted night-time passengers on Route 666 at the southern end of the state to the Bear Lake Monster up north, from the mystical powers of the Four Corners landscape to Bigfoot sightings in Weber County, Dunning approaches her subjects with just the right mix of professional investigation (science, archeology, geology, history, metaphysical, etc.), humor and personal observation.

Dunning not only delivers the relevant information but also reminds us why we can't seem to get these stories out of the collective unconscious of our hyper-rational 21st-century mind. "If we stop imagining those things both real and unreal, then we stop being human altogether," she writes.

For example, why have the many oddities reported at the Great Salt Lake never actually surfaced? Dunning's response is, "There are probably a lot of apparitions on the Great Salt Lake that people will never encounter due to lack of travel on the lake. The paranormal is unexplored territory there."

From Dunning's observation that, "It is in the balance of things that we can feel and see both the terrors and the great mysteries while being humbled before them," to Thayer's boyhood reasoning that "bishops were entitled to revelation and were thus to be feared" because they might figure out what a hooligan was really up to, both publications offer universal truths applicable to a wide variety of faiths—even if the publishers generally only target one of them.

HOOLIGAN: A MORMON BOYHOOD By Douglas Thayer. Zarahemla Books, 2007, 186 pages, $14.95, paperback

LOST LANDSCAPES: UTAH'S GHOSTS, MYSTERIOUS CREATURES, AND ALIENS By Linda Dunning. Cedar Fort, 2007, 271 pages, $16.99, paperback