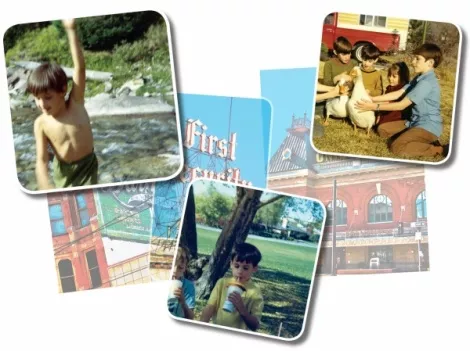 Thirty years ago, I spent my last summer living in Salt Lake City. Trying to pay rent as a high school dropout with a car payment was hard, but trying to come to terms with my queer sexuality in a hostile culture was beyond my capacity to master; the summer of my coming out in Salt Lake City was a lonely and scary time.
Even so, compared to my childhood, it was a liberating summer. Around 1970, when I was 6, I became self-aware, conscious of myself as an individual and conscious of being a little boy, just a little boy. But I also became aware that others did not think it was OK to be this particular little boy. I first remember being teased around the time I began insisting on wearing white leather shoes everyday—white bucks with silver-tone buckles. Apparently, that said something about me I didn't even know myself: sissy. But I somehow knew then that I couldn't care what other people thought of me, and even though their disdain and ugly words were hurtful, I wasn't willing to change my shoes to stop them.
Once a sissy, I soon became "fem." I don't know that I was particularly effeminate, and I definitely preferred playing with cars and trucks to dolls. I didn't wish to be a girl, but I didn't fit in with boys, and almost immediately, my fate as Kaysville's sissy boy was cast. Taunts would follow me the rest of my school years.
With junior high came isolation. I was excluded from the boys' world, and the girls' world offered me nothing to relate to. The irony of my junior high experience is that I was an athletic kid and good with my hands. But gym class and sports, mechanics and wood shop—all were basically denied me before I ever got a chance to engage with them. I had been marked: not boy enough. "Fem" became "fag" and "faggot." My church, that church, actively taught that I was the epitome of the devil's work, so all the social norms and mores in our Mormon world condoned and reinforced those words being used to punish me. I remember hoping, even praying to the Mormon God, that I would not wake up in the morning. Junior high was everything terrible and nothing good for a boy like me.
I eventually gave up hope that God cared about me at all, and church became just another dangerous place to run from, so I made my escape. Mormonism had forsaken me, so I forsook Mormonism. I was Mormon no more.
In 1978, my family moved to Salt Lake City, and I started high school at Brighton High. It seemed everyone knew my place, and with resigned acquiescence, I stepped into my role. Fag. Homo. Pussy. These were the epithets I wore like the polyester graphic-print disco shirts and skin-tight Angels Flight slacks I wore to school. But still, I held fast to my personality and my individualism, chained as it was to the identity foisted upon me.
Within a year, my family moved back to Davis County, where I would enroll at Woods Cross High, though I lived in the Bountiful district. I had learned the technique of evasion by confusion: If I live in your neighborhood but don't go to your school, do you have the right to beat me up? What if I'm at your school—you don't know where I live! This did little to stem the violent words, but even that "little" was something.
I had the genuinely bright idea to make at least some of the verbal assaults cease by facing them. I don't know where the courage came from, but one day, one of my most menacing nemeses yelled across a hallway, "Hey faggot, fuck you!" I had had it. "Fine. Yes! When? Let's do it, you motherfucker! Fuck me!" I shouted. Stunned, he drew back. The most I ever got from him after that was a flip off and the satisfaction of seeing his friends poke him and laugh whenever they saw me.
When I was 17, I knew that it was true: I was a boy who "liked" other boys. My first clue was that nothing about girls intrigued me. I couldn't stand women's perfume, or the way make-up looks, or women's sticky hair. I began to notice other boys, and then men, as not just annoyances but as objects of desire. It was incredibly confusing and distressing because men and boys were my most vocal haters. Distress and confusion quickly gave way to relief and comfort as I gained an understanding of who I was. We fear what we don't know, and I no longer had anything to fear. I had finally accepted my queerness.
The problem is, or was, back then: What do you do when you know that few others—save fellow outcasts—accept your sexual orientation? When the community that you live in, where your family and friends live, consider your sexual orientation sinful? I thought it meant I had to run. And to hide.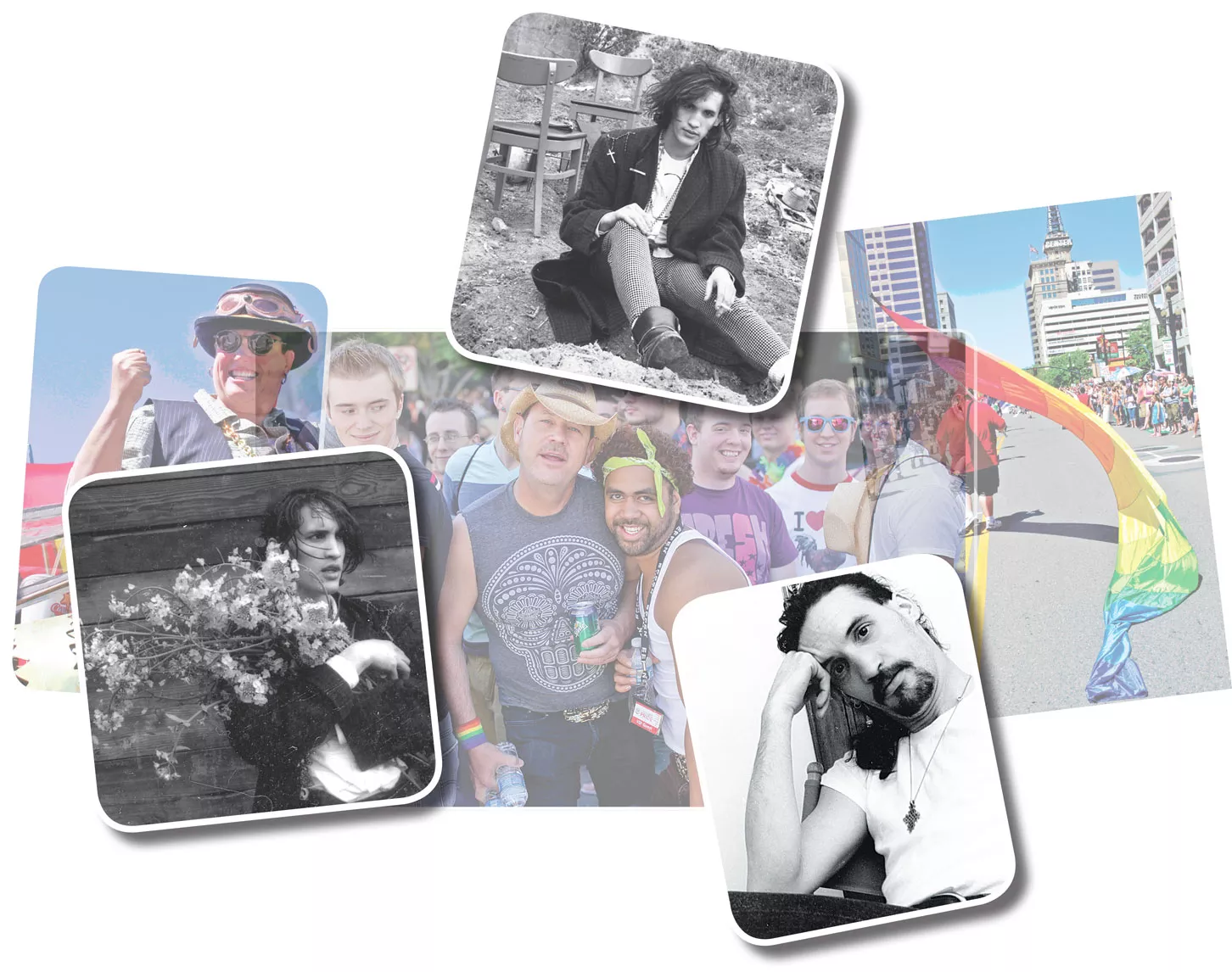 Cruising
What I knew of gays at the time, besides having only awful choices for what to call them, was that I was the only one I knew. Word on the street was that gays cruised each other in Liberty Park and the Crossroads Mall in Salt Lake City. Neither option sounded great, but either option would have to do because I had to find a kindred spirit … and sex. I went to both places and didn't notice men looking for each other. Then I went back to Liberty Park at night, and it seems there was a dark side, literally. The warm glow of a cigarette was visible in almost every parked car; in the dark, they became visible. I had an aha moment. Suddenly, I realized all the gay guys I had actually seen, but not noticed, were smoking cigarettes in the mall. Cigarettes were disgusting, and the young, clean-cut smokers I had seen at the mall made an incongruous picture, until now. I guess this was my first inkling of gaydar: A young, well-groomed guy was just another Mormon, and a guy with a cigarette was just another loser. But a well-groomed guy with a cigarette meant only one thing: gay! It was the sign I had been looking for. So be it; if cigarettes were what I needed, cigarettes it would be. I chose Benson & Hedges Lights to give that sense of sophistication only a cigarette can.
I had my cigarettes, my American-made hatchback and my nerve; I was going in. It went something like this: We met, driver's door to driver's door. I followed him to West Valley City. We had some contact I either care not to remember or was simply not memorable. I drove home. He was 42. I was 17. I moved into his house within a few weeks. He hit me. I moved out. That's the practicality of coming out in a homophobic theocracy.
I was 17 and had already run away from high school and my home in Davis County and then from a man who beat me. Eventually, I made some gay friends my own age and moved into a condominium with some of them. We would hang out in the park during the day and sometimes at night in the parking lot of the now-long-gone gay bar The Sun, when it was across the street from the Union Pacific building. In 1981, that was about all there was in the way of social venues for queer youth in Salt Lake City. We didn't have the Internet for cruising or finding friends, and there weren't any queer-youth-oriented services where we could get practical or emotional support. The gay youth of Utah in my day were literally on their own, often kicked out of their family homes or, like me, runaways. Life in Salt Lake City offered me little more than bad memories and disappointing experiences.
My family was a mix of tolerant, confused and ignorant of my coming out—some knew and some didn't. Some cared and some didn't. Whatever they thought didn't matter because I couldn't care what anybody thought of who I was. There was nothing to be done, except to find myself—and to do that somewhere other than in Salt Lake City.


Finding Freakdom
With nothing to hold me, I ran from this place. I packed my car and drove to Seattle, the city that saved my life when there seemed no hope for a wretch like me. I would have more difficulties in Seattle, living closer to the streets than I ever had in Utah. But at least in Seattle, I was free to express myself, my art and my sexuality; Seattle is where I really grew up.
I found a counterculture where I was free to be anything I wanted. For the first time in my life, I felt the unconditional love of community. My new friends and I rebelled against everything—even the gay stereotypes we were saddled with; we embraced freakdom. I began wearing skirts and smudgy eyeliner every day. Not as drag or in any way to look like a girl—quite the opposite. I wanted to look like a boy wearing a skirt (and not a kilt). I wore Catholic-schoolgirl skirts and deconstructed umbrellas with combat boots and torn-up T-shirts. I became an unabashed, but appropriately modest, exhibitionist. We weren't the only young people rebelling against fashion and social norms, but we certainly were the most visible in Seattle. If only I had discovered the power of freakdom when I was younger because it proved a very effective technique for warding off creeps and bullies.
Our group of uberalternative, mostly young, gay men, became a scene on First Avenue. I was still a teenager but was getting whisked into the trendy clubs by the doormen. At my favorite bar, I would get shuffled into a broom closet in the women's restroom when the ID-check patrol would come through, holding my breath until the coast was clear for me to resume tearing up the dance floor. It was the only time in my life when I was free of care, responsibility and guilt. And it was glorious. After about five years in Seattle, and what seems like a whole lifetime lived, I found my way to California, where for more than 25 years, I have been living a very quiet life in Oakland.

Coming Home
This summer, I came back to Salt Lake City for a three-week visit to help Dad and Mom around their Marmalade house they're selling before they move to Big Sky Country. While here, I also planned to have a reunion with two girlfriends from high school and even reconnect with two girls from the deepest past of first grade—one who told me I was her first kiss!
It turns out running away has been my modus operandi for some time. She and I ran away from Burton Elementary in Kaysville during recess in the first grade—found later that day by our teacher searching for us in her car. We were too young to know what we were running away from, but I am sure it was the earliest beginnings of the hostility, disapproval and even hatred that I would live with for the rest of my time in Utah.
Crossing Nevada by pickup truck gave me time to ponder my youth here. Approaching Utah from the Western desert, my melancholy memories were overtaken by the natural beauty of this place. Thirty years ago, I didn't see it, as some of you who live here do not, but someday, if you leave for any length of time, you will. The craggy alpine heights of the Wasatch Front, holding a lacing of snow well into summer, are a vision. The wide, tree-lined streets of Salt Lake City proper are, as ever, simultaneously easy and confusing to navigate but are always comfortable for a U-turn in a pickup truck.
That is where the similarities of the Salt Lake City I recall from 30 years ago end. Now more cosmopolitan, the city's few new, nearly sky-scraping buildings make it much more of a "city" nestled between mountains and a saline lake and less of a "town." Downtown, I found Sur La Table and an Apple store and lots of galleries, sushi bars and neighborhood coffeehouses. The only thing this queer man can imagine that Salt Lake City still requires to be a hub of consumerism is Tiffany & Co.
Salt Lake City is walkable—a trait I consider necessary for urban exploration. To be sure, the blocks are long and not particularly dense with attractions. But, from my dad's house on Wall Street, I can walk downtown for tacos and tequila shots (without having to join a club!) or just to stroll amid the historic architecture of Temple Square that, for better or worse, is the city's heritage and legacy. I explored the Capitol complex and Memory Grove, two remade spaces that are stunning achievements of historical restoration and preservation. I was delighted by the beautiful home gardens and community-based urban farming I found as I walked the shady neighborhoods of Capitol Hill, the Avenues and all around town.
But I didn't have to walk. More than a decade ago, I started seeing light-rail lines here and was impressed then that Salt Lake City was far ahead of my own larger city in building a sustainable transportation system. That UTA TRAX is lauded as one of the top urban transportation systems in the nation is doubly impressive when you consider that during my youth in Utah, UTA did not even run on Sundays.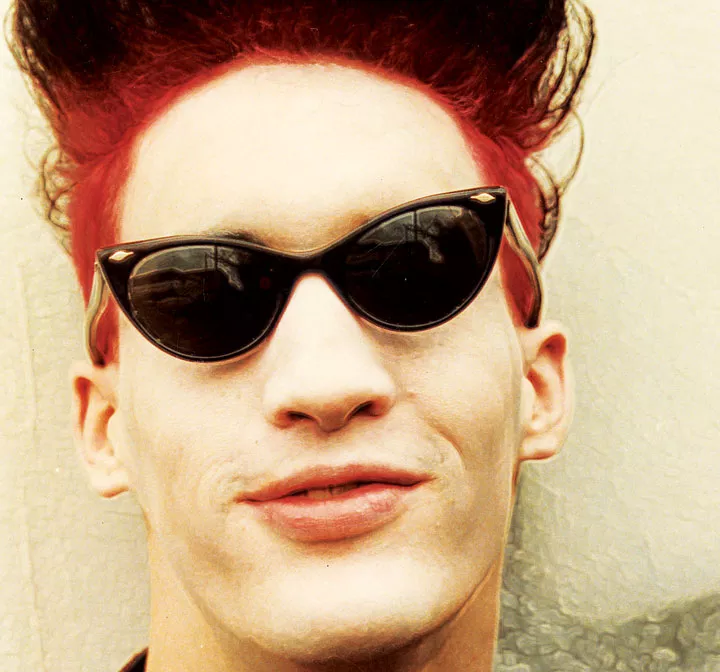 Utah Pride
My second weekend here this summer happened to fall on Pride weekend. When I heard about it from Dad's lesbian neighbor, I thought it sweet that Salt Lake City had a Pride celebration. When she told me it was quite a big deal, I thought that, of course, it would be to her—a lesbian living in Salt Lake City. To me, it would certainly seem sad and only remind me why I left 30 years ago. I demurred to her offer to attend the Pride festivities.
But then, on Sunday afternoon after the parade ended, I decided to walk down to the City & County Building to see what Utah considered prideful about being gay. Given that I had been so surprised already by the changes I had noticed around town, perhaps I should have expected more from this event than I did. But I just could not believe that Utah, or Salt Lake City, could offer a place for queers to be proud and joyful in their sexuality.
I was humbled. As I strolled the festival grounds admiring the art and marveling at the mainstream corporations on hand, as well as the plethora of nonprofit agencies at work in the community, I was stopped in my tracks … literally. At one point, I just stopped walking and had to put my hands to my face as tears started rolling down my cheeks. I could not believe this was the place that would not accept me as queer when I was young. A young woman stopped and asked me if I was OK, and I shook my head yes, and then no, and then yes again. I was at once so happy for this place and also so sad that my own youth had been torturous in this place. But the past is just that, and social evolution can offer redemption.
I spent the next couple of hours just watching the people of Utah enjoy the festival and their Pride. Righteousness is witnessing a lesbian couple with their children and young gay men holding hands, rejoicing in their love for each other and life in Salt Lake City.
I was amazed by the number of obviously not-queer people who came out to celebrate the diversity of Utah. I had some idea of the turning tide toward tolerance in Utah as I had noticed, while driving around the valley, how many people proclaimed their support for gay rights as human rights, by tagging their cars with the Human Rights Campaign's blue and yellow equality sticker. In California, this sticker mostly marks the cars of queer people as a symbol of their beseeching for equal rights. But in Salt Lake City, the sticker on so many allies' cars is a proclamation: "I—we—stand for equality!"
Before this summer, I was embarrassed to be from Utah. I hated Kaysville, Fruit Heights, Woods Cross and Salt Lake City for denying me joy in my true nature and for all the scars I carried. I harbored anger toward Mormonism for coming to California and using its money to support Proposition 8 and deny marriage for me and my partner of more than 20 years.
But now, I have reconnected with Tammy and Chris, who were kind to me in grade school. And Erin and Alicia, who did honor my coming of age during high school and with whom I still feel a connection. And I've witnessed the sea change in attitude toward the queer community in Salt Lake City and Utah. I even made some new friends while I was here, gay and straight, who inspire in me hope that the young people coming of age here today can do so freely and wholly, no matter if they're queer, atheist, punk or, yes, even a hipster.
Mainstreaming
In the years since leaving, I've not been an activist for gay rights, unless you consider assimilation into the mainstream a sort of quiet activism. I just lived a typical man's life, unapologetic of my sexuality or my androgynous mannerisms. I painted houses, drove a taxi and a tow truck and rode my motorcycle in typical biker leathers. I eventually went to college, became a university lecturer, symbolically married a man and now just live an American life—with all the privileges and advantages that come with assimilation into mainstream white culture. I have suffered discrimination and bigotry, to be sure, but, by and large, I have benefited from the steady forward advancement of civil rights for all queer people.
I know, of course, that the fight for equality is not over in Utah. Gay parents don't have the right to adopt their partners' children, and queer folk don't have the privilege, as I do in California, to foster the children in their community who need love and nurturing. Gay marriage will be a hard-fought battle here when it comes, and the Mormons will resist gays in the priesthood as staunchly as they did blacks so many decades ago. But I predict that the very traits that make Mormonism a faith tradition that holds families together will bring the whole community together to win these battles. An essential commitment to love and family—the very same that inspired the mom and dad from Bountiful to affix the equality sticker to their minivan in support of their gay sister—will prevail.
Preparing to leave Salt Lake City after this sojourn, I have bittersweet emotions. I am anxious to get home to my family, but I am also longing to stay in this place of unparalleled beauty, to linger with my new friends and my new, optimistic outlook for this city by the Great Salt Lake. With my family dispersed, I imagined this would be my last trip here. But I have found new reasons, in old and new relationships and exciting social change, to return. And for the first time in my whole, long life, I have pride in being a Utahn—a queer Utahn.
Salt Lake City is now a place I would not have to run from, as I did 30 years ago. I am a little sad and disappointed that I could not have stayed here to be one of the change agents that made Pride really mean something here. I think of the amazing man I met, born the same year that I left, who works at the Utah AIDS Foundation to make Utah a better place for all Utahns.
By the time I left Utah as a teen, I thought I was being brave to flee and seek a better life elsewhere. But I see now that the brave were those who stayed and made this place not a place to run from, but a place to be—maybe a place to run to.

Darin Jensen was born in Monticello and is the staff cartographer and cartography lecturer at University of California, Berkeley.