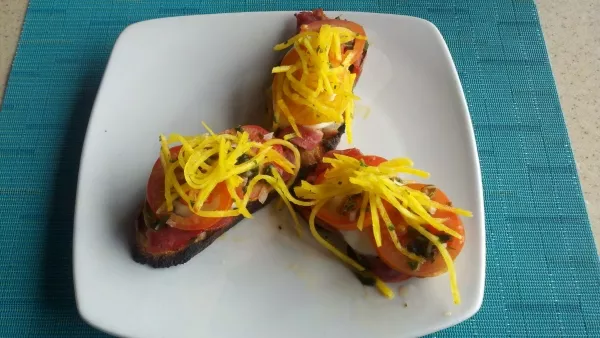 I find it interesting that, over the course of the past decade or so, the term "bistro" has come to signify everything and nothing. In France, where bistros are so prevalent, the word usually indicates a modest eatery serving home-style French fare, most often at very reasonable prices; the wines served are typically local and cheap. In America, however, a bistro can be just about anything. I love Bouchon Bistro in Napa and Las Vegas, for example, but they are certainly not inexpensive, nor are they modest. Increasingly, it seems as if restaurateurs are calling their establishments "bistros" to lend a little panache to what would normally just be called cafes.
I only digress about the etymology of the word "bistro" because Boulevard Bistro doesn't really fit the bill, in my opinion. For starters, it's too nice. Yes, the food is reasonably priced, but the décor and ambiance—which are a strong point—are very polished and contemporary. All of the owners' restaurants—which include Boulevard Bistro, Toscano Italian Bistro and the newly opened Bistro 222—are eye-poppers. But are they bistros? Well, whatever you decide to call Boulevard Bistro in Foothill Village, you are certainly going to want to eat there.
The restaurant's low-key exterior doesn't really prepare you for what's inside, which is a gleaming, inviting dining room with modern art and contemporary furnishings, a long, sleek bar and turquoise placemats on each granite tabletop. Adjacent is a patio for al fresco eating, and there's a second dining room that is well-suited to private functions. It's an impressive interior of the sort you'd more expect to find on Rodeo Drive than on Foothill Boulevard.
Some of the menu items are shared by Boulevard's sister restaurant, Toscano: wood-fired pizzas, bruschetta and pasta dishes, for example. In general, though, I think Boulevard Bistro fits firmly into the "contemporary American" cuisine slot—not surprising, given that Executive Chef Michael Jewell was trained at the California Culinary Academy and has worked in wine country and San Francisco. By the way, his bio says that his favorite dish is duck confit cassoulet. Me too! I sure hope he puts that on Boulevard's winter menu.
A good example of California cuisine is the wilted savoy spinach salad, tossed in a blood-orange vinaigrette and topped with crumbled goat cheese, avocado, bacon bits and pumpkin seeds ($9). I like that at Boulevard, you can upgrade any of the salads (with a surcharge) with a choice of grilled chicken, shrimp, wild sockeye salmon or flat-iron steak. Accessorizing the arugula salad with steak is a good option; it comes with blue cheese, Fuji apple, toasted almonds and honey-sherry vinaigrette.
The crab-cake appetizer ($9) was two generously sized crispy cakes made with blue crab, but came served with cucumber slices, not the heirloom tomatoes mentioned on the menu. Pacific calamari ($9) is really good—lightly battered and fried rings and tentacles served with two sauces (tomato and caper-dill aioli) on the side.
The presentations at Boulevard are un-bistro-like in that they are very artful and beautifully composed. Even the serving plates themselves are unique. The pan-seared red trout ($18) looked like a work of art, sitting on a rectangular plate with curved corners. It was a large fillet, drizzled with brown butter and topped with hazelnuts and capers. Alongside were perfectly cooked green beans and roasted fingerling potatoes, with a snazzy-looking caper-dill aioli garnish on the plate.
Boulevard Bistro has a full range of cocktails, beer and wine, and Louis Latour Ardèche Grand Chardonnay was a good partner for the clam linguine. I don't think I could make this dish at home for the $17 menu price. It was a big plate of al dente linguine tossed with more than two dozen fresh Manila clams—a beautiful thing. A warning, though: Someone in the kitchen is pretty heavy-handed with red chili flakes, and the clam linguine was very spicy. I like it that way, but not everyone can handle that much heat.
Sandwiches at Boulevard are anything but ordinary. I love the wholesome simplicity of the Caprese panini ($8): fresh mozzarella slices with ripe tomato and basil pesto on soft ciabatta. There's also a scrumptious Alaskan crab and avocado sandwich on sourdough bread with chimichurri aioli ($12). And you can't go wrong with grilled mahi mahi fish tacos, served with tomatillo-avocado relish and creamy chipotle-pepper sauce ($10). All sandwiches come with very good skin-on french fries.
The pizzas, too, are terrific, although I'm not too crazy about putting sliced tomatoes on a Margherita ($8). But maybe that's why it's called a "margherita plus" on the menu. I loved the aptly named "Italian meats" pizza ($11) with high-quality pepperoni, prosciutto, capicola and salami. The pizza sauce is spot-on, made from San Marzano tomatoes. Other tempting pizza options include a prosciutto & arugula pizza with ricotta, smoked Gouda and mozzarella; and the brilliant "hangover" pizza ($12): a pie made with mozzarella, smoked Gouda, crisp pancetta pieces and, best of all, an oven-roasted egg in the middle.
Servers are Boulevard Bistro are well-trained, professional and friendly. On one occasion, the prices on our bill for dinner didn't match the actual menu prices—something about a computer glitch. Anyway, our courteous server apologized and quickly remedied the problem.
Whatever you want to call Boulevard—bistro, cafe or restaurant—I do wish there were more eateries like it. The food, service and ambiance are, almost without exception, above par. It's quickly become one of my favorite ... you know ... bistros.
BOULEVARD BISTRO
1414 S. Foothill Blvd.
Foothill Village
801-953-1270

Twitter: @Critic1