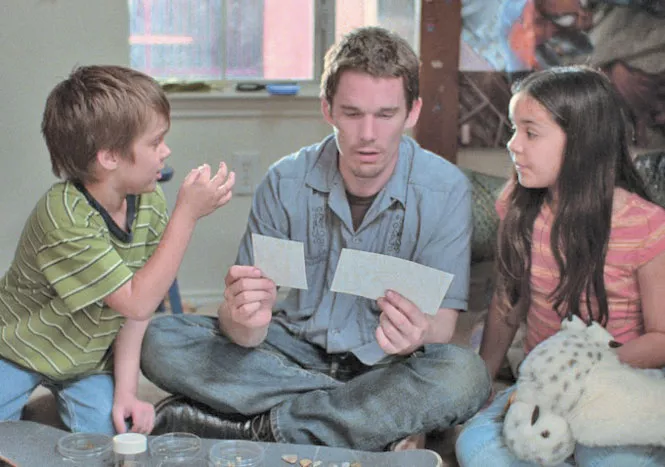 The audacious experiment Richard Linklater undertook with Boyhood—shooting the film in small increments over the course of 12 years, following Mason (Ellar Coltrane), the child of a struggling single mother (Patricia Arquette) and a sometimes flaky, occasionally absentee father (Ethan Hawke), from first grade through his high school graduation—has dominated coverage of the movie. And perhaps it's fair to ask, "How much does this remarkable achievement erase whatever flaws were carried on that journey?"
On first viewing, it was a bit harder to look past those flaws; the melodramatic material involving Mason's alcoholic stepfather felt too overwrought in its hurled dishes and screamed threats. Yet a second look allowed those moments to dissolve into the background of something sweeping and affecting, and not at all the universal child-is-father-to-the-man experience suggested by the title. Instead, Boyhood explores a very specific kind of unmoored youth—one where the time-specific touchstones of pop-culture, politics and technology become the organizing principle for memories of a life full of upheaval.
And yes, it's remarkable watching Coltrane—as well as Linklater's own daughter, Lorelei, as Mason's older sister Samantha—grow up over the course of a single 164-minute film, particularly because there was no way of knowing Coltrane would grow into a teenager with this much on-screen confidence and charisma. It's also hard to imagine a better way to track, for example, a boy's steps in sexual awareness from lingerie catalogues to Internet porn to his own first relationships.
Like so many of Linklater's loose-limbed comedies over the years, when it's on, Boyhood is really on—smart, clear-eyed and laugh-out-loud funny in a way that never feels like someone's stopping to deliver a zinger. Sure, there are a few clumsy plot threads, but Linklater moves past them to deliver an often breathtaking chronicle of the mere messy business of becoming a man.
BOYHOOD