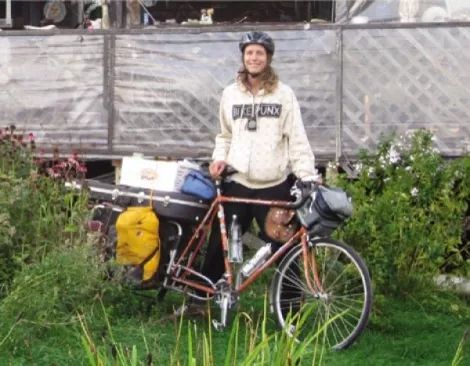 James Miska, the banjo and charango player for local band Bramble (BrambleMusic.com), recently completed a monthlong tour of the East Coast. He did the entire tour, which included stops in Vermont, Massachusetts, New York City and Virginia, on his bike. He and fellow musician Matt Laser pulled all of their equipment, food and baggage in bike trailers.
City Weekly
interviewed Miska through e-mail during the tour.
How has the tour gone?
The tour has gone fantastically well. Matt Laser and I have been biking, on average, between 65 and 70 miles a day, which is kind of extreme, but we've sort of had a schedule to keep. Normally, I'd like to go slower and make only 50 miles or so, a day.
What's your most interesting bike-travel story?
Recently, we crossed the Green Mountains in Vermont. When we got to the top, it was dark and we didn't have the energy to go on, so we gorged ourselves on some highly caloric food and slept deeply at the top of a mountain, hidden by trees on the side of the highway. It was some of the best sleep I've gotten in a long time.
Have you encountered any strange things on the road?
I am actually planning on making an art project out of random, interesting pieces of discarded material I find on the side of the highway, and giving it as a gift to a friend of mine on her 30th birthday. There's a large amount of trash to choose from so I'm getting to be picky. It makes me excited though, to creatively use my mind as I'm riding, seeing bits of trash as individual puzzle pieces to make something beautiful.
Would you say that this brings more attention to your shows?
I think it fascinates people [that we] travel on bicycle because it's unconventional, although it's not particularly hard. Most people are in better shape than they even know, and getting to the tops of hills is more of a challenge of the mind than the body. Also, I'd say the geniality we feel from traveling by bike brings a comfortable vibe to our shows, where we have nothing to prove to anyone, and we're just there for fun. We don't, however, promote ourselves as a bike-touring band on our fliers (at least not yet), so it remains ungimmicky. I'm happy that people want to give us their attention for touring by bike, but what I really love is slapping them in the face with some really good music on top of that and making them forget about the novelty.