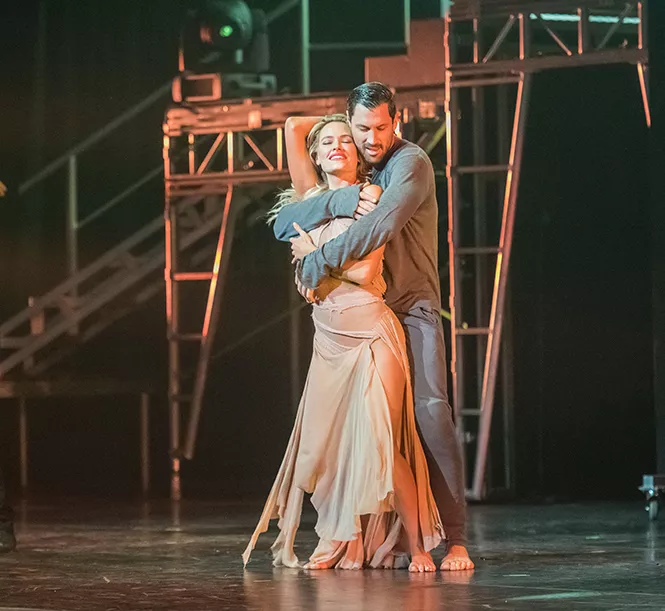 Mike Williams
Peta Murgatroyd and Maks Chmerkovskiy perform in Maks, Val & Peta Live on Tour: Confidential
Partner dancing is one of those dying pastimes. Be honest: Do you know the difference between a waltz and a polka? Yet audiences have been hooked on Dancing with the Stars for 26 seasons and counting, and the popularity and star power surrounding the show's fleet-footed performers has been enough to launch steady professional careers.
Fans of the show are likely familiary with the names Peta Murgatroyd and brothers Maksim and Valentin Chmerkovskiy. After all, each of these three dancers has won the show's top award, the Mirrorball Trophy (Murgatroyd has taken it home twice, a rare accomplishment). For everyone else, the trio's new stage production Maks, Val & Peta Live On Tour: Confidential—which visits Salt Lake City on May 9—might be the first introduction to these dancers. And what an introduction it is.
Some would call what Murgatroyd and the Chmerkovskiys do for a living souped-up ballroom dancing. But there's an actual word for it: DanceSport. On paper, the two sound almost the same. In each, two dancers, arm in arm, swing and turn each other around a floor. In DanceSport, as in traditional ballroom, dancers follow basic formulaic steps: the fox trot, the Viennese waltz, the tango, the cha-cha, the rumba, the jive. But while ballroom dancing is old-school Fred Astaire and Ginger Rogers, DanceSport is fast, flashy, sweaty, sexy fun. It's Vegas Strip ballroom dancing—and some consider it a serious sport.
The World DanceSport Federation doesn't talk about dancers; it talks about athletes. These performers, the federation says in a description on its website, "demonstrate a perfect synthesis between their technique, artistic skills and athleticism. Physical conditioning, hard work, stern discipline, mental training and, above all, imagination are the prerequisites for athletes to achieve excellence."
Watch any of the star dancers' performances online, and you'll see what the federation means. This kind of dance is so athletic that for the past 10 years, the organization has been lobbying the International Olympic Committee to recognize it. Skateboarding and sport climbing made the cut for the 2020 games in Tokyo, but the fast-paced dance form didn't make the grade. Someday, that might change, allowing it to join physical brands of artistry like synchronized swimming, ice dancing and rhythmic gymnastics.
Many top DanceSport performers begin training intensively as children. Murgatroyd started ballet training at age 4; Maksim Chmerkovskiy began dancing when he was 6. When the Chmerkovskiy family emigrated from Ukraine to the United States in 1994, Maks and his father opened a competitive dance studio in New Jersey, and started training World Dance champions. Valentin was one of the studio's best pupils—he won 15 U.S. National Championships and two World Dance Championships.
For the past decade, the brothers have been regulars on DWTS—Maks also has a long list of Broadway and Vegas performances under his belt—and in 2016, the brothers took their first independent family production, Maks & Val Live On Tour: Our Way, across the country. The tour was a roughly autobiographical dance spectacular, following the brothers' lives from Ukraine to stardom.
Interviews with the brothers and Murgatroyd—now Maks' wife, who joins the cast—have been limited (City Weekly was unable to secure an interview with any of the stars at press time). The Chmerkovkiys and Murgatroyd are joined by So You Think You Can Dance Season 14 finalists Chris "Kiki" Nyemchek and Koine "Koko" Iwasaki. Entertainment TV shows, when covering the dancers, dig mostly for inside scoops on this famous family; folks seem especially interested in Murgatroyd and Maksim's son, who is now just over a year old and travels with the couple on the tour bus. Details on the performance, however, are sparse. There are 28 dance routines in the two-hour show, which, similar to the brothers' production, is somewhat autobiographical and includes a dance in which the men cradle a baby and swing around a stroller.
For the most part, Confidential offers the kind of spectacle that Dancing with the Stars fans, or audiences used to any big flashy production, expect. There are plenty of women in heels and skimpy beaded dresses being spun around by men in dark suits. There are flips and kicks à la Vegas showgirls, as well as slower moments to vary the tempo. And there is definitely world-class, super athletic dancing—the kind that we might watch some day at the Olympics.