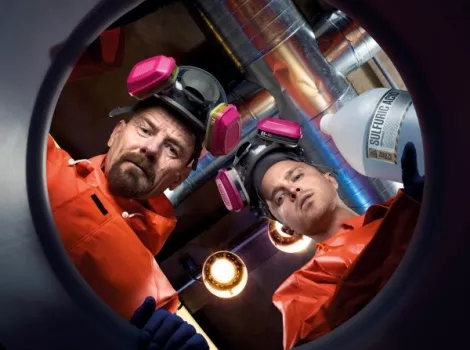 Breaking Bad
Sunday, July 17 (AMC)
Season Premiere: While once-a-comedy Weeds continues to make dire let's-be-a-serious-drug-drama mistakes (and yet still remains addictively watchable—damn you, Mary-Louise Parker), Breaking Bad remains the benchmark of how to do capital-D Drug Drama right (and still sneak in a few laughs). School-teacher-turned-meth-manufacturer Walt (Bryan Cranston) has evolved into a badass drug dealer with kill-or-be-killed instincts, while Jesse (Aaron Paul), who once dreamed of being just that, is now reconsidering being partnered with this new monster. Unfortunately, they're both inextricably tied to meth kingpin/fast-food-chicken franchiser Gus (Giancarlo Esposito)—it's Albuquerque, everybody has two jobs. Did Jesse really gun down his and Walt's replacement on Team Gus at the end of last season, staving off their own "untimely" deaths? Is Walt's estranged wife, Skyler (Anna Gunn), being sucked further into the lifestyle? Could attorney Saul Goodman (Bob Odenkirk) be any funnier? At least one of these will be answered tonight. See Breaking Bad Sunday at Brewvies, free.


Bar Rescue
Sunday, July 17 (Spike)
Series Debut: It's like Kitchen Nightmares for bars: Every week, club/restaurant consultant Jon Taffer—who is no Gordon Ramsay; more like Gordon Shumway (Wiki Alf, kids)—works, quite loudly, to shape up a failing bar in a big city. Of the current wave of blue-collar reality shows, this would seem like a natural subject—but Bar Rescue seems to be more about building the brand of Taffer (and his wife, Nicole) than rescuing bars. Still, the ideas and facts presented, as well as the occasional solid-gold quote ("Bars are the centerpiece of America, and nightlife is an extension of the American personality"—obviously, Taffer's not visiting Utah), make this more required viewing for nightclub people than regular people. So why isn't it repeating at 4 a.m., Spike?


Web Therapy
Tuesday, July 19 (Showtime)
Series Debut: Actually, it debuted three years ago, online: Therapist Fiona Wallace (Lisa Kudrow) comes up with the idea of brief, one-on-one web-chat sessions, then records them in hopes of attracting investors (ethical, schmethical). Half Dr. Katz throwback, half Kudrow channeling a slightly different desperate character than her washed-up actress on The Comeback, the largely improvised Web Therapy works because her split-screen "patients" are comedy equals (like Tim Bagley, Rashida Jones, Julia Louis-Dreyfus, Jane Lynch and ex-Friend Courteney Cox) rather than random celebs (though I'm not saying having The Situation or a Real Housewife guest wouldn't be just as hilarious). The Showtime version adds some away-from-the-computer story embellishments, but the funny remains intact. Get Jennifer Aniston on here, already.
South Beach Tow
Wednesday, July 20 (TruTV)
Series Debut: Speaking of blue-collar reality shows, why not one about a family-run towing company in South Beach, Fla.? From producer … Jennifer Lopez? That's the only remotely interesting angle of South Beach Tow; the Fremont clan is the same family of obese chuckleheads you've seen on every such series since the unfortunate dawn of Dog the Bounty Hunter, and their clients/victims are only a brain cell away from a callback on Cops. Even dumber: There are now two towing shows on TruTV (and yes, I still have an ax to grind about the network name … you pricks).



The World According to Paris
Wednesday, July 20 (Oxygen)
Season Finale: Since this vapid Paris Hilton infomercial has yet to crack the 500,000-viewer mark, might as well call it Series Finale—ain't it great when the rich and talentless fail? Hilton and Oxygen did succeed against vast odds in creating something even more mind-numbingly stoopid than the entire Kardashian oeuvre; if The World According to Paris does somehow return for a second season, the only way they'll top it is to buy her a tow truck.