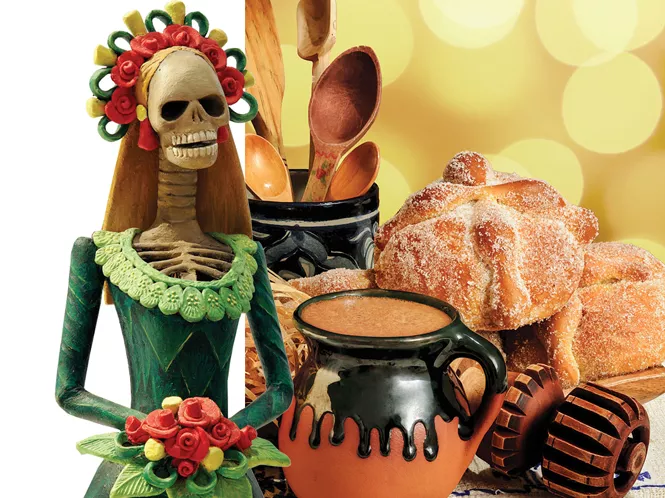 Here in the United States, our fascination with ghouls, zombies and the dead and/or near-dead peaks at Halloween. In Mexico, departed souls are remembered and celebrated during the Day of the Dead: Día de los Muertos. Although the singular word día ("day") is used, Día de los Muertos is actually a multi-day celebration that begins on All Hallow's Eve and continues through All Souls' Day on Nov. 2. It's a time to remember and honor family members and friends who have died.
Mexican Día de los Muertos celebrations have been traced to that country's pre-Columbian past—as far back as 2,500 to 3,000 years—when the skulls of families and friends who'd passed on were kept and displayed during rituals symbolizing death and rebirth. Today in Mexico, the first full day of the dead—Nov. 1—serves to honor the souls of deceased infants and children, whereas Nov. 2 is devoted mainly to adults who have passed. Those days are commonly referred to, respectively, as Día de los Inocentes("Day of the Innocents") orDía de los Angelitos("Day of the Little Angels") and Día de los MuertosorDía de los Difuntos("Day of the Dead").
Common to most Día de los Muertos celebrations are altars. They can be simple or quite elaborate, but many Mexican households, businesses and even public schools and government offices display altars that are used to receive offerings (ofrendas) such as pan de muerto ("bread of the dead," a sweet egg-based loaf), candied pumpkin with piloncillo glaze, skulls and coffins made of sugar or chocolate—sometimes with the name of the dead inscribed on the foreheads of the skulls—and beverages such as bottles of tequila, pulque, mezcal and atole, a hot masa gruel used to warm and nourish the sprits as they return to or leave the earth. These items are ultimately consumed, of course, by the celebrants.
Día de los Muertos is largely a DIY affair, but many Mexican eateries offer special dishes, drinks and such during Día de los Muertos. If you'd like to get into the spirit (so to speak), here are a couple of local restaurants that are throwing particularly festive Día de los Muertos celebrations with special menus, décor, music and more.
Alamexo Mexican Kitchen (268 S. State, Salt Lake City 801-779-4747, Alamexo.com) will kick off its Día de los Muertos festivities Oct. 30 with a Viva la Vida Tequila dinner, starting at 6:30 p.m. Vida Tequila owner Lisa Barlow will team up with Alamexo Executive Chef Matthew Lake to present a family-style dinner featuring premium Vida Tequila and tequila cocktails paired with traditional Oaxacan cuisine. Included in the dinner will be menu items such as guacamole verde con pomegranate (Mexican avocados mashed with salsa verde, chepiche and green apple, topped with fresh pomegranate seeds), ceviche dorado (line-caught mahi-mahi marinated in fresh citrus, dressed with roasted tomato and habanero, topped with cucumber, shaved radish and jicama), tamales de pañuelo (traditional handkerchief tamales steamed in banana leaf, served with pickled vegetables and salsa molcajete), mole chatino con mariscos (traditional mole chatino served with diver scallops, shrimp, and crab meatballs), mole negro con Puerco (traditional dark mole served with pork carnitas and warm tortillas) and bistek con recado de semillas (sliced Niman ranch hanger steak, seasoned with toasted chili seeds and spices). For dessert there will be tres leches con rompope (three-milk cake flavored with Mexican eggnog, topped with poached pears and candied pumpkin seeds), along with Alamexo's irresistible warm churros. The cost for the Viva la Vida Tequila dinner is a mere $50 per person for dinner and drinks—quite a bargain.
From Oct. 31 to Nov. 2, Alamexo will offer a variety of special Día de los Muertos dishes honoring the traditional cuisine of various culinary regions in Mexico. And Nov. 1 at 11 a.m., Chef Lake will teach the first in a series of quarterly Alamexo cooking classes, this one an introduction to the cooking techniques of Mexico. The class will include a three-course lunch and costs $50 per person.
In keeping with the season and the Día de los Muertos celebration, Frida Bistro (545 W. 700 South, Salt Lake City, 801-983-6692, FridaBistro.com) will offer special dishes Oct. 31 & Nov. 1, including items such as a chile negro-roasted leg of lamb quesadilla with creamy cabbage slaw and guajillo sauce; winter squash soup with habanero cream and roasted pumpkin seeds; pork belly with mole negro, mashed sweet potato and a black bean mini-tamale; roasted leg of goat with three-chile marinade; consommé with garbanzos and roasted winter vegetables; plus desserts such as pumpkin cheesecake, guava sorbeto and candied pecans. Frida Bistro will also feature an altar, sugar-skull decorations and live music.
Frida Bistro's annual Día de los Muertos benefit event for the Utah Food Bank will be held Nov. 1, featuring live music, a Mexican art market, food, games and more. The entry cost is 15 cans of food or $15 for adults and 10 cans or $10 for kids, though if you eat at Frida Bistro before heading to the celebration, the entry fee will be waived.
The Utah Cultural Celebration Center (1355 W. 3100 South, West Valley City, 801-965-5100, CulturalCelebration.org) will present its 11th-annual Día de los Muertos community gathering Nov. 1 from 6 to 9 p.m. Admission is free, and the celebration will feature educational, hands-on activities for the whole family, along with a folk-art exhibit recognizing this significant Mexican cultural holiday. The center will also host a Día de los Muertos altar exhibit from Oct. 27 to Nov. 6.