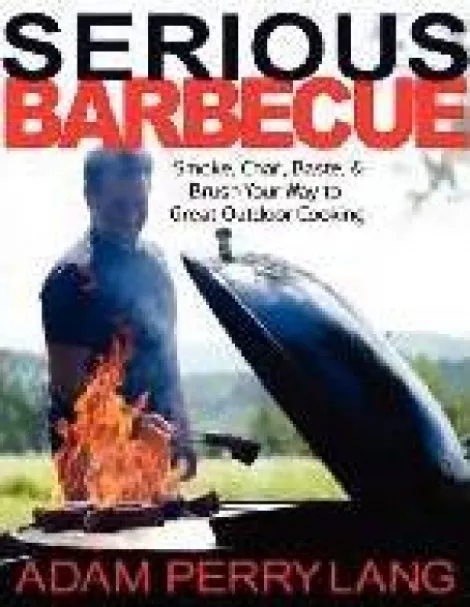 Along with the summer season should come bold, vibrant flavors from the indoor kitchen and outdoor grill. Need some help with your barbecue techniques or interesting recipes to get motivated? Here are some great cookbooks to rely on.

It takes balls to call your book Serious Barbecue (Hyperion, $35), as though every barbecue book that came before was mere fiery foreplay. But dig into Adam Perry Lang's barbecue bible, and you'll discover that he really is serious about barbecue. So serious, in fact, that Mario Batali calls him "my hero and go-to brother for meat and fire." Jamie Oliver says, "Adam is the most inspiring barbecue chef in the world." That's high praise from some heavy hitters.

In Serious Barbecue, Lang promises to teach readers how to "smoke, char, baste, and brush your way to great outdoor cooking." He delivers on that promise in spades. The first section of Serious Barbecue alone is worth the price of the book. It's an in-depth introduction to barbecue basics: tools and cooking vessels, temperature control and maintenance, types of charcoal and wood and how to use them, brining and seasoning prior to cooking and much more, including the "Twelve Myths about Barbecue." For example, meat that's falling off the bone is not a good thing. The recipes in Serious Barbecue tend to be complex and multi-staged. But hey, you can't argue with the results. Family members at a recent barbecue where I cooked Lang's glazed pork loin with apricot glaze and garlic were bowled over by it. And his "butter-bombed" Porterhouse will make your head spin.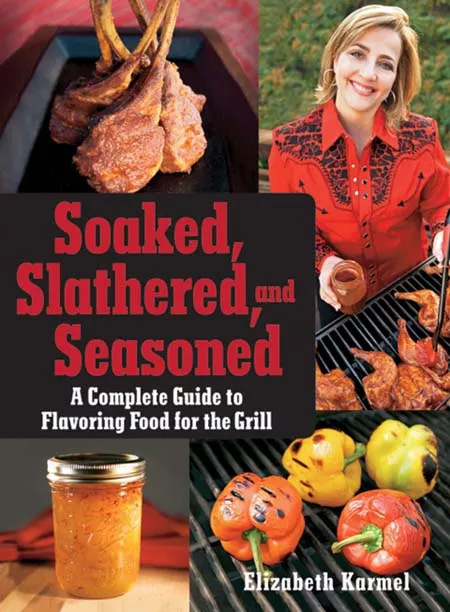 If you're really serious about barbecue, along with Adam Perry Lang's book, you'll also want Soaked, Slathered and Seasoned: A Complete Guide to Flavoring Food for the Grill (Wiley, $19.95) by Elizabeth Karmel. Marinades, brines, sauces, glazes, mops, salsas, relishes, rubs, jellies, vinaigrettes, spice blends, compound butters, tapenades, pestos and dipping sauces—they're all here, along with what to do with them on the grill. The only problem might be keeping your lips off the goodies before they're cooked; it's hard not to want to guzzle Karmel's Cabernet and fresh rosemary mop before it even makes it onto the meat!

But who says barbecue has to be all about meat? Certainly not Andrea Chesman. In The New Vegetarian Grill (Harvard Common Press, $16.95), she delivers 250 flamekissed recipes for inspired, flavorsome meatless meals from the grill. Packed full of delicious recipes like those for basic grilled artichokes and grilled corn on the cob, along with more complex dishes like Jamaican-style jerk vegetables, grilled ratatouille, or North African grilled chakchouka, Andrea Chesman provides a tasty argument for trying your hand at vegetarian grilling. Her blackbean-mushroom burger is certainly convincing.


OK, so maybe summer cooking to you doesn't always involve firing up the outdoor grill or dealing with rubs, brines and marinades. Sometimes you just want a scrumptious sammy. Tom Colicchio can help. Founder of New York City's famed Gramercy Tavern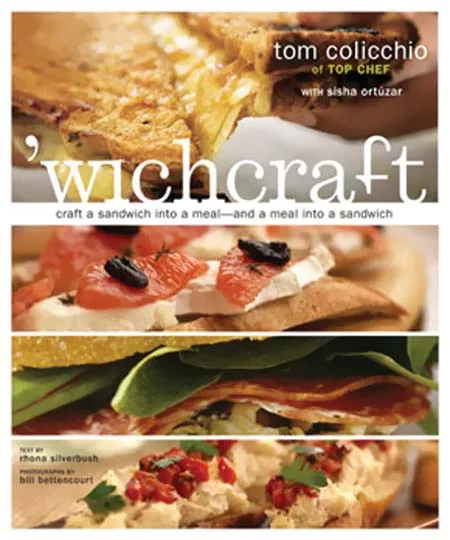 and head judge on Bravo's Top Chef, Colicchio can cook up a storm. But in 'wichcraft (Potter, $27.50), Colicchio turns his attention to sandwiches: "crafting sandwiches into meals and meals into sandwiches." 'wichcraft is divvied up into sandwich types: breakfast sandwiches, cool sandwiches, warm sandwiches and sweet sandwiches. You might choose to begin the day with an onion frittata breakfast sandwich, followed for lunch by a "cool" Boucheron cheese sandwich with grapefruit and crispy olives. Dinnertime could warrant a fried squid po-boy with avocado and black chile oil before digging into a dessert peanut-butter-cream 'wich. Perhaps not so surprising—since Colicchio always gets maximum flavor from great ingredients— the best sandwich in the whole book might be his simplest: Gruyere with caramelized onions on rye. Just say "no" to Subway.

As chef-owner of Herbsaint and Cochon restaurants in New Orleans, southwest Louisiana-raised Donald Link knows Cajun cooking inside-out. In Real Cajun (Potter, $35), he shares his vast knowledge of and enthusiasm for rustic Louisiana cooking with us. If Real Cajun offered nothing more than Link's bodacious boudin recipe, it would be enough. But there's also "old-school" chicken and sausage jambalaya (the best I've ever eaten), oyster stew with smoked bacon, fried chicken livers with hot pepper glaze, grilled redfish, spicy shrimp Creole and a swampful of more authentic Cajun recipes to help season your summer with spicy goodness.


The name Alex Skaria doesn't sound very Asian. But the Bangkokbased author of The Asian Barbecue Book (Tuttle, $29.95) has a firm grasp on Asian flavors and they come screaming through with virtually every recipe in his fine cookbook. As with most barbecue

books, The Asian Barbecue Book includes a hefty introduction to barbecue tools and techniques, as well as a useful guide to essential Asian ingredients and indispensible chapters on Asian spice pastes, glazes, sauces, dips, sambals, butters, chutneys, marinades, rubs and stuffings. From satays and tandoori to Asian-spiced burgers, in Skaria's book, bright flavors just jump off the page. Especially provocative is his Thai version of beer-can barbecue chicken, in which a hollowed-out coconut filled with coconut water serves to support, steam and flavor the chicken.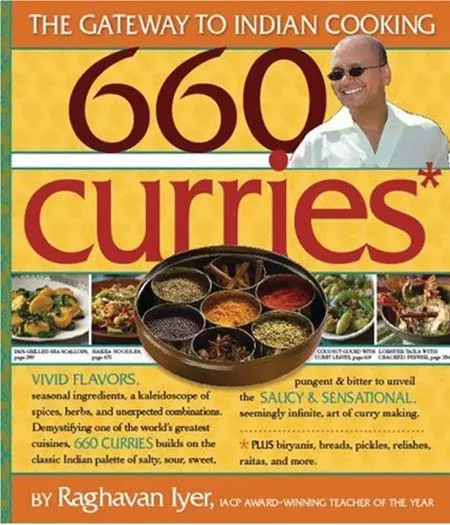 And while we're discussing bold Asian flavors, I wouldn't want to overlook Raghavan Iyer's def initive statement on Indian curry: 660 Curries (Workman, $22.95). To research this ultimate guide to curry, Iyer travelled the length and breadth of India, from north to south and east to west, knocking on doors of friends and total strangers alike in order to track down the multitude of curry recipes that populate this big book. Along the way, he discovered family recipes for succulent and opulent curries, assertive and regal ones, fusion and coastal curries and more—many, many more. If you love curry, how could you not love 660 Curries?