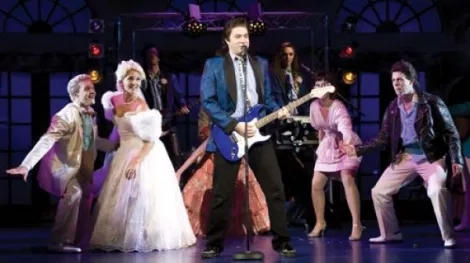 It's 1985. Flash back to the days of the Rubik's cube enigma, totally tubular leg warmers and a time when every city was built on rock-and-roll.
Broadway Across America presents The Wedding Singer, the musical stage adaptation of the Adam Sandler/Drew Barrymore romantic comedy, complete with memorable songs from Culture Club, The Police and bitchin' Billy Idol. The Tony-nominated show tells the story of Robbie Heart (J. Michael Zygo), a wedding singer who dreams of rock-and-roll fame and a happily-ever-after marriage. But his dreams quickly deflate when his fiancée leaves him broken-hearted at the altar, and his performances turn bitter. Robbie's hostile heart mends when he meets waitress Julia (Jillian Zygo), a bodacious blonde who charms him with her "don't worry, be happy" song. But Julia is already engaged to a swaggering stock jockey. Love is a battlefield, and Robbie is determined to be a contender for Julia's heart.
Kick out the jams, and come party hardy.

The Wedding Singer @ Kingsbury Hall, 1395 E. Presidents Circle, 801-581-7100, Dec. 8-13. KingsburyHall.org