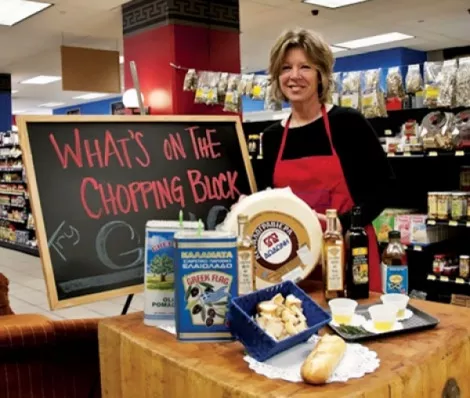 Chris Sotiriou, pharmacist and third-generation-Greek owner of the 62-year-old Broadway Market in downtown Salt Lake City, is reinventing his grandfather's grocery business. With the help of former Avenues Bakery owner Kathie Chadbourne and supportive friends at Tony Caputo's Market & Deli, he's slowly transforming the entire operation.
As the Greek-style blue-and-white banner outside declares, the new mantra at Broadway Market is "urban." The inventory is now a little more sophisticated, with something for everyone, all the time. And, you truly can get just about anything there—from prescriptions and frozen pizza dough to fresh produce, displayed in a glass-walled walk-in.
The store now stocks 23 local artisan products, from Beehive Cheese and Canyon Meadows Ranch beef to Amano chocolates and Martin's Fine Desserts. And, it's the only place in town selling Mercer's Wine Ice Cream. (But bring your ID. Seriously: They have to card you for this ice cream.)
As part of the reinvention, they pulled a few treasures from the back room and basement. An antique vault, a wood and glass display case and a massive, weathered chopping block of grand proportions all now have their rightful places. The impressive chopping block, which sits in the middle of the olive-oil-rich "Greek Town" section of the store, is the site of daily product samplings.
Right now, you can pick up some nice sandwiches or a Greek salad to go, but there's a real deli and hot food kitchen in progress. Look for an upcoming "Food Art" corner, too. Need a movie? There's also a Redbox kiosk inside the store.
In these days of the ever-creeping superstore, it's heartening to see a neighborhood store not only hang on, but really step up.
BROADWAY PHARMACY & MARKET
242 E. 300 South
801-363-3939