Page 2 of 2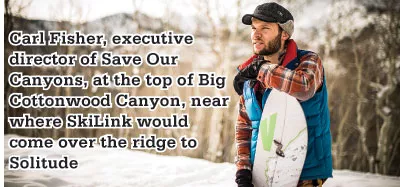 Wilson "gave a pitch, and it kind of fizzled," Fisher says. Like others at Wilson's house, Fisher feared the gondola could harm backcountry skiing and the canyon's sensitive watershed. He worried how it would impact SOC's efforts to protect more land in the Wasatch.
He also didn't buy Wilson's traffic arguments, knowing from SOC's work on valley- transportation studies that viable plans must encompass not just a single gondola, but light rail, cog rails and buses.
As the meeting wrapped up, Fisher says, Wilson approached him and suggested that since SOC probably couldn't stop the gondola, they should drop their opposition and ask Talisker for some kind of sweetener. "He was talking about land trades and trying to wheel and deal," Fisher says. Wilson's offer surprised him but didn't worry him. "We felt that we could fight this and stop it."
But before Fisher could present the option to his board or formally get back to Wilson, a six-page document dropped on a committee desk in Washington, D.C., and changed everything about SkiLink.
The DC Bombshell


"When Ted Wilson began talking about SkiLink," Fisher says, "he told us that he wanted to operate openly and honestly. He didn't want to have any surprises." But when 1st District Republican Congressman Rob Bishop introduced a bill Nov. 17, 2011, that would require the U.S. Forest Service to sell 30 acres of public land to Talisker to build SkiLink, Fisher realized that he and the entire Wasatch environmental community had been outflanked.
"It took us all by surprise," he says. "We didn't have any idea that that was the route they were going to go." Four of Utah's five congressional representatives supported the SkiLink bill. The only holdout was the state's Democratic then-2nd District congressman, Jim Matheson, who had a good reason not to sign his name.
That's because 20 months earlier, Matheson had introduced his own bill, the Wasatch Wilderness & Watershed Protection Act, which would designate an additional 26,000 acres of the Wasatch canyons as new wilderness. Fisher says that 99 percent of the land needed for SkiLink overlaps with Matheson's proposed wilderness. If Matheson's bill becomes law, SkiLink won't happen. Likewise, the construction of two-dozen gondola towers in Big Cottonwood Canyon would make a future wilderness designation impossible.
Fisher says his organization had lobbied for more Wasatch wilderness—the first expansion since 1984—for more than a decade. The approach they followed, he says, is transparent, localized and inclusive planning, a process that Talisker should have undertaken for SkiLink.
To gain input and support for its wilderness proposal, Fisher says SOC, over a three-year period, held dozens of meetings with ski resorts, Black Diamond and Wasatch Powder Guides, plus the municipalities of Salt Lake City, Sandy and Cottonwood Heights. "We made significant concessions through a deliberative process," Fisher says, noting the requested wilderness area dropped by half during that time.
"We all sat around a table and debated the lines on a map and argued our position, as did the ski resorts," he says, "and that's what we ended up with. It was a good process. We had honest dialogues with our traditional and long-standing adversaries on issues in the Wasatch Mountains."
A Question of Process


Although it's been over a year since the SkiLink bill surfaced in Congress, Fisher is still mad about what he considers Talisker's disregard for local control. However, he also admits that criticizing the bill has become SOC's most effective argument against the SkiLink—and others agree.
"The congressional process is the problematic part of the SkiLink," says Mark Menlove, the director of the Winter Wildlands Alliance and a former president of the Ski Utah, the state's marketing firm for the snow industry. "Rep. Bishop's bill bypasses a good public process and conveys what is well-used and well-loved public land to a private company."
Talisker's Mike Goar disputes the notion that the company was trying to avoid a local decision-making process. "To the contrary, if we prevail in Congress, we create a 100 percent local process, which will include Salt Lake and Summit counties and Salt Lake City," he says. He also suggests that any local review of the gondola will involve public hearings, open houses and a vigorous dialogue about the watershed, transportation and recreation access. However, he doesn't expect those events to happen until Talisker owns the land.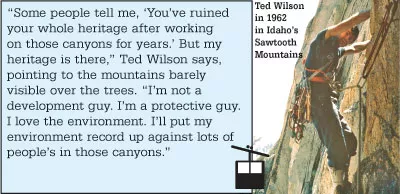 But Fisher counters that forcing the USFS to sell the land doesn't just remove a federal agency from the review. He says it also wipes out years of local meetings and hearings that created the current management plan for the Wasatch-Cache National Forest—which includes the Big Cottonwood Canyon slopes where the gondola would run.
The current forest plan, Fisher says, prohibits ski resorts from expanding onto public land. But if Congress passes a law that orders the USFS to sell public land to Talisker, the ski resort can build the gondola on its newly private land with little interference. That back-door tactic isn't right or fair, he says.
"If Save Our Canyons went directly to Washington, D.C., and got a congressman from New York or wherever to introduce our wilderness bill without any public comment or local hearings, Utah's politicians would pitch a shit fit," Fisher says.
Ted Wilson knew that running SkiLink through the halls of Congress was playing with fire. As a former politician, he recognized that appearing to sidestep the local process would inflame the opposition. "It's what Save Our Canyons is talking about continually, as I probably would if I was them and had a different view on this," he says.
But after the regional office of the USFS turned down Talisker's initial proposal to build the gondola on public land, the ski resort saw no other way to achieve its goal. "We either went to Congress, or there'd be no SkiLink," Wilson says.
And despite a focus on getting the USFS to sell the land to Talisker, Wilson is convinced there will be a full vetting of the proposal on both the federal and local level. "This is not company position, but I believe that we will never get out of Congress without a full NEPA (a federally sanctioned environmental review and analysis), which means full public hearings and a listing of alternatives."
Fisher, however, isn't so sure that a federal review of the gondola proposal will happen. He points to the testimony of Greg Smith, the acting deputy chief of the USFS, during a congressional hearing on the SkiLink bill in December 2011. "The USFS guy basically tells the committee, 'If you're telling us to get rid of the land, why should we waste taxpayers' dollars doing an environmental review on something you're requiring us to dispose of?' "
Based on that testimony, Fisher believes the USFS won't pursue a NEPA evaluation for this project, leaving any review up to local governments.
Talisker has already commissioned and published four studies that say the gondola will have no impact on water quality, erosion, endangered species or backcountry skiing. New—and more extensive—federal or independent studies might disagree with those conclusions, but if they aren't pursued, no one will ever know.
Fisher says that no one can be sure whether local entities like Salt Lake City and the Salt Lake County might be able to review—or even block—the gondola once Talisker owns the land. "All we know is that the land becomes private, and that it's in Salt Lake County and in the watershed," he says. "Since it's necessarily a ski-area expansion, it wouldn't fall under the ordinances governing ski resorts. So where does it go? I have no idea."
Fisher expects Talisker to use that legal ambiguity to its advantage if SkiLink advances that far. "I'm appalled that our elected public officials would put the local community in a position where we would have to gamble with our public-lands watershed for the chance at a local veto," he says. "The public process for development should start from Day 1, like the public process has to start when you're protecting the land."
A Legacy in Jeopardy


Once considered by many to be the environmental standard-bearer of the Wasatch front, Wilson's reputation has been damaged by his support of SkiLink. Some of the "Stop SkiLink" signs visible within a few blocks of the cafe where he is being interviewed were likely put there by people who don't recognize Wilson's name or his contributions to the Wasatch canyons. But Wilson has heard plenty of criticism from residents who do know him.
"Some people tell me, 'You've ruined your whole heritage after working on those canyons for years.' But my heritage is there," he says, pointing to the mountains barely visible over the trees. "I'm not a development guy. I'm a protective guy. I love the environment. I'll put my environment record up against lots of people's in those canyons."
"It hasn't been [SOC's] policy to go after Ted, but some members of our community have," Fisher says. One person who has criticized Wilson is Andrew McLean, a Park City resident and expert backcountry skier who has written a guide and a popular blog to skiing the Wasatch.
McLean says his attacks against Talisker and Wilson are a direct response to the lack of transparency and information he sees coming from them. "If you look at the SkiLink website, there's no way to comment on that," he says. "Mike Goar sticks strictly to the script. Ted Wilson sticks to the script. It's very hard to have any sort of real dialogue with them. They go back to '[SkiLink's] going to create 500 jobs, do this, and save the planet.' "
So, in addition to blogging about the feasibility of SkiLink, McLean has written several biting posts about Wilson's motivations to join Talisker, and he even posted an image that photoshopped Wilson into a Talisker advertisement that showed him frolicking in the snow, wearing a fur coat.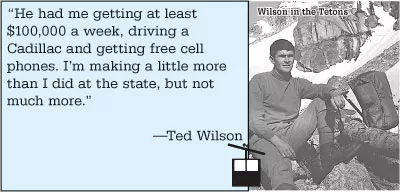 Wilson understands the passions that inflame backcountry skiers like McLean—mainly because he is one himself. "I know what it's like to be possessive over powder," he says. But he doesn't think that anyone—including backcountry skiers—should hold a veto over other users of the canyons.
Plus, he thinks the early adjustments Talisker made to the SkiLink proposal—like removing the ridge-top unloading station and switching from a chair lift to a gondola—reduce its impact on the Wasatch's backcountry skiing experience.
The attacks that bother Wilson the most, however, are the claims that he sold out to Talisker for a hefty paycheck. Those accusations often appear in newspaper comment sections and blogs—anonymous public forums that didn't exist when he was mayor. "I wish I was making all that money that that one guy talks up," Wilson says. "He had me getting at least $100,000 a week, driving a Cadillac and getting free cell phones. I'm making a little more than I did at the state, but not much more," he says. "And it's not enough to go through what I've gone through. I've had a few sleepless nights, to tell you the truth."
Over the Next Hill


So, what are the odds that SkiLink will be built? It depends on where you look. Talisker has staked its success on the congressional process, while the opposition led by Save Our Canyons is focused on marshaling the local audience. As the clash enters its second year, it's looking more like an asymmetrical war where both sides are seeking victory on a different battlefield.
In Washington, D.C., the U.S. House Committee on Natural Resources narrowly approved the SkiLink bill in February 2012. But it languished on the reading calendar to be considered by the full House, and Bishop will have to re-introduce the bill in the next congressional session. The companion SkiLink bill in the Senate, which didn't get a hearing in the Democratic-controlled chamber, also will need to be resurrected.
"We plan to pick up where we left off with the next Congress," says Talisker's Mike Goar, adding that no changes will be made to the proposal or the legislation. Still, Talisker's SkiLink legislation got further in 2012 than Matheson's wilderness bill, which didn't get a hearing in the House and lacks a Senate sponsor.
In Utah, both sides are attempting to win over public opinion through staged events and media campaigns. April 2012 saw the launch of the pro-SkiLink group Lift Utah—a coalition led by local chambers of commerce that includes leaders in banking, construction, and tourism companies, as well as politicians. But besides organizing a press conference in April 2012 and putting up a website that mirrors the SkiLink site, Lift Utah has done little to visibly support the gondola. And while Goar and Wilson occasionally pitch the project to individuals, businesses and clubs, they've so far avoided more public sessions. Instead, they've relied on surrogates writing letters to the editor or commenting on newspaper articles to make their case.
Those opposed to the gondola have been more active on the local front, especially through Stop SkiLink, a coalition of nonprofits and businesses guided by Save Our Canyons. Besides protesting outside the Lift Utah press conference, the group organized a hike in August 2012 in Big Cottonwood Canyon to show more than 50 participants the route proposed for the gondola. They've also launched a petition that's collected 5,000 signatures, including more than 80 local and national outdoors companies and conservation groups. Fisher says his organization has distributed more than 1,500 "Stop SkiLink" signs across the Salt Lake Valley and even in Park City—and they just ordered 500 more signs this winter.
Despite the challenges he's faced, Ted Wilson believes SkiLink will succeed—mostly because he thinks the Salt Lake Valley's demographic trends make it inevitable. "I think that cable-ways will prove to be the only way to get people out of their automobiles," he says. "We're going to double our population here in 30 or 40 years or less. And it's going to look more like Queens down there than nice suburban Utah as it now looks. And there's going to have to be a lot of innovation going on how we approach problems for that future."
Carl Fisher disagrees, claiming that SkiLink is designed to benefit only one user group in the canyons—the ski resorts. "I think it's a marketing ploy that won't even be viable for skiers," he says. "It takes two hours to ride multiple lifts at Canyons to get to the start of SkiLink. People are going to say, 'I can drive to Solitude faster and cheaper.' " And if SkiLink loses its appeal, the gondola will still be there, with no way to return the ridges and the canyons to their pristine appearance.
"We have one opportunity to get this right," Fisher says. "If SkiLink goes through, it hinders our opportunity to implement the comprehensive transportation solutions currently under development by dozens of local groups that benefit not only the ski industry, but the people living in the valley as well."

Jason Stevenson is a Salt Lake City freelance writer and a former editor at Backpacker and Outside magazines.