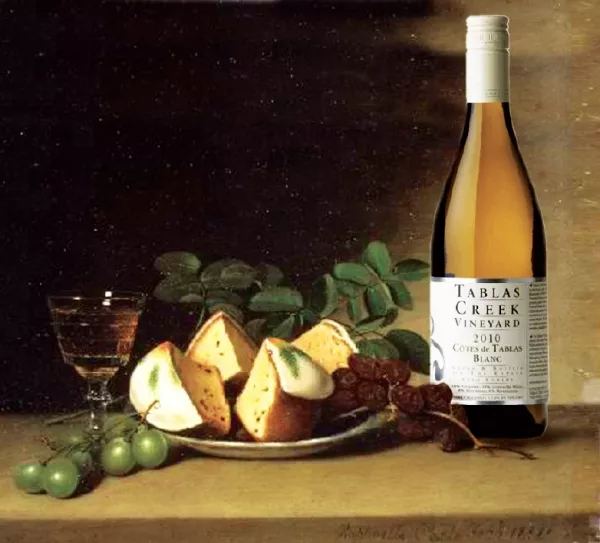 I am firmly on record as being an unabashed enthusiast for the wines of France's Châteauneuf-du-Pape. I really, really love Châteauneuf-du-Pape rouge but like Châteauneuf-du-Pape blanc even better. Unfortunately, Châteauneuf-du-Pape wines are pricey, regardless of whether you choose red or white. True, these wines aren't nearly as expensive as good Bordeaux or Burgundy, but decent Châteauneuf-du-Pape rouge still starts at around $40, and a heavenly bottle of, for example, Château Beaucastel Châteauneuf-du-Pape blanc will set you back about $90.

However, all is not lost for those of us on tight wine budgets. Thankfully, a Paso Robles winery called Tablas Creek makes a domestic, New World version of Châteauneuf-du-Pape blanc that sells for a mere $24.99, and it's killer. It's called Tablas Creek Vineyard Côtes de Tablas Blanc. Even better is Tablas Creek's higher-end Châteauneuf-du-Pape-style white, labeled Esprit de Tablas Blanc, which sells for around $30 a bottle. However, that wine isn't readily available here in Utah; Tablas Creek Côtes de Tablas Blanc is.

Tablas Creek Vineyard is the creation of the renowned wine importer/distributor Robert Haas and the Southern Rhone's famed Perrin family, owners of the highly regarded Château Beaucastel. About 25 years ago, Robert Haas and the Perrins embarked on a mission to find a suitable site in California to grow the grape varietals that are native to France's Southern Rhone region of Châteauneuf-du-Pape: Mourvèdre, Grenache, Syrah, Marsanne, Roussanne, Viognier and such. The Perrin-Haas partnership was formed in 1985, and in 1989, they found and purchased a 120-acre plot just west of Paso Robles, and named it after the creek that runs through the vineyard. Good wine takes time to make, of course, and although Tablas Creek has been around for nearly a quarter century, the first vintage to hit the market was 1997. Today, the limestone-rich location is an organic estate vineyard where dry farming is practiced. Tablas Creek received its organic certification in 2003 and, more recently, has introduced biodynamic winemaking techniques to the vineyard.

The aforementioned Tablas Creek Vineyard Côtes de Tablas Blanc 2011 was recently awarded 89 points (on a 100-point scale) by Robert Parker's Wine Advocate, and given a 91 in Stephen Tanzer's International Wine Cellar. Those numbers don't lie. This is a stunning wine for 25 bucks. Parker simply said of it: "pure balance and harmony."

The 2011 vintage is a blend of 27 percent Viognier, 26 percent Grenache Blanc, 25 percent Marsanne and 22 percent Roussanne. The winemakers used the whole cluster method of pressing the grapes for this vintage, and it was fermented solely in stainless steel, which accentuates the crisp fruit flavors rather than muddying them up with oak. Viognier lends gorgeous floral aromas to this wine blend and, in combination with Marsanne, supplies richness and body. The Roussanne and Grenache Blanc provide a mineral undercurrent and, all in tandem, combine to create a very well-balanced and nicely structured white wine.

Along with floral notes, there are also hints of mint and fennel on the nose when you pour yourself a glass of Tablas Creek Côtes de Tablas Blanc. There are notes of honey and peaches, too, and you'd almost swear someone bathed those peaches in cream. However, even though there's a lush creaminess to this unctuous, full-bodied wine, the Grenache Blanc supplies enough crisp acidity to make it a very good partner to sip with seafood dishes, especially scallops, ceviche and moules marinère. I recently cooked up boneless chicken breasts in a shallot-Dijon cream sauce with tarragon, and the Côtes de Tablas Blanc was beautiful with it. It's as though Tablas Creek bottled Catherine Deneuve.