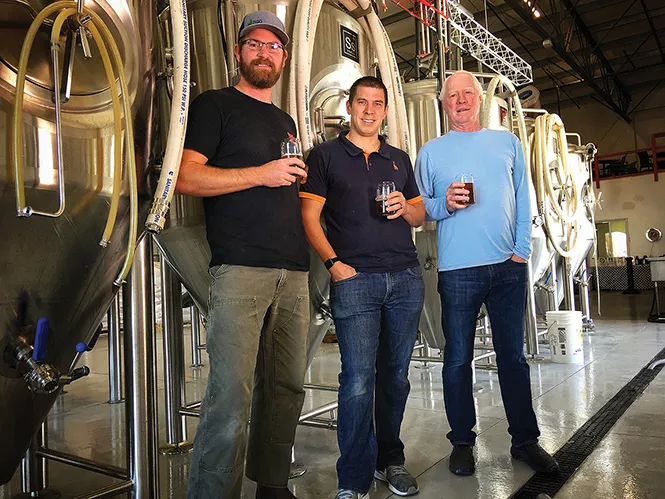 Mike Riedel
Left to right: Scott Parker, Jeremy Ford and Steve Pruitt of RPM Brewing Co.
About a month ago, we talked about Utah's newest beer haven, Kiitos Brewing Co. Their reign as the newest beer guys in town was short lived. Now we have the pleasure of introducing you all to the new-new suds, RPM Brewing Co.
This concept in the burgeoning local beer scene is the brainchild of owner Steve Pruitt. Pruitt has had his hands in the local hospitality game since 2009 when he opened up Toscano restaurant and, shortly after, acquired the Utah rights to Italy's Illy Coffee. He's always had a fondness for beer, and wanted to bring his foamy vision to the mostly untouched area of southern Salt Lake County. "The downtown beer market is pretty saturated," Pruitt says. "We found there's a little different beer market down in the south end of the valley that needs some attention."
To implement his idea, Pruitt established the Garage Grill on Draper's east side about a year and a half ago. "We went through the entire process of getting all of the licenses to brew on premises," he says, "but because the restaurant just took off, we need that space for customers." Pruitt still wanted his vision of a south-end brewpub to succeed, so he simply changed his business model. "We used to run a professional race team out of a building I own on the west side of Salt Lake City. We've now converted it into a full-on production brewery".
RPM is not just a brewpub; it's a legitimate beer-making machine. That's Part 1 of the company's evolution. Part 2 requires a talented brewer to make beer people want to drink. "We had a very lengthy search looking for the right person," Pruitt says. "Then we got the equivalent of a No. 1 draft pick in our guy, Scott Parker."
You might have heard of Parker's previous employer, Firestone Walker Brewing Co. in California. As head brewer there, he helmed some of the most popular beers in the world. So what the hell is he doing in Salt Lake City? "My wife got into dental school here, so we pulled up our roots and headed to Utah," Parker says.
"Scott was the perfect missing piece," Pruitt adds. "His skill in the brew house is exactly what we needed to get our vision off the ground."
And their vision is simple: Get craft beer to those that don't necessarily drink craft beer. "We're definitely going after the non-craft beer drinkers," says Jeremy Ford, director of RPM's operations. "I'd love to convert a Bud Light drinker with one of our craft beers that's directed specifically towards him or her, and not try to push a 9 percent double IPA on them right out of the gate."
That doesn't mean that RPM will be all about easy-drinking beers; with a talented brewer such as Parker on the team, you have to let him fly. "The long-term game plan," Parker says, "is to have a full range of products that will meet the needs of all of our customers. Yeah, we'll start with the basics—IPAs, pale ales, blonde ales and amber ales—but we're also seeing early success with beers like our Auto Baan Berliner Weisse and our New England IPA."
RPM currently has quite a range of brews pouring at the Garage Grill in Draper, and coming soon to Toscano. Their plan is to have 12-ounce cans in stores by January, as well as a beer store and taproom/bar at the production brewery at 2020 Industrial Circle in Salt Lake City. Keep checking back for updates.
As always, cheers!