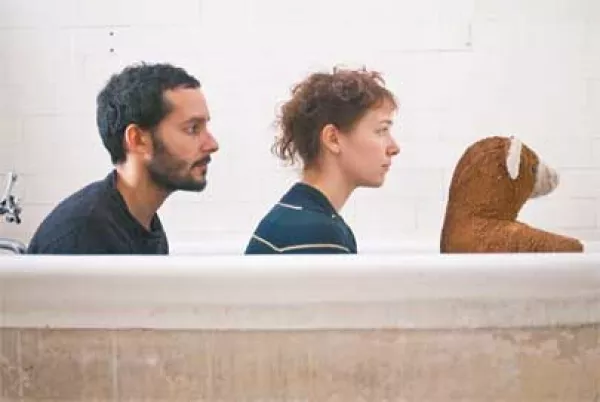 The duo behind the Brooklyn band Buke & Gase—Aron Sanchez and Arone Dyer—have a great yin & yang thing going on. Sanchez's love of dissonant sounds mixes surprisingly well with Dyer's melodic vocals to create unique outside-of-the-box tracks. They encourage each other's affinity for experimentation and exploration, while they simultaneously make sure their songs have a defined sense of structure and rhythm. They work so well together that they even finish each other's sentences from time to time.
"When writing together," Sanchez begins, "we usually spend hours and days—"
"Hammering our heads against the wall," Dyer exclaims.
Buke & Gase is a marriage of the unusual. They play rare instruments (the buke is a baritone ukulele that, in Dyer's case, has six strings) or unique ones (the gase is a hybrid guitar and bass guitar), and they insist on being a duo rather than bringing in additional band members because of the extra effort it requires of them. For Sanchez and Dyer, it's all about the challenge.
"We've known each other for a while," Dyer says. "And despite how different our musical tastes are, we've always been able to communicate new ideas to each other. We just ended up writing music that we enjoyed and was challenging for just the two of us. We're both interested in challenging each other musically—so, it's fun."
But it's not all fun and games, and the expectations they place on themselves go beyond being a duo with strange instruments who also sing and play percussion.
"It's about writing a song that we can actually perform live," Sanchez says, which elicits much laughter from Dyer.
The duo is learning that they can find challenges everywhere. They wanted to release their new album, General Dome, in December 2012 but fell behind in that process. However, they still wanted to release something in late 2012 to whet fans' appetites, so the writing and recording process for the EP they released in the fall, Function Falls, was done in an atypical way.
"We just marathoned it—completed an EP in a week and a half—and that's what came out," Sanchez says. "We didn't have any songs written beforehand, like we usually do. We recorded parts as we went along and just stacked them together until we had a song."
General Dome, released in January, employs many of the same daring musical and vocal sensibilities as their previous releases. The hypnotic, slightly hurried pace of Sanchez's gase on "Contortion in Training" parallels Dyer's A Fine Frenzy-esque vocals as she repeats the phrase, "Bend, bend, bending back" while thumping percussion swells all around them. And on "Hiccup," Dyer's distressed, angelic vocals are paired with stomping percussive beats, sinister buke tones and rumbling gase riffs that sound like what Jack White brought to life on Icky Thump. For fans who are curious, Sanchez believes if you enjoyed Riposte, Buke & Gase's 2010 release, you should enjoy General Dome.
"It's in the same vein as Riposte," Sanchez says, "at least in the sense of trying to further our sound with the same setup, instrumentation-wise, that we've been working with for the past couple years."
In the end, for Sanchez and Dyer, it's all about finding new ways to communicate via song, even when it's the instrument that's trying to communicate with them.
"I broke the first two bukes," Dyer says with a laugh, "but my third one is made out of metal, so that one's not going anywhere anytime soon!"
As for the eight versions of the gase that Sanchez has gone through?
"I'm just never satisfied with it," he says, also with a laugh. "It's always changing. I'm always trying to figure out how to get the sound I'm wanting out of it."
Hooray for challenges.

BUKE & GASE
w/ Aleuchatistas
Kilby Court
741 S. Kilby Court (330 West)
Tuesday, Feb. 12, 7 p.m.
$10
BukeAndGase.com