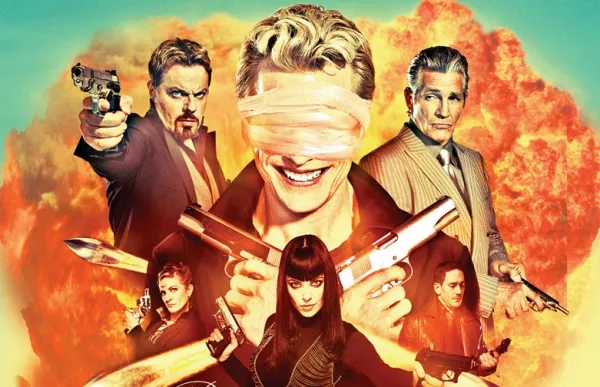 IFC
Bullet In the Face
Bullet In the Face
Thursday, Aug. 16 (IFC)
Miniseries Debut:
Creator/producer Alan Spencer was the man behind one of the greatest TV shows of the '80s, the brilliantly ridiculous
Sledge Hammer!;
it only took him 24 years to follow it up with
Bullet In the Face
. Since the increasingly gutless former Independent Film Channel seems to have a problem with what's been called "the most violent comedy in television history" (why is this not on billboards, geniuses?),
Bullet In the Face
will be blown out tonight and Friday with back-to-back-to-back half-hour episodes, instead of over six weeks—hey, two nights of concentrated pulp-comedy mayhem is OK by me. The story: A sociopathic thug (Max Williams) is given a forcible facelift by the cops and sent undercover to help take down Bruteville city's warring crime lords (Eddie Izzard and Eric Roberts). What follows is three hours of (beautifully filmed, it should be noted) over-acting and over-killing that takes the cartoon carnage of flicks like
Kill Bill
and
Shoot 'Em Up
to dark-funny extremes. Now, who's up for a
Sledge Hammer!
comeback?
Strike Back
Friday, Aug. 17 (Cinemax)
Two-Hour Season Premiere:
Speaking of violence, remember this?
Strike Back
premiered in 2011 as a dumbed-down/sexed-up combo of
24
and
Team America
, following a globe-hopping counterterrorism unit as they, as the old military bumper sticker goes, "Travel to exotic distant lands, meet exciting, unusual people, and kill them." But, despite the series turning out to be far better than it first appeared on the surface—kind of like finding a good article in
Maxim
—not many saw it due to the Cinemax location and complete lack of stateside star power (
Strike Back
is a mostly British production). Season 2 adds Rhona Mitra (
Boston Legal, Doomsday
) to the mix as the new head of Section 20, as well as Charles Dance (
Game of Thrones
) as the unit's new nemesis. But still, as the U.K.'s
Guardian
pointed out in a review
last
year, "Everything that's capable of exploding explodes!" If it ain't broke …
Boss
Friday, Aug. 17 (Starz)
Season Premiere:
At the end of
Boss'
Dra! Ma! Tic! first season, Chicago mayor Tom Kane (Kelsey Grammer) was a twitching wreck on the floor, overcome by the degenerative brain disease he's kept secret from nearly everyone, including the trusted staff members he's just fired and/or had killed. How's he holding up as Season 2 commences? He's fine, just fine—nothing upping his medication dosage (and, as a side effect, psychotic hallucinations) can't fix. Kane's ruthless drive to maintain control and stay in office is second only to Orrin Hatch's (speaking of desperate, unstable political psychos) which means the
Boss
body count will continue rise and, get this: T.I. guests as an ex-gangbanger vying for a City Hall career. So much for the spotless rep of Chicago politics.

Married to Jonas
Sunday, Aug. 19 (E!)
Series Debut:
The Only TV Column That Matters™ strongly urges you to watch
God Bless America
, currently available on DVD and Netflix. It's about a regular 'Merican Joe (Joel Murray) who becomes so fed up with the idiocy and rudeness of reality-TV-stoned modern society that he first considers suicide, but instead goes on a cross-country killing spree. He starts with spoiled star of a
My Sweet 16
-style reality show, eventually ending up bringing a bloodbath down upon a certain televised karaoke competition—plus, it's directed by Bobcat Goldthwaite and it's
even better
than
Shakes the Clown
. Anyway, a
Jonas brother
has a new reality show.
The Inbetweeners
Monday, Aug. 20 (MTV)
Series Debut:
Downside: It's an
MTV remake
of an excellent British comedy. Upside: It's not another reality show.