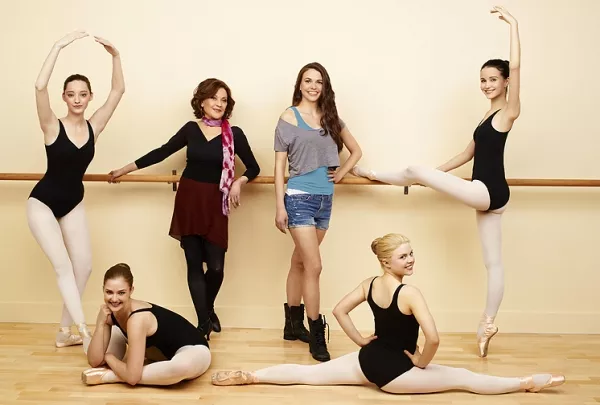 ABC Family
Bunheads
Bunheads
Mondays (ABC Family)
Fed-up Las Vegas showgirl Michelle (Sutton Foster, who's won a Tony or something) marries her sorta-stalker (Alan Ruck) and moves to his picture-perfect home town of, yes, Paradise—and then he dies(!), leaving her to live with his overbearing mother (Kelly Bishop), herself a former dancer who now runs a kiddie-ballet studio. And then a whole lotta nothing—and a whole lotta talking—happens. For several episodes. And it's still engaging as hell. Bunheads is the most subtly twisted show on ABC Family, and definitely the most intentionally funny—and you just may fall in love/hate with the string-cheese stick Foster, who's like a rubbery Lorelei Gilmore 2.0. Which makes sense, as Bunheads is exec-produced by Gilmore Girls' Amy Sherman-Palladino—wonder what she thinks of what's become of li'l Rory on Mad Men?

Barter Kings
Tuesdays (A&E)
Two dudes—one bald, with a goatee, as required by occupational-reality-show law—trade stuff for other stuff. So, that's a show.


American Gypsies
Tuesdays (NatGeo)
Because every cable channel formerly dedicated to intelligence and learning must now have its own reality series about idiot families bickering amongst themselves, here's American Gypsies. But, unlike TLC's gypsy show(s), this one has battling psychic shops!


World's Worst Tenants
Tuesdays (Spike)
"Eviction specialists"—one bald and goateed, plus a bonus goatee!—kick deadbeats out of houses. Also a show.



Craft Wars
Tuesdays (TLC)
Signaling the possible transition of the "C" in TLC from cakes to crafts, Tori Spelling presides over the ominously titled Craft Wars. It's like Top Chef with glue guns and a host who's not quite as attractive as Padma Lakshmi's left foot.


Saving Hope
Thursdays (NBC)
It's a medical drama! It's a supernatural tearjerker! It's somehow still on. Stargate SG-1's Michael Shanks stars as a surgeon who falls into a coma and then floats/haunts around his own hospital like a ghost or a former SG-1 star. Can his surgeon wife (Smallville's Erica Durance) save him? Or this show? Probably, and no.
XII
Fridays (Reelz)
The Reelz channel—just try and find it—brings you XIII, a mystery-conspiracy drama starring Stuart Townsend and Aisha Tyler. Sure, it looks like a B-grade syndicated action series from the '90s (or The Da Vinci Code for Dummies), but come on—Aisha Tyler!


Baby Daddy
Wednesdays (ABC Family)
Teen gets stuck with his ex-girlfriend's baby in this alleged sitcom. There's a funny version of this called Raising Hope. Watch that.



Shark Wranglers
Sundays (History)
They're out to save the sharks, but the sharks are out to chew them up! Hence, drama! The titular shark wranglers are on a reality-action mission to tag 50 of the world's deadliest sharks in 40 days, and the History Channel is on a mission to get in on some of that sweet Shark Week action—everybody wins. Also: Shark Wranglers is mostly produced and edited in Utah, the shark capital of the Mountain West.



Burning Love
Always (BurningLove.com)
Never thought I'd be saying "Check out this Yahoo Web series," like, ever—but the 12-episode Bachelor spoof Burning Love (each clocking in around 10 minutes) was just too damned funny to ignore. Hell, it's even more hysterical than the real Bachelor, minus the aftertaste of shame, sadness and lube.