The world didn't end in December 2012, as the Mayans predicted, or with the re-election of Barack Obama, but no one told the Utah Legislature.
Lawmakers entered the 2013 session with a post-Mitt-Lost-pocalypse mindset, hunkering down with reactionary gun laws and a message to the feds to take their $400 million for Medicaid expansion and sequester it where the sun doesn't shine.
The Utah Legislature takes pride in telling the federal government to get off its lawn, but many of this year's bills did so with unique orneriness. One early bill claimed that Utah's gun laws trump federal laws; at one time, the bill sponsor wanted to give local sheriffs the power to arrest federal agents who try to seize Utahns' guns.
The contentious bill was holstered in the waning days of the session, but other bills that did pass amped up the possibility of a Wild West showdown with the feds on control of Utah's public lands. Another package of bills prepares state agencies should the federal government go bankrupt.
The session had its share of notable big-dollar bills, including a prison-relocation plan that could cost taxpayers up to $600 million, and a plan for a downtown convention-center hotel that would have diverted millions in sales-tax revenue away from local government.
The session wasn't without its drama, but, ultimately, it finished on a calm note, with most of the crazy tabled until next year or shut down on the floor by legislative leadership. Some legislators filed bills openly in the public eye, while others were more crafty, sneaking text into a bill at the last minute or changing a bill completely right before the vote.
It was another banner year for fortifying the Capitol against the evils of the coming socialist-federal-government takeover, and lawmakers likely have many more bills and plans stockpiled like ammo for the troubles ahead.
AND UTAH SHALL RISE FROM THE ASHES
With Gov. Gary Herbert referring to federal spending cuts as "butt-biting" time, legislators decided to bite first, sinking their teeth into message bills and bills directing the state to get its house in order in case of a federal-budget meltdown. Senate Concurrent Resolution 7 bellows at Washington, D.C., to recognize deficit spending as a threat to our nation. House Bill 195 requires the governor to identify all federal funds in the office's budget (nobody was doing that already?) and Senate Bill 70 creates a commission for assessing the risk of losing federal funds. It also studies how to reduce dependency on federal funds.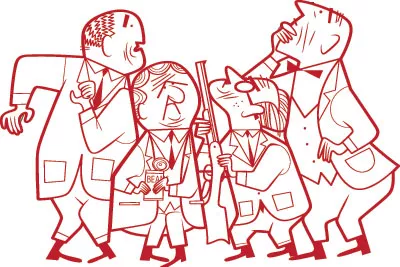 If the federal government implodes because of reckless spending, and we end up with a one-world-government situation, Sen. Todd Weiler, R-Woods Cross, has the resolution to protect us. Weiler's Senate Joint Resolution 11 rejects the U.N.'s Agenda 21, a sinister-sounding set of guidelines passed unanimously by the U.N.—including by the first Bush administration—in 1992 that recommends the voluntarily adoption of "sustainable development" and smart planning practices—fancy words for a socialist world takeover.
GUNS ARE SO HOT RIGHT NOW

Aiming for the Feds
In the aftermath of the horrific Sandy Hook Elementary School shooting in December 2012, Utah lawmakers' hearts were with the victims' families, but their hands were on the holsters of their weapons—wary of the Obama administration swooping in to take away Utahns' guns.
Most notable of these bills was House Bill 114, sponsored by Rep. Brian Greene, R-Pleasant Grove. While Green often said his bill was a state-sovereignty bill, not a reactionary gun bill, it was, however, titled "The Second Amendment Preservation Act" and its aim was to clarify that Utah gun laws take precedence over federal gun laws.
The original bill went so far as to say that local sheriffs could arrest any federal agents trying to seize Utahns' guns, though Greene later removed that language. The highly publicized bill—which he previewed before a cheering crowd during a pro-gun rally the week before the session began—would have set the stage for a showdown with the feds, until it was later shot down by the Senate.
Out & Proud
Another pair of gun bills hoped to make guns easier to carry openly and easier to conceal in Utah.
House Bill 268, pitched by Rep. Paul Ray, R-Clearfield, sought to clarify that local cities and towns can't issue disorderly conduct tickets to citizens carrying holstered or encased weapons outside their clothes unless they appear threatening—leaving cops in the fun position of waiting for a man who's openly carrying handguns or rifles in public to do something threatening before getting involved. For the second year in a row, though, law-enforcement concerns forced Ray to holster his bill, and it was never heard for a final vote.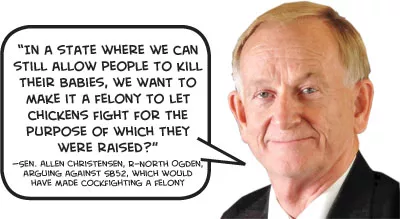 Meanwhile, Rep. John Mathis, R-Vernal, sponsored House Bill 76, which would make Utah the fifth constitutional-carry state in the Union, meaning that if you're 21 or older and legally can own a firearm, then you don't need a concealed-weapon permit to carry it concealed in Utah.
The bill, which did pass, turns out to be win-win both for the Second Amendment and the crazies. The latter demographic will no longer have to worry about passing a background check to be allowed to conceal their weapon, or having state officials revoke their permit.
According to Alice Moffat, director of the Utah Bureau of Criminal Identification, roughly 800 permits are revoked every year, but these patriots will no longer have to worry about losing the privilege of carrying around a hidden gun, even if it's determined that they have a mental illness or have been convicted of a violent crime. There is talk that Herbert may reject the bill, but as of press time, he has yet to pull the veto trigger.
UPDATE: On March 22, Herbert vetoed Mathis' HB 76, arguing that he has found no evidence that Utah's current concealed-weapons-permit process is burdensome to Utah gun owners.

IF AT FIRST YOU DON'T SUCCEED
Dating-Violence Bill Passes After a Decade of Work
After more than a decade of trying, a bill to provide a protective order for people who experience violence in a dating relationship finally passed the Legislature. While Utah has long allowed married couples to file restraining orders, couples who are simply dating were not able to do so, though dating violence can be just as dangerous as lawfully wedded violence—one study shows that 15 Utahns died as a result of dating violence between 2004 and 2011.
Rep. Jennifer Seelig, D-Salt Lake City, was able to see her House Bill 50 pass thanks to some legislative craftsmanship. Under the bill, the restraining order would be only temporary, expiring after 180 days. The bill was also written so that it would take a stronger standard of evidence than any other restraining order for the abuser to lose his right to keep a firearm. To discourage frivolous claims, the bill also creates a felony penalty for the filing of an intentionally false protective order.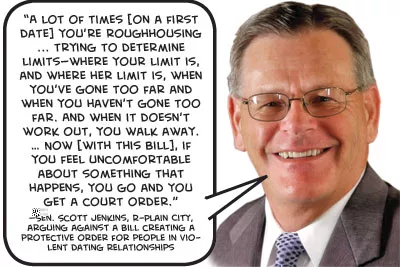 Given the bill's careful wording, it was hard for lawmakers to argue against it—or at least argue against it in a way that wasn't horribly awkward. Before the final hurdle in the bill's passage, Sen. Scott Jenkins, R-Plain City, disclosed his conflict of interest as being a "country boy." He worried Seelig's bill would criminalize instances of the playful "roughhousing" that happens when people are "testing the limits" on a first date. A majority of senators disagreed and passed the bill out favorably.
LGBT Nondiscrimination Bill Makes Historic Progress … Sort Of
Speaking of bills that won't go away, a bill that would extend nondiscrimination protections in housing and the workplace to LGBT Utahns passed favorably out of committee for the first time since 2008, when a version of the nondiscrimination bill was first proposed. Sen. Stephen Urquhart, R-St. George, helped get some conservative support for the bill to get out of committee, only later to announce that the bill would not even be debated on the Senate floor.
Senate President Wayne Niederhauser, R-Sandy, argued that the bill didn't have the votes to pass, so why even argue it on the floor? He makes a good point—why should public officials represent the competing views of their constituents and engage in a dialogue about policy and principle? Democracy, shemocracy.
BIG-DOLLAR DECISIONS
In the 2013 Legislature, the big-ticket items allowed for much elbow-swinging policy debate and good old-fashioned anti-fed tough talk.
Draper Prison Blues
Prison funding has always been the red-headed stepchild of legislative funding priorities. But things changed this year, as lawmakers argued they could improve programs and reduce inmates' chances of re-offending if they could just move the Draper prison elsewhere. Of course, the land beneath the prison is 690 acres of prime real estate that could provide a payday for a developer and, as Senate Bill 72 sponsor Scott Jenkins, R-Plain City, argued, a major payday for the state, bringing tens of thousands of jobs to the area and $20 billion in economic benefit over the course of decades.
Relocation would also cost taxpayers as much as $600 million, however, making it a touchy subject on the Hill. SB72 did pass, creating a board made up of members of the Legislature, Draper City, the Governor's Office and others to take proposals to move the prison and develop the land under it, as well as take proposals from private companies hoping to run the new prison. The board would take proposals but would have to come back to the governor and the Legislature for the final go-ahead.
The option for privatizing the prison caught some off-guard as it was sneaked into a final version of the bill before it was voted out of the Senate. Rep. Mike Noel, R-Kanab, led a last-minute move to keep the board from accepting proposals for private operation of the prison, arguing that a private company would not have a financial incentive to rehabilitate prisoners—or repeat customers, as the case may be—but the bill passed, allowing the board the freedom to pick a for-profit company to run the new prison. Expect to see the names of for-profit prison-operating companies to start appearing on campaign-contribution checks.
The Medicaid Expansion Sneak Attack
President Barack Obama's 2010 Affordable Care Act offered states the option of expanding Medicaid fully for the first three years and then going to 90 percent federal support afterward. While Democrats argued that the roughly $400 million in federal funds is Utah's federal tax dollars coming back home, conservatives saw it as the White House handing out taxpayers' cash as if it were Monopoly money.
Amid this contentious background, Rep. Jake Anderegg, R-Lehi, pulled off an impressive bit of legislative jujitsu. Originally, he proposed a chest-thumping message bill calling for the nullification of Obamacare, then at the last minute switched out all the language to make it a bill rejecting Medicaid expansion and removing the governor from the decision. Then he rushed the bill out of committee. He later got the House to pass it with a pitch that had all the elements of an awkward sacrament-meeting talk: generous scripture references, a perfunctory John F. Kennedy quote, crying and an attempt at calling on the brethren with a vague "vision" of rallying voluntary charity care that would provide the same health care to 130,000 uninsured Utahns that Medicaid expansion would.
The bill passed in the House but was amended in the Senate so that the state's decision on whether to expand Medicaid would wait until a pair of cost-benefit studies are completed. If the governor approves, the bill would come back to the Legislature for funding.
SLC Convention Hotel Bill Checks Out
A bill that would direct sales-tax revenue toward the development of a 1,000-room hotel and a major expansion of the Salt Palace convention space died on the final night of the Legislature. Proponents argued that the bill would bring more convention-going tourists to the city, bringing with them $600 million to the state over the next two decades. But lawmakers said that after the new conventions are gone, the mega-hotel would just clobber local hotels. Rep. Brian Greene, R-Pleasant Grove, criticized the plan as a "classic case of government picking winners and losers." With that, the House voted down the loser bill and declared the free market a winner.
Don't Need No Education
The Legislature brought in nearly $300 million in new education funding this year, a cause for celebration. Lawmakers also had the opportunity to allocate $10 million to a unique financing program to provide preschool education for at-risk youth in the state. Sen. Aaron Osmond, R-South Jordan, proposed Senate Bill 71, which would court $10 million in private-sector donations that could be paid off over the course of a decade by the State Board of Education if performance standards could be met by the children.
The unique private-public partnership was acknowledged by most lawmakers as a way of closing the "achievement gap" in education—but not everyone agreed that was a good thing. Sen. Margaret Dayton, R-Orem, argued that kids just learn differently and that closing the gap "was no noble goal." The bill was subsequently shut down on the senate floor.
Get Off My Public Lawn, er, Land!
The Legislature drew a line in the sand (mostly in southern Utah) against federal encroachment. In most of the bills, it was a line the feds hadn't crossed, but that lawmakers were afraid they might.
In anticipation of possible regulations against cattle overgrazing on the Escalante National Monument, the Legislature created with House Bill 382 an "official grazing" zone in and around the monument. They also gathered $300,000 to pay a Washington, D.C., lobbyist to argue against the feds reintroducing wolves back into the state, despite the fact that there seems to be no plans to do so.
They also passed House Bill 155, making it so that federal agents, such as U.S. Forest agents, could be charged with "impersonating a peace officer" if they tried to cite or detain someone violating state law or county ordinance.
House Bill 164 would also allow local authorities to make improvements to federal lands they believe are mismanaged. The bill's language is vague, but suggests that local authorities can repave roads and trails, for example, if they feel they might be dangerous for users. The problem is that the question of who owns which roads is the subject of multiple costly ongoing legal battles in the state. If a county paves over a trail and sensitive archaeological sites and/or wildlife habitats in the process, it will invite the same kind of costly lawsuits that southern Utah counties lost in the early '90s. This kind of "bulldozer diplomacy" has been damaging to the land and taxpayer resources, without being very effective. Luckily, the 2013 Legislature also added another $1 million for reserve legal funds to be used in court battles with the feds.
ETHICS & ELECTIONS
In response to the still-developing scandal surrounding Utah Attorney General John Swallow—who, at the very least, received consulting fees from a third party involved in an alleged scheme to protect an Internet businessman from a Federal Trade Commission probe—Sen. Todd Weiler, R-Woods Cross, sponsored Senate Bill 83, restricting those in the executive branch from moonlighting in other jobs, especially when the outside work conflicts with state work.
Another bill passed on the final day of the session would allow for the lieutenant governor to appoint another agency to investigate campaign-finance-disclosure irregularities other than the Attorney General's Office. Currently, the Utah Attorney General investigates those claims, which is problematic when, as in the case of Swallow, outside groups demand that his own campaign-disclosure documents be investigated.
House Bill 91, which died in the final hours of the session, would have allowed Utah to be among the few states that allow people to register to vote on Election Day. While the bill was touted as a good way to try to get apathetic eligible voters off the couch and out to the polls, other lawmakers argued that if they were too lazy to register before Election Day, they probably shouldn't be voting in the first place.
JELL-O AIR
During winter inversions, the Utah Capitol appears to be poured into a Jell-O mold, an image not lost on Utah lawmakers. Rep. Joel Briscoe, D-Salt Lake City, proposed creating a pilot program to allow for free public transit in January and July as a means of cutting back on carbon emissions. The bill never made it out of committee.
One measure that did pass late in the final day of the session allows Questar to raise user rates by as much as 8 cents a month to fund the construction of more natural-gas fueling stations in the state.
VICE REPORT
The Legislature's outlook on vice is not always predictable. Some lawmakers squash anything offensive to the dominant faith; others swerve more libertarian and think guv'ment shouldn't meddle in people's lives and businesses. How this affects vice regulation sometimes makes for a strange brew.
E-Cigs
The 2012 Legislature took a hard look at inhaled-vapor electronic cigarettes and decided to study the product for five years before determining whether they should be banned from being smoked indoors. But that didn't stop Rep. Paul Ray, R-Clearfield, from proposing that water-based e-cigs be taxed this session like regular tobacco products, increasing the tax on the "smokes" by nearly 90 percent. Conservative lawmakers allergic to tax hikes stomped the bill out on the House floor.
Smokers & Babies on Board
Rep. Patrice Arent, D-Salt Lake City, finally got the Legislature to support the passage of House Bill 13, making it a ticketable offense to smoke in a car if a passenger is 15 or younger. The surprise group advocating on behalf of smokin' drivers? The Eagle Forum.
The ultra-conservative, pro-family, won't-someone-think-of-the-children citizen lobby group said government didn't need to legislate how parents behave with their kids in their private property. Arent's legislative-fu defeated the forum, headed up by Gayle Ruzicka, and the bill passed favorably out of both houses.
THE BILLS AND BATTLES AHEAD
The general session has ended, but the legislating is far from over. The Legislature may reconvene for a special session to approve or reject the funding of expanding Medicaid, probably the state's biggest decision to be made. And while 2013 may have been an unlucky year for taking down the Zion wall, the House will try to scale that wall again in 2014.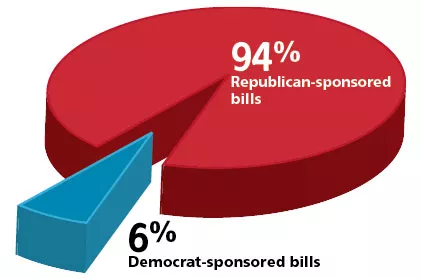 The rest of 2013 will also see a greater push for passing a statewide LGBT nondiscrimination law in 2014. The newly formed Utah Values Coalition launched UtahValues.org to get people and lawmakers educated about the issue.
But the biggest predictor of how legislators will decide about the laws governing citizens in 2014 will be determined by how much voters get involved in the issues today and before the next session of sausage-grinding begins.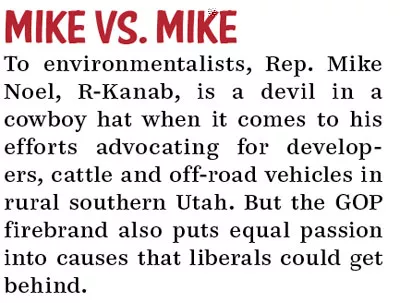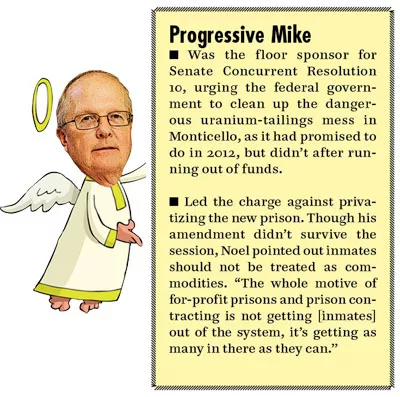 Booze News
Sen. John Valentine, R-Orem, served up a cool, refreshing bill to local restaurant owners who struggle to get liquor licenses for their establishments. Valentine proposed a bill allowing restaurant-chain owners to be able to get a single "master" license that would apply for all of their restaurants, freeing up liquor licenses for other restaurants as well.
The bill was combined with House Bill 228 by Rep. Ryan Wilcox, R-Ogden, and finished on a sour note, however, as Valentine made sure the bill keeps Utah's Zion wall standing tall. The 7-foot-2-inch walls shield restaurant-goers from watching drinks being prepared. Wilcox studied throughout 2012 whether there is evidence that such walls actually prevent underage drinking. Finding none, he proposed their removal in his first bill draft. That measure was shut down by Valentine.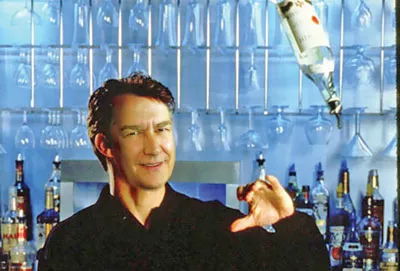 While there is no evidence, there is the 1988 Tom Cruise classic Cocktail, which shows bartenders using "flair" to make drinking "cool" by throwing bottles in the air and catching them behind their backs. Though the movie is rated R, many state lawmakers have apparently seen it and worry that fancy bartending will encourage drinking, though measuring devices attached to liquor bottles actually physically prevent bartender "flair."
"I agree [drinking] is a public-health issue," Wilcox said. "What I don't agree with is when we implement policies based on theories and fear tactics." The Utah Senate disagreed and kept the Zion walls in place.