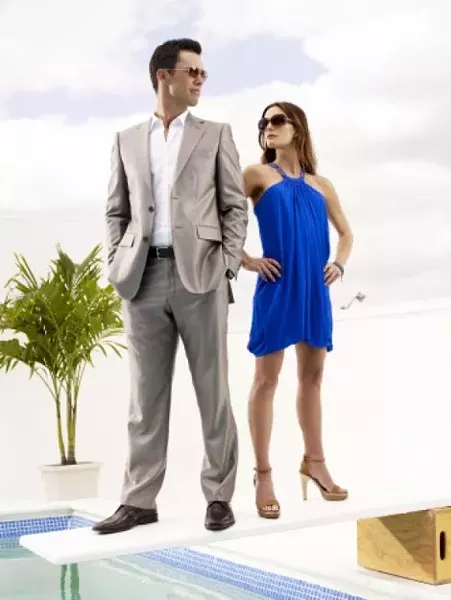 Burn Notice, Royal Pains Thursday, June 4 (USA)
Season Premiere/Series Debut: Last we saw Burn Notice's Michael Westen, he was jumping from a helicopter after cutting ties with the mysterious group that burned him out of the spy business—unfortunately for him, they were also protecting him from the bad guys he pissed off when he was still a government man. Now, Mike's weekly help-the-downtrodden gig has an extra twist of danger, but it's still fun (and explosions, snappy quips, skinny babes, etc.) in the Miami sun. As for new series Royal Pains, different scenic locale: The Hamptons of New York, where the rich frolic but apparently won't pitch in for a decent hospital. Enter jobless physician Hank Lawson, who inadvertently becomes the local doc-on-call after crashing a swank party. It's a solid and fizzy first episode, but how do you get another dozen out of this setup? It's not like pretty people are going to be overdosing every week and … OK, never mind.
Gene Simmons' Family Jewels Sunday, June 7 (A&E)
Season Premiere: Anyone who thinks The Hills is the most scripted "reality" series on TV hasn't seen Gene Simmons' Family Jewels—most network sitcoms aren't this airtight (or funny, really). In the fourth (!) season premiere, it's time for daughter Sophie's Sweet 16 birthday party—will over-the-top festivities and exasperated hilarity ensue? And if Sophie's acting isn't up to par, will Gene replace her with an identical teen for the rest of the tour, er, season?
Army Wives Sunday, June 7 (Lifetime)
Season Premiere: Season 1 of Army Wives was warm and real; Season 2 veered drastically/needlessly into ridiculous soap-opera angst; Season 3 would do well to at least try and split the difference. Going by the first episode back, however, that shark has done jumped: Missing teens! Affair rumors! Work woes! Post-partum deployment! The Only TV Column That Matters™ will suffer only so much for Catherine Bell …
Kendra Sunday, June 7 (E!)
Series Debut: Prior to being alerted to the existence of Jon & Kate Plus 8, I would have dismissed Playboy Playmate and former Girls Next Door costar/Hef receptacle Kendra Wilkinson as the dumbest waste of spray-tan to ever be awarded their own TV series. Apologies, Kendra. To the rest: Watching Kendra even for a second will cause partial, irreversible retardation. Avoid like, well, any non-Soup program on E!
Z Rock Sunday, June 7 (IFC)
Season Premiere: Rock band by night, kiddie-party band by day, hilarious (and film channel uncensored) comedy series every summer Sunday—think This Is Spinal Tap meets Curb Your Enthusiasm. Oh, and ZO2 is a real band.
Weeds, Nurse Jackie Monday, June 8 (Showtime)
Season Premiere/Series Debut: Having buried the cutesy suburban-mom-sells-pot premise forever last season, the Botwin family and assorted tag-alongs (don't question how they keep Doug around, just go with it) are neck-deep in the SoCal blunt biz now—Nancy's pregnant with the child of a Mexican drug/gun/slave lord who also happens to be the mayor of Tijuana, fergawdsakes. Throw in guest star Jennifer Jason Leigh as the straight-arrow sister to Mary-Louise Parker's Nancy (what's with the triple names?) and a new foray into medical-marijuana retail (what took so long?), and Season 5 looks like the wildest Weeds yet. On the other coast, Nurse Jackie (starring The Sopranos' Edie Falco) takes a cynical look at the New York City healthcare system, medication abuse and life/death in general. It ain't pretty or remotely uplifting, but Falco somehow makes it work. Welcome to Druggie Mondays.