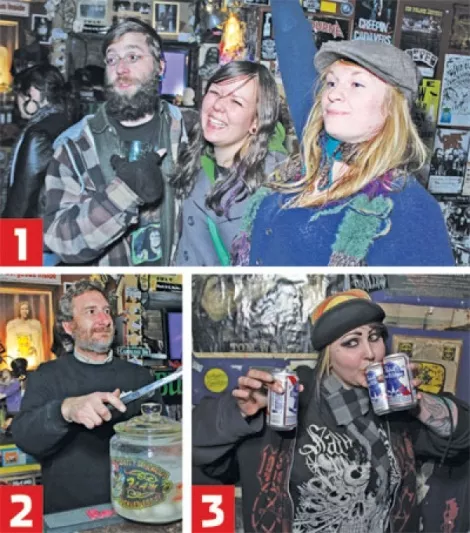 Habits: The Only-est & Sexiest
According to a recent Facebook post on its page, Habits is "SLC's ONLY & SEXIEST place to be." Besides the unnecessary use of an ampersand, Habits (832 E. 3900 South) posits an interesting point. It claims it's the "ONLY," which may be slightly untrue, at the same time proclaiming the "SEXIEST." However, we have been to Habits several times and can vouch for plenty of sexy there. Go see for yourself on Thursday nights, when the songbirds come out for karaoke; there's no cover, and $4 Long Islands, which means you're bound to, eventually, see something "sexiest" to interest you.
Juniors Tavern: Since 1974
We haven't mentioned one of our favorite downtown bars in a while, and that's tres bad, considering how fun it is. So for those new folks in town, or for the visitors, make sure you visit Juniors Tavern (30 E. Broadway). It's self-described as a "drinking institution," which is much deserved, considering that the bar has been open—in one form or another—since 1974.
Burt's Tiki Lounge: Still Here
Burt's Tiki Lounge (726 S. State) is known for its punk and metal shows, but the bar is also home to one of the best interiors and crustiest bar staffs in the state—regardless of whether bands are onstage or not. Bands don't usually yell into a beer-soaked mic on Sundays, because that's when locals get to try their musical hands at sounding terrible during Karaoke Swilldown with Rockin' Robin. Grab a PBR, one of Scotty's world-famous pickled eggs and a wobbly barstool, and let the swill wash over you.
Pics from Burt's Tiki Lounge:
1. Jimmy Lennon, Liz Philips, Meg Miller
2. Greg Hogan
3. Caroline Lang
We want to keep Utah up to speed on local nightlife. Submit tips about club openings, closures, remodels, special events, drink recipes and noteworthy changes to comments@cityweekly.net.
Twitter: @JonPaxton