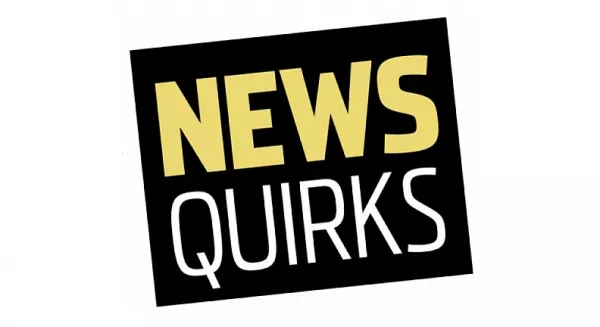 Curses, Foiled Again
Authorities investigating the theft of President Obama's teleprompter and podium last fall identified Eric Brown, 48, as their suspect. The equipment was recovered a few days later in Henrico, Va., but federal investigators continued their search for the culprit because the case involved the president. After an informant reported Brown had bragged about the theft and possessed items bearing the presidential seal, federal agents used tracking data in Samf's cell phone to learn that the phone had been where the items were when they'd been stolen. (Richmond's WTVR-TV)
Border patrol agents who spotted a Jeep Cherokee teetering atop a 14-foot-tall fence in southeast California reported that drug smugglers had built ramps to drive up and over the fence but got stuck at the top. Agents said two men on the Mexican side of the border trying to free the Jeep ran away when they approached, but they arrested the occupants of a pickup truck that had already made it over the ramp. (Associated Press)
Business Plan of the Week
Operating under bankruptcy protection, American Airlines paid $40,000—a year's salary—to each of the 2,205 flight attendants who accepted its buyout offers. Then the airline posted job openings for 1,500 new flight attendants, the first time in 11 years it has hired flight attendants. (Associated Press)
Mrs. Doubtfire's Evil Twin
Paul Henry Cannon, 44, pleaded guilty in Waterloo, Iowa, to masquerading as a woman for four months. Cannon wore women's clothing, was issued a driver's license in the name of Shelia Davis, used her birthday and Social Security information, and held two jobs posing as her. He opened a bank account under Davis's name and used it and the driver's license to pass $600 worth of bad checks. Authorities uncovered the ruse after state troopers stopped Cannon driving 92 mph while wearing women's clothing and issued the ticket to Shelia Davis. They later learned the car was stolen and went to arrest the real Shelia Davis, who knows Cannon, but realized they had the wrong person and nabbed Cannon. (Waterloo-Cedar Falls Courier)
Blame Game
An Italian court convicted six scientists and a government official of manslaughter for failing to predict the 2009 L'Aquila earthquake, which killed more than 300 people, and sentenced them to six years in prison. The court also ordered Italian authorities to pay 7.8 million euros ($10 million) in damages. (CNN)
Cane Follies
Authorities in Akron, Ohio, evacuated City Hall after someone reported seeing what looked like a pipe bomb: a 4-foot-long aluminum stick with duct tape at both ends and the word "Kaboom" written on it. The Summit County Bomb Squad determined it wasn't a bomb. Further investigation identified it as a homemade cane belonging to James Kaboom, 66, who said he'd forgotten it at a meeting. Noting his family came from Poland, he explained his last name was shortened from Kaboomski. His actual, full legal name is Natural Hunka Kaboom. (NBC News)
After British police received a report of a man carrying a samurai sword through Chorley, in Lancashire, an officer spotted a suspect and ordered him to stop. When he didn't, the officer discharged his Taser, forcing the man to drop the object and fall to the ground. At this point, according to Chief Superintendent Stuart Williams, it "became apparent that this man was not the person we were looking for." Instead, it was Colin Farmer, 61, a blind man using a white stick to find his way. "It felt like I was grabbing an electricity pylon," Farmer, who has suffered two strokes, said after he was treated at the hospital and apologized to by police, who later arrested a man carrying an actual samurai sword on suspicion of being drunk and disorderly. (BBC News)
When Guns Are Outlawed
A man who rammed into a wall at the Greater Sweethome Missionary Baptist Church in Forest Hill, Texas, apparently on purpose, got out of the car, chased the minister and beat him to death with an electric guitar. Police who found Derrick Anthony Birdow assaulting the Rev. Danny Kirk Sr. used a Taser to subdue him. Birdow became unresponsive and died in the back of the patrol car. (Associated Press)
Hidey-Hole
Police who stopped a car driving erratically in Naples, Fla., observed a bag of marijuana in the back seat and arrested passenger Vida Golac, 18, who was sitting nearest it but denied ownership. Two friends told the officer it wasn't theirs and were allowed to leave. When jail deputies strip-searched Golac, they found more marijuana in her genitals. She insisted it wasn't hers but that she was hiding it to keep her friends from getting in trouble. (Naples Daily News)
People for the Peopleless
Dozens of schools have begun offering programs to graduate unmanned systems operators for when the Federal Aviation Administration begins integrating drones into the nation's crowded airspace in 2015 by granting personal and commercial licenses to people who meet pilot training and medical requirements.
Retired Air Force colonel and commercial airline pilot Jerry LeMieux opened Unmanned Vehicle University, the world's first school dedicated solely to educating drone operators. UVU, which received its international accreditation in July, offers only online courses.
The University of North Dakota began offering its own degree program in the field of unmanned systems through the school's Center for Unmanned Aircraft Systems Research.
The University of Nebraska-Lincoln's Matt Waite founded the first "drone journalism lab" to explore the opportunities and ethics of using drones to gather news. (The Washington Times)
Clearance Sale
Joseph M. Lamport Jr., the owner of Easy Auto Cars in Helena, Mont., returned from vacation to find his entire inventory missing. He contacted a car dealer in Blackfoot, Idaho, with whom he'd previously done business, and found that Easy Auto's sole employee, Robert Alfred McGinnis, 38, had sold the dealer all 25 or 26 cars for about $100,000 while Lamport was away. (Helena's Independent Record)
Chicken Little Was Right
Jennifer Cording was giving horseback riding lessons to a group of teenagers while their parents watched near Assawoman, Va., when a foot-long piece of raw chicken hit one of the students on the head. "Three objects fell out of the sky in front of us," Cording said, "two larger and one quite small." Avian expert Bryan D. Watts of the College of William and Mary said the chicken parts likely came from high-flying seagulls, "which we know carry chicken parts." (Salisbury, Md.'s The Daily Times)
Compiled from the press reports by Roland Sweet. Authentication on demand.