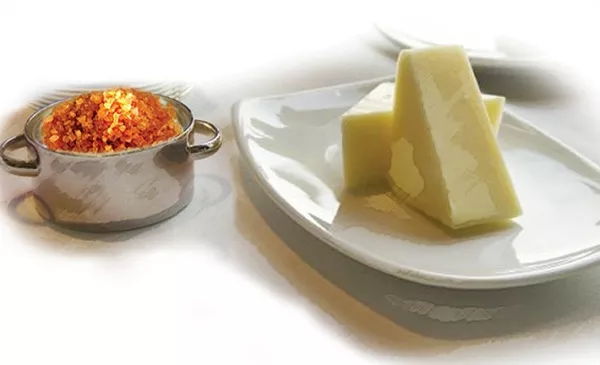 Only virgins were allowed to rake the coveted, hand-harvested French sea salt called fleur de sel (translated: "flower of salt"), or so the story goes. Silky in texture, snowy in color, it is the finest of all salts. And, like most artisanal sea salt, it is underrated because of table salt's everyday usage. Most home cooks don't understand fine salts. The same can be said for butter and, until recently, olive oil.
"Ten years ago, no one really gave a shit about olive oil the way winos did about wine. But that's changing … folks are paying more attention to the quality of the oil, where it comes from, the type of olives," says Vanessa Chang, education director at Tony Caputo's Market & Deli. She'll teach a class on artisanal salt and butter— potential future culinary darlings.
With her sly wit, Chang tells stories—like the bit about the virgins—and guides students through three main focus areas: origin, application and flavor (tastings). Some of the salts include Hawaiian Kai black, Durango hickory smoked, Himalayan pink and, of course, fleur de sel. The delectable butters include a trio from Italy—Beppino Occelli, Mandriano and Delitia, which is made from the same milk as Parmigiano Reggiano.
Not all butter is created equal. Some would say it's a decadent, guilty pleasure—for others, the "maximum bang for your buck," as Chang puts it. The rich, luxurious flavor of high-fat European butter— a fat that shouldn't be used over high heat—lends itself to an explosive finishing sauce. Or it can enhance toast beyond belief. It's so simple, yet so stunning.
"It's a fairly unique class, because Americans think of butter and salt as one-dimensional, or even taboo," Chang says. "We are reversing the stereotype."
TASTING: FINE BUTTERS & SEA SALTS
Tony Caputo's Market & Deli
314 W. Broadway
Tuesday, May 15, 7:15 p.m.
$25
CaputosDeli.com