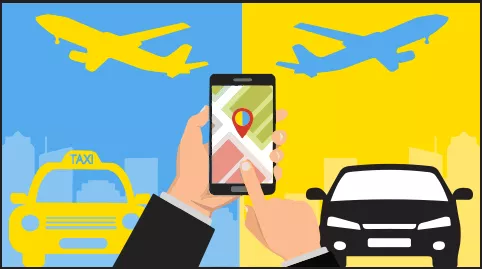 The squeaky clean windshield of Rod Kujaczynski's gray Jetta sports a pink decal—one that has become as commonplace as the urinating Calvin or the line of stick-figure family members.
Every weekday morning for the past four months, Kujaczynski hops in his car, clicks on his Lyft app—hence the sticker—and goes to work, driving commuters to their offices or schools. He signs off for a couple hours while he works at his consulting job through the late afternoon. Then he again trawls the streets in his car, looking for the workforce commuting home.
Attracted by the additional income, he joined the swelling ranks of ride-share drivers, independent contractors in the sharing economy—a market dominated by omnipresent Lyft and its competitor, Uber.
These drivers say they have the luxury of working extra hours that fit around their schedule.
In the evenings, Kujaczynski will transport folks to bars or restaurants, and maybe even their second stop from the restaurant to the club. But he's decided he doesn't want to work late-nights, picking up patrons when the clubs close. "This is my car, and I don't want people getting sick in it," he says. That's OK; plenty of other drivers earn their fares by helping the closing-time crowd make it home safely.
Ocassionally, Kujaczynski deviates from his usual runs to pick up folks who need to catch a flight. It's one of his most-lucrative runs—a practically straight-shot jaunt along about 8 miles of freeway.
Airport fares are vital to taxis, vans and shuttles, plus Uber and Lyft. And over the past couple of years, lawmakers have tweaked the rules that govern their operations.
In 2015, the Legislature tackled the question of regulating emerging ride-share companies (at the time, hundreds of Uber and Lyft drivers were buzzing around the Beehive). Sen. Stuart Adams, R-Layton, sponsored a bill establishing a regulatory framework. This included enforcing driver background checks, vehicle inspections and insurance requirements.
Leading up to a vote on the bill, Senate Business and Labor Committee members reiterated that ride-sharing companies—those can be hailed for a ride through a smartphone app—would not be permitted to pick up or drop off passengers at the airport.
But even though the bill passed, they did anyway. It's a quintessential example of what Ute Cab Co. President Ken Olsen sees as a pattern of the ride sharers disregarding rules until regulators find it easier to change them rather than enforce them.
"Their business plan is to go in, thumb their nose up at the regulations, break all of the ordinances, the rules, the laws and do what they want to do," he says. "Because they're Uber and no one is going to touch them. They have billions behind them."
The Salt Lake Tribune likened the lawlessness to "the Wild West" in a 2015 story about the impossible task of applying an established regulatory system to an innovative new industry.
Now the dust has settled, and the ride sharers are legally allowed at the airport. But looking back, Olsen has qualms with the regulatory process.
"We were incredibly regulated by the city," he says. "They set our meter rates. They sealed our meters. They controlled our drivers. They controlled when and where the drivers worked at the airport."
He emphasizes he's not opposed to competition—so long as they're on equal footing. He's not convinced that's the case. Uber and Lyft, which are classified as "transportation network companies," or TNCs, and regulated by the state, don't have a mandatory maximum fare for rides from the airport to Salt Lake City. And Lyft and Uber drivers don't have to obtain a business license in each city they serve.
Standard taxi services differ: The drivers can wait in a staging area for pickup at the airport, and each time a cab enters that area, it is charged a small fee. The amount a driver is allowed to charge for a ride from the airport to the city is capped at $25. And, Olsen points out, if the cab has a business license with Salt Lake City only, it cannot do business in another city.
Ride-sharing companies also are charged a fee per ride, but because they don't pass through the ground transportation staging area, the companies are responsible for keeping track of their trips for payment. It's an "honor system," Olsen says.
Traffic congestion was a primary concern regarding Uber and Lyft. To alleviate crowding on sidewalks, the airport set up a boundary where TNC drivers are allowed to wait for requests. That boundary, roughly, runs west from Redwood Road, along Interstate 80 past the airport, and goes south until about 500 South. Maps are available on both companies' websites.
Today, more than 3,000 active Uber drivers are available in Utah, according to an Uber spokesperson. Lyft did not respond by press time to a similar inquiry.
All drivers who have their apps on and enter the designated waiting area are added to a queue. As long as drivers stay in that boundary, their spot will be secured. If they leave, however, and then enter again, they will be placed at the back of the line.
Though ride-sharing companies are eating into the ground transportation market, Uber has experienced a rash of bad publicity. A recent article in New York Magazine asks whether the company would be able to rebound from its latest blunders.
Before President Donald Trump's first travel ban was struck down by the courts, protesting taxi companies in New York banded together and refused to offer airport service. But Uber was accused of crossing the picket line, prompting the social media hashtag #DeleteUber. Then the company allegedly overlooked a sexual harassment complaint. Amid the turmoil, Uber CEO Travis Kalanick stepped down last week.
Whether Uber sees a decline in ridership or rebounds, or whether it'll be affected on the ground at all, is yet to be seen.
From the airport's pickup station, a ride request prompted a four-minute wait before an Uber driver was curbside on a late Friday morning. Deborah White, who began driving for Uber after her job as a kitchen worker in a Utah school district was eliminated, was friendly and accommodating. She had just dropped off another rider when her phone pinged for a pickup. An "Uber grandma," she and her husband primarily make their living through the app. She says she drives six days a week.
"I used to drive around the airport a couple times," she says. "But I realized now that I can get just as many calls on the freeway."
But does she like it?
"I like it a lot," she says. "It keeps me hopping."