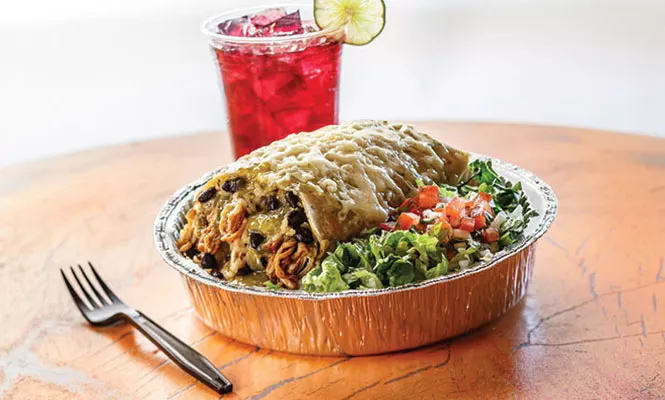 Rio 100
Now that Cafe Rio Mexican Grill (CafeRio.com) is so ubiquitous, it's easy to forget that this was originally a Utah business—it started in St. George in 1997 as one of the nation's first fast-fresh Mexican eateries. On Oct. 13, 2016, the chain opened its 100th location, in Lehi, with Gov. Gary Herbert and Lehi Mayor Bert Wilson in attendance. Also at the grand opening celebration was Utah Food Bank's Ginette Bott, and Cafe Rio's CEO/COO Dave Gagnon who announced a partnership with the Utah Food Bank by making a $2,500 donation to the nonprofit organization. "Utah Food Bank is incredibly grateful to Cafe Rio for joining us as a partner in fighting hunger statewide, and we look forward a successful long-term partnership with a fellow Utah institution," Bott says via email. "With our ability to turn each dollar donated into $7.35 of goods and services, Cafe Rio's support will go a long way in helping the 423,000 Utahns who face hunger."
The Beyond Burger
If you're in the market for veggie-based burgers, Beyond Meat might have just the thing for you. The company just launched a new product called The Beyond Burger, and it's currently only available at a select number of Utah Whole Foods locations: South Valley, Trolley Square, Sugar House, Park City and Cottonwood Heights. The plant-based burger contains 20 grams of pea protein and no soy, gluten or GMOs. And, it actually looks like a beef burger, which can be off-putting to some vegetarians.
I had the opportunity to sample it. To be honest, it was hard for me to get past the smell, which reminded me of burning tires. A vegetarian foodie informant of mine warned, "The smell gets worse when you cook it." Surprisingly, the No. 1 ingredient isn't liquid smoke; it's water. And my friend was correct, the smell does get worse when you cook it. However, the results are pretty surprising: This is the first veggie burger I've tried that had the texture and appearance of meat. It doesn't exactly taste like beef, but is similar enough to satisfy vegetarians who are looking for a close alternative. BeyondMeat.com
Quote of the week: "You can find your way across this country using burger joints the way a navigator uses stars."
—Charles Kuralt
Send tips to: tscheffler@cityweekly.net