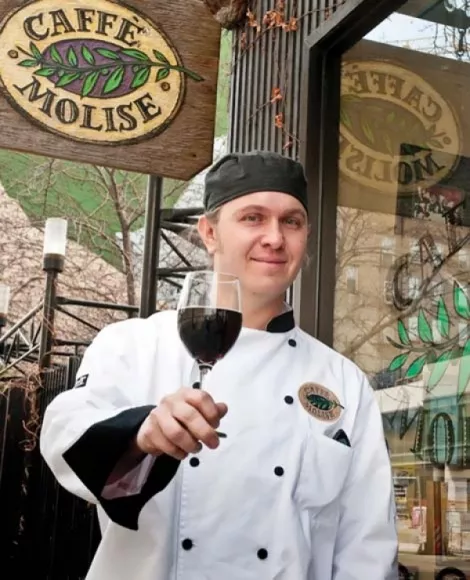 How do I love Sunday brunch at Caffé Molise (and why should you give it a try)? Let me count the ways: Cool jazz, modern décor punctuated with original art, a splendid menu that includes sparkling $3 mimosas and $4 Bloody Marys—and the option of dining on a delightful garden patio. Then there's the gracious service and plenty of free parking. And, perhaps best of all, there's not a buffet table in sight. Chef/owner Fred Moesinger presents brunch as it should be: cooked to order, beautifully plated and all grown-up.
Diners are given a choice of Caffé Molise's breakfast or lunch menu at brunch. I explored the breakfast side, and it's divine. Fiorentino al Benedictus is a delicious take on the standard eggs Benedict: two perfectly poached eggs topped with shards of grilled prosciutto atop squares of creamy polenta, layered with spinach and tomato and all graced with a light, lemony hollandaise. With sliced seasonal fruit and a serving of traditional hash browns on the plate, it's the most impressive $10.95 meal I've come across in a long time.
Salmone al Benedictus offers a slight twist, with poached eggs on a toasted muffin layered with house-smoked salmon from Mystic, Alaska, chevre and roasted bell peppers. Uovo in Purgatorio (eggs in purgatory) nestles poached eggs in a brilliant tomato, caper and olive sauce. Ricotta pancakes with fresh berries and a dollop of sweetened ricotta are sweet, but not overly so.
On the other hand, if you like your breakfast on the super-rich side, you'll love, the cashewand Frangelico-battered baguette slices served with maple syrup and sweetened ricotta. They make traditional French toast look like diet food. This is a good thing. Another good thing: Brunch at Caffe Molise is served until 4 p.m.

CAFFE MOLISE
56 W. 100 South
801-364-8833
www.CaffeMolise.com