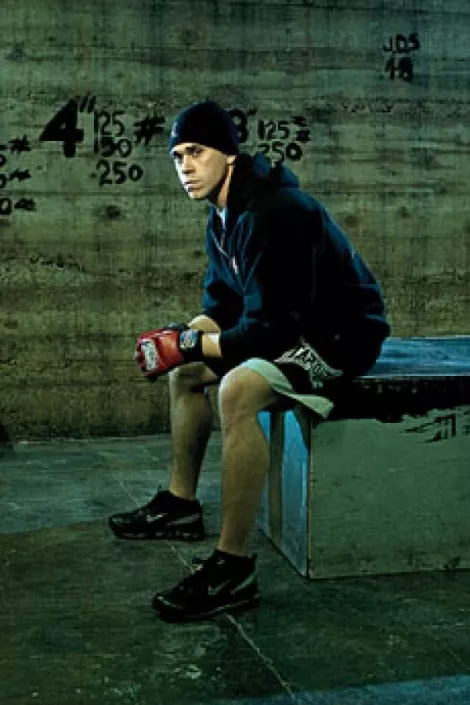 In a typical Saturday night in downtown Salt Lake City, Robert Sandstrom makes his way into a huge room at Bliss nightclub. Rap music playing at ear ear-splitting decibels serves as the backdrop while Sandstrom walks behind a man wearing a T-shirt that reads, "Fighting Solves Everything." He pushes his way through a crowd of hundreds of people who have paid $35 to get in—more than that if you add drinks to the bill.
Settled on his destination at last, Sandstrom climbs into a platform surrounded on all sides by a chain-link fence. A scantily clad woman, better known as a "ring girl," and an iron-voiced announcer exit. A gate shuts behind them. Sandstrom is now on his own, a man in a cage.
This is his moment to shine in the world of Mixed Martial Arts—or MMA. The fighting he is about to take part in allows everything from stand-up boxing to on-the-mat wrestling and any form of martial arts in between. Only a few potentially injurious moves are barred at all.
At one point in the bout, Sandstrom flips his opponent on his chest, then sits on the guy's chest while pounding his face with only minimally padded hands. It looks like a fight between two fifth-graders in the schoolyard and draws enough blood to end up smeared on Sandstrom's chest and face. Minutes later, Sandstrom gets the other fighter in a chokehold, effectively cutting off his air supply. Just short of passing out, the opponent taps furiously on the canvas floor, signaling the referee to stop the fight.
The crowd erupts.
Immediately after leaving the cage, Sandstrom collects $150 in prize money along with a certificate good for a free steak dinner. He passes a required post-fight checkup by an onsite doctor. Then he calls it a night.
Not bad for somebody who started training in his backyard with his dad just weeks before signing up for his first fight.
Sandstrom is a former college baseball player who was rehabbing a shoulder injury while awaiting a professional baseball tryout. During rehab, he saw a TV broadcast of the Ultimate Fighting Championship (UFC)—the highest level of MMA—and decided to give the sport a try. When he thought he was ready, Sandstrom took documentation of the negative results of an HIV test and $27 to register with the state athletic commission, and signed up for a fight with a local promoter.
Sandstrom had never been in a fight before—organized or otherwise—and didn't feel he had ever done anything particularly brutal.
"I don't have anything against the other guy. I don't even know him," he says. "People need to realize it's a sport, not a fight. It's about skill, not wanting to hurt someone."
It may be about skill and sport. Or it may be a statement on America's fascination with violence passing as entertainment. One thing is sure: Mixed Martial Arts is enjoying a burst of popularity in Utah. The fights involve a sizeable number of otherwise staid men, many of them breadwinning Mormon husbands and fathers, who wouldn't normally be caught dead in a nightclub.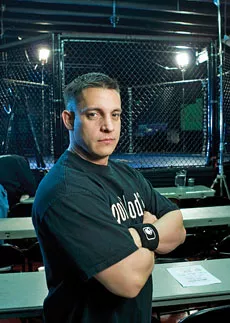 Local MMA promoter Mike Stidham says he has so many LDS fighters signing up he has to be careful not to schedule too many of them for his cards at clubs. That's because friends and family who come to watch the fighters won't buy enough liquor to keep the club owners happy.
"I think there's a lot of pent-up frustration in LDS culture," Stidham says. "A lot of guys have a lot of anger."