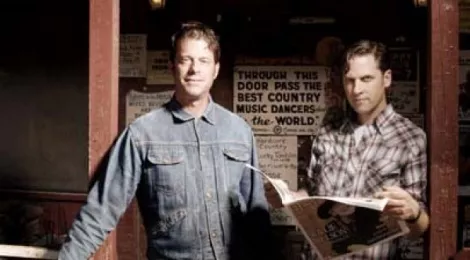 "Cinematic" is one adjective one might use to describe Calexico, the band led by Joey Burns and John Convertino that infuses traditional rock with mariachi horns and a dash of spaghetti-Western pedal-steel.
That adjective is even more accurate given the band's activities of late. Calexico has spent the past couple of years primarily in Tucson, Ariz., working on the soundtracks for films like the documentary Circo and 2011 Sundance film The Guard, which is being released to American theaters as we speak.
The Guard is a bit of a buddy-cop-comedy-meets-action flick set in the remote western edge of Ireland—not exactly a setting that seems a natural fit for Calexico's Spanish-influenced blend of indie-rock, country and even jazz.
"I think that is a good tip-off on the direction of writer and director John Michael McDonagh. He wanted to break the mold of what a Western could be," Burns says.
The same could be said of Calexico, whose sound at times seems to come right off an Ennio Morricone soundtrack. But as easy as it is to connect Calexico's sound with the Mexican border near Tucson, Burns considers his band's sound more worldly than that.
"It's evocative of a sense of place," Burns says of Calexico's sound. "Not necessarily the Southwest. We have a lot of music that's dreamy or atmospheric that you might hear on NPR. Then again, there's the full-blown Western stuff that gets used on The Sopranos. We kind of run the gamut."
Calexico's sound has drawn the band an ever-growing following. Many of those fans are fellow musicians like Neko Case and Richmond Fontaine's Willy Vlautin, who have made their way to Tucson to work with Burns and Convertino to try to capture some of that Southwestern grit in their own music.
"It takes a certain amount of character to come down here because you're really confronted with yourself, and that can be hard for some people," Burns says. "You realize when you're here that you're surrounded by this beautiful and scary Sonoran Desert. I think it's important to keep that perspective in mind when you're writing or recording."
The environment certainly works for Burns' band. Calexico is working on a new studio album, set to arrive in 2012, but first they're doing some touring and opening for Amos Lee—another artist who made the trek to work with Calexico in Tucson—along with headlining some dates.
"There are some bands who really don't like touring at all. We're not one of them. We love touring," Burns says. "We feed off that dynamic, and playing on a stage helps amplify our acoustic sound. And I love collaborating with the audience and getting that energy."
CALEXICO
w/ Jay William Henderson
The Urban Lounge
241 S. 500 East
Wednesday, Aug. 10, 9 p.m.
$20