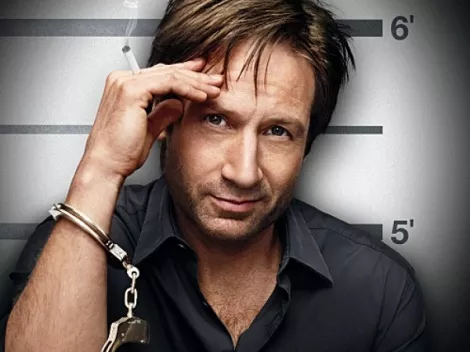 Californication
Sunday, Jan. 9 (Showtime)

Season Premiere:
When last we left carousing writer Hank Moody (David Duchovny) way back in December 2009, he was being hauled off to jail after it was revealed that he'd ignorantly and consensually nailed then-16-year-old Mia (Madeline Zima) way back in Season 1. Upside-ish, it also came out that he was the actual author of Mia's bestselling book—not that his girlfriend and daughter care much after those statutory-rape charges.
Season 4 is all about Hank's road to redemption: He has to stay out of prison, make some money to stay afloat and oversee the film version of his newly reclaimed novel (starring a hysterically over-the-top actor played by Rob Lowe playing Brad Pitt playing David Duchovny playing Hank Moody). Of course, there's plenty of sex (with Carla Gugino and Rescue Me's Callie Thorne, among others), drugs and rock & roll (his daughter joins an all-girl band with odd taste in cover tunes), but it all plays like the final debacherous chapter for Californication. If this really is The End, it's a damned good, and satisfying, conclusion; if not, can't wait to see Hank on the movie-promotion circuit next year.
Episodes, Shameless
Sunday, Jan. 9 (Showtime)
Series Debuts: The much-publicized performance of Friends' Matt LeBlanc as Matt LeBlanc on Showtime's Episodes isn't just a one-note goof portraying the former "Joey" as an arrogant prick—he's an arrogant prick who can also be charming, manipulative and show-biz smart. Soon after a married writing team (Stephen Mangan, Tamsin Greig) sells their hit British TV comedy to a U.S. network and move to Los Angeles to adapt it, they realize the 'Mericans are going to completely alter/ruin their highbrow original—specifically, by casting LeBlanc in the lead. Episodes is funnier and deeper than the Hollywood-insider premise would suggest and, at only seven 30-minute installments, never drags.
Shameless, starring William H. Macy as a perpetually drunk/broke/absent single father of six, however, is a tougher sell: While Macy, Emmy Rossum (as his 20-something daughter who runs the household) and the kiddie cast are excellent, watching them live on top of each other in a rundown Chicago house and scrape by (legally and, mostly, otherwise) makes for a claustrophobic hour. Fortunately, enough wicked humor pokes through to keep Shameless from being a total downer—but they can't have Macy being violated with a dildo by Joan Cusack every week … can they?
California King


"California Love"


California Pizza Kitchen

The Cape
Sunday, Jan. 9 (NBC)
Series Debut: If I can get through this without laughing, so can you: An honest cop (David Lyons) framed for murder and believed dead disappears underground, only to wind up with a gang of circus performers who also rob banks. There, the not-dead cop trains to become The Cape, a superhero who fights with his, well, cape. With the help of an "investigative blogger" (Summer Glau), The Cape will battle crime, clear his name, return to his wife and son, and … OK, I'm tapping out.

Bob's Burgers
Sunday, Jan. 9 (Fox)
Series Debut: If only Bob's Burgers were half as funny as The Cape. The only thing this badly scribbled new brick in the "Animation Domination" wall has going for it is the voice of H. Jon Benjamin—and you can hear him on FX's far, far, far superior Archer come Jan. 27. Just leave Sundays to Seth MacFarlane and Matt Groening, Fox.

Off the Map
Wednesday, Jan. 12 (ABC)
Series Debut: From the producers of Grey's Anatomy, it's Doctors Without Borders meets Doctors Without Pants. Like the show, that zinger sucks—and it's still funnier than Bob's Burgers.