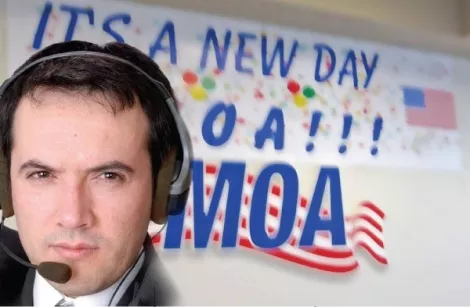 For many companies, the current economy is tough. But some businesses like it tough—in fact, they bank on it. On July 1, in its Operation Short Change, the Federal Trade Commission targeted a few such companies for defrauding consumers in this challenging economy. Two of the companies, Google Money Tree and Mentoring of America (MOA), have significant Utah ties.

MOA was featured in an April 9 City Weekly article, "Called Into Question," which detailed allegations of fraudulent sales practices, rampant drug abuse by employees and the company's campaign contributions to Utah Attorney General Mark Shurtleff, totaling $30,000. The company was described in the FTC's July 1 press release as "having duped hundreds of thousands of consumers into paying approximately $300 million."

"The focus of our sweep was to attack frauds that are really preying upon, and exploiting the financial circumstances and the financial worries of, consumers," says Karen Hobbes, attorney for the FTC´s Division of Marketing Practices.

Operation Short Change brought eight federal cases against a number of companies employing "over-hyped get-rich-quick plans, bogus government grants and phony debt-reduction services, or putting unauthorized charges on consumers' credit or debit cards."

According to Hobbes, the FTC's Division of Marketing Practices contends these scammers used the economic downturn to lure consumers into their fraudulent schemes. "They use buzzwords like 'recession-proof income,' 'guaranteed jobs,' 'free government grants,'—these are things appealing to people in dire straits," Hobbes says.
According to the FTC press release, one of these companies, Google Money Tree, whose headquarters are in Draper, represented itself as being affiliated with Google while marketing low-cost kits that purport to help customers use Google to earn $100,000 in as little as six months. The FTC press release alleged the company misled consumers and charged customers' credit cards $72.71 each in undisclosed fees without their knowledge and denied consumers legally entitled refunds.

These charges are similar to those brought at the state level, which resulted in administrative citations brought against Google Money Tree by the Utah Division of Consumer Protection in April 2009 for multiple violations of the Telephone Fraud Prevention Act. Those citations are still under review by attorneys for Google Money Tree and the state. (Representatives of the Google Money Tree did not return calls to comment on this story.)

The other company charged in the FTC sweep, Mentoring of America, has been under four separate state investigations between 2004 and 2009 that resulted in administrative citations and one enforcement action by the Utah Attorney General's Office.
The most recent charges against MOA were filed on June 10, 2009, when the company was charged by the Utah Division of Consumer Protection with eight counts of deceptive trade practices. The citation notes that company representatives allegedly charged consumers with fees ranging between $5,000 to $14,000 for real-estate coaching sessions. Victims were allegedly promised they would be successful; one was told there was "no way to fail."

Similar allegations are presented in the federal suit filed in the Central District of California where Mentoring of America's headquarters are located, although the company also has offices in American Fork and St. George, Utah. The complaint alleges that MOA's program of offering coaching services to make money off tax-lien home sales consistently misrepresented material facts through its late-night television infomercials.

The complaint also alleges illegal claims made by MOA salespersons of outlandish profits to be earned through the MOA's programs. These allegations are also consistent with numerous state administrative actions against the company as well as allegations by past employees, including former supervisor Tim Lawson, who told City Weekly in January 2009 he frequently overheard salespersons at the American Fork office making inflated earnings claims to consumers in 2007. Lawson recalls one salesperson assuring a customer that if the customer couldn't sell a taxlien home bought through the program, that the company founder would fly out and buy the property back from the customer himself. (MOA did not return calls to comment on this story.)

Federal Trade Commission attorney Hobbes says the commission is always open in general to collaboration with state investigative agencies in sweeps like Operation Short Change. "I know that there were folks on the ground in Utah who were helpful to us," Hobbes says.

Jennifer Bolton, spokeswoman for the Utah Department of Commerce, confirmed her department's participation with federal investigators as follows: "At the FTC's request, Division investigators shared their investigative files with the Federal Trade Commission."

As a result of MOA allegedly defrauding consumers across the country of approximately $300 million, the FTC has asked the district court to allow the FTC to enter a permanent injunction against the company "to prevent future violations" and to allow the FTC to freeze MOA's assets if necessary to award relief to defrauded consumers in a yet-to-be-determined amount.

In 2008, however, state regulators took a different tack: While MOA was facing charges filed in late 2007 that made it liable for $113,500 in fines and statutory penalties from the Utah Division of Consumer Protection, the charges were dismissed in March 2008 when, at the encouragement of the Utah Attorney General's Office and Consumer Protection, MOA and a number of ancillary businesses were encouraged to form best-practices policies and take part in a newly formed industry association called the Alliance for Lifelong Learning.

Alliance Director Bill Nixon says that the industry association seeks to provide a system for self-regulation for the burgeoning industry of alternative education companies. Nixon, while unsure how MOA will handle the new FTC charges, did tell City Weekly that MOA's membership in the industry association had been suspended in April 2009, stating simply that: "They were not in keeping with the standards of practice of the industry association."