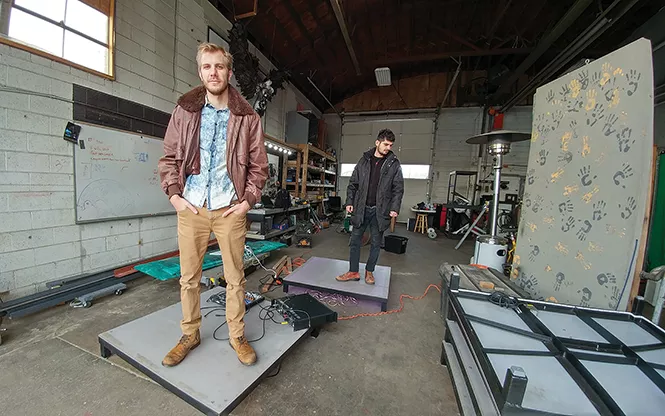 You wouldn't know from just talking to him. In fact, I've had several conversations with Maclain Drake over the past few years and I'm just learning, five minutes into this interview, that the 24-year-old EDM artist and event promoter has 50-70 percent hearing loss. It's how he found himself creating music for deaf people—or rather, making music accessible to the deaf and hard-of-hearing community.
Drake says doctors told him it's hard to know, exactly, if his condition is congenital or not, but he's been wearing hearing aids since he was 2 years old. They enabled him to hear well enough that his parents felt it wasn't necessary for him to learn American Sign Language (ASL) or be involved in the deaf community. He could even attend concerts, so long as he removed his hearing aids to avoid further damage. He nonetheless empathized with deaf people—who can enjoy music only through vibrations, if at all—and HoH people like him who can participate only by sacrificing the benefits of their hearing aids.
One day, while Drake was acting in a film project at downtown Salt Lake City club Sky, his friend and then-Sky manager Andrew Scott was talking up the club's EDM and live music events. Drake told him, "Yeah, they're really cool. But they're not the best shows." He explained that it was difficult for deaf and HoH people to reconcile the visuals with what was happening onstage, which made it difficult for them to access the communal concert vibe like hearing people do. Scott suggested Drake do something about that.
Drake assumed it was such a good idea that someone else must have already had it—"We live in the nation where we have all these accessibilities," he says—but he decided to give it a shot. He pitched an idea to make EDM events accessible to deaf and HoH people by emphasizing and augmenting vibrations. Sky went for it, giving Drake free use of the venue and carte blanche to design the event. "Vibe: An EDM Concert for the Deaf and Hearing" debuted a year ago this month. It featured enhanced low frequencies in the music along with vibrating chair pads to facilitate more physical sensations and enhanced visuals like sound-responsive LED strips and water speakers.
It went over big. "After that first show, I had several deaf people say I should continue to do it," Drake says. He and engineer David Giardinelli set to work in the latter's Salt Lake City warehouse designing light-up vibrating platforms for Vibe 2.0 and 3.0, which happened at Sky in May and September 2017, respectively. Attendance has increased with each new event, and Vibe has become known as "Disneyland for deaf people." The response has been so strong that the Utah School for the Deaf and Blind invited Drake to bring Vibe technology and platforms to their prom. He was also able to try it out at the Louis the Child concert at The Complex in November.
Drake says that hearing people are just as enthusiastic about Vibe. He encourages me to step onto a platform and feel for myself. Although the music is at a low volume, the sensation is stronger than I've felt at most arena concerts, even when standing next to the P.A. system. The difference is that Vibe enables you to feel the music in detail. Whereas one might feel only a general buzz and thump at a show, the platforms give you a physical representation of the music's full dynamic range: the tickle of the highs, the massage of the mids and the deep-tissue bass.
I call out a request. Drake obliges, pulling up "Tommy the Cat" by Primus. Les Claypool's percolating pop-and-choke bass guitar feels like it could carbonate your blood. Drake, unfamiliar with the band, hops onto the platform. Giardinelli joins us and we all marvel at the sensation as I make more requests—AC/DC's "Back in Black," George Clinton & Parliament Funkadelic's "Flash Light," Level 42's "Something About You." Soon we're all smiling.
Vibe doesn't just make live music accessible to deaf and HoH community. It expands the general audience and deepens the connection we feel at these events. Because of this, Drake's decided to change the event name to Glow. Walking away from the warehouse, I feel lighter in spite of the cold weather and murky sky. It occurs to me that he couldn't have picked a better word to represent that communal, inclusive feeling.