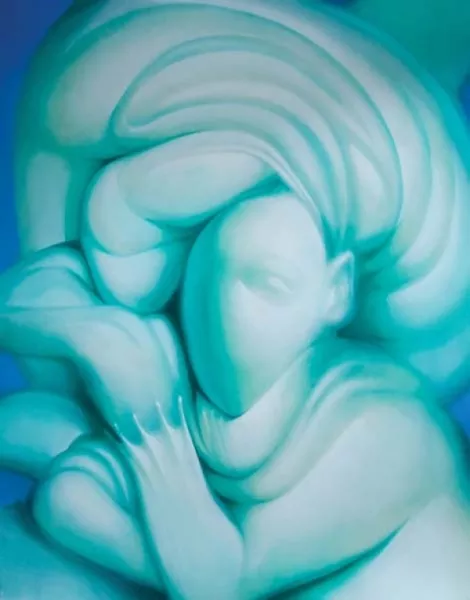 What does the Utah Arts Festival do the other 51 weeks of the year when the end of June event isn't going on? Besides the intensive planning that the event requires, the arts organization operates a gallery in its office, mounting an exhibit every month. The UAF Gallery can be overshadowed by other, higher profile spaces on Gallery Stroll night—as well as its own reputation for focusing on the arts festival—but the UAF been showcasing some of the most interesting emerging local artists.
It's an integral part of the organization's mission. "Our goal is always to feature up-and-coming artists who haven't had a chance to be seen in local galleries or at the festival," says UAF Gallery Director Matthew Jacobson. So, he was excited to show 14 artists from the group working at Captain Captain art studios, located on downtown Salt Lake City's west side, not far from Kilby Court, and known for their lively studio open houses. "I wanted to give some exposure to artists new to the gallery. Trent Call and Sri Whipple have a following, and this show brought in a younger crowd," Jacobson says.
Call—who was chosen to design all the promotional material for 2009's Utah Arts Festival—has two paintings: one of triangles and a Pop Art-style assembly-line repetition of hot dogs. "I chose them because they are new and completely different from the other paintings/ drawings I am working on," he explains. "And I thought they looked good together."
The artists of Captain Captain have found their studio a place for their art to grow, but not always in conventional ways. "It's a nice chunk of community we have. It's nourishing and conjures much inspiration," Steven Larson says.
Trent A lvey—whose "Imperfect Precision" installation is a formidable presence—jokes, "I heard Trent say to Sri, 'I'm gonna need some positive feedback in a minute.'" "It's a wonderful physical space to create the work.
The mornings are nice and quiet. There are plenty of folks to bounce ideas off, be influenced by as well as be distracted by—which is a good thing, sometimes," Call adds.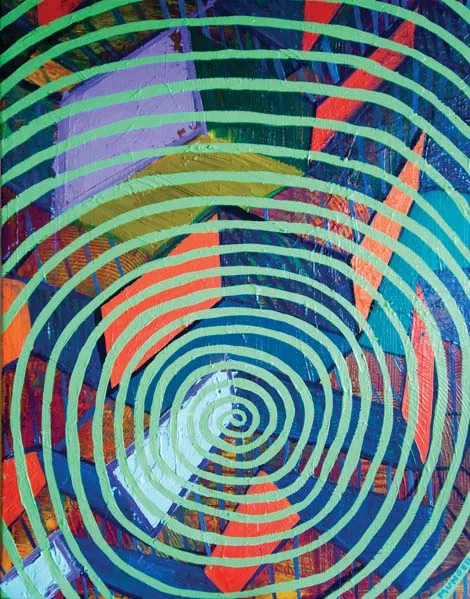 Alvey has her own theory about the serendipity of the space. "I think that it is 'the dormitory effect.' All the creative energy swirls around until there becomes at least a philosophical cross-pollination. I've had many conversations with Sri and Patrick (Munger-art at left) about repetition. Some years back, I had an exhibit entitled 'Repetition' after seeing a Kiki Smith exhibit and reading her words … 'repetition is spiritual.' I came home and thought about it for a year until it internalized."

"Everyone at the Captain Captain studios is talented, extremely nice, very supportive and genuinely interested in each other's success. This studio has the best camaraderie of any studio group I've ever been in," says Chase Leslie, former UAF gallery director, who had the idea to apply for the UAF exhibit. Her abstracts suggest landscapes in their titles as well as with their dusky forms reminiscent of a dustbowl or desert savannah.

The most striking work in the show is newcomer Justin Carruth's "Untitled" oil, a blue figural canvas making astonishing work of negative space. Next to that is Whipple's "Cowgirl," a portrait of sheer flowing shapes. The two pieces show what, if anything, might be shared in common among these artists: inventive uses of color and artistic personae expressed in the face of human figures and landscapes, the face of the land.

The opening-night crowd produced some unlikely meetings. "I saw my dentist there," Steven Larson recalls. "His hands have been inside my mouth, and he has a son who has the same name as I do, so that was weird." Larson's drawing-like painting "Vernal Heights" exemplifies his architectural influence.

Newcomer Meg Charlier, whose female nudes are the most provocative images in the show with their surreal bondage, adds a different perspective: "It's really tough down there at Captain. You know, it's really a question of nurture or nature … I'm not sure which is at work down there." Mixedmedia artist Tessa Lindsay adds, "Captain Captain does not nurture me. It is closer to torment. It's like an office place where people go through the unconventional motions of a workday without wages. There are predictable neurotic rhythms, good days and bad."

Whether or not Captain Captain helps these artists create intriguing results through an atmosphere of family or friction, these works are some of the most compelling in the local art scene and an auspicious launch to UAF Gallery's 2010 exhibition calendar. "What a great way to start off the new year," Jacobson enthuses.


CAPTAIN CAPTAIN STUDIOS
UAF Gallery
230 S. 500 West No. 120
801-230-9420
Through Feb. 12
UAF.org