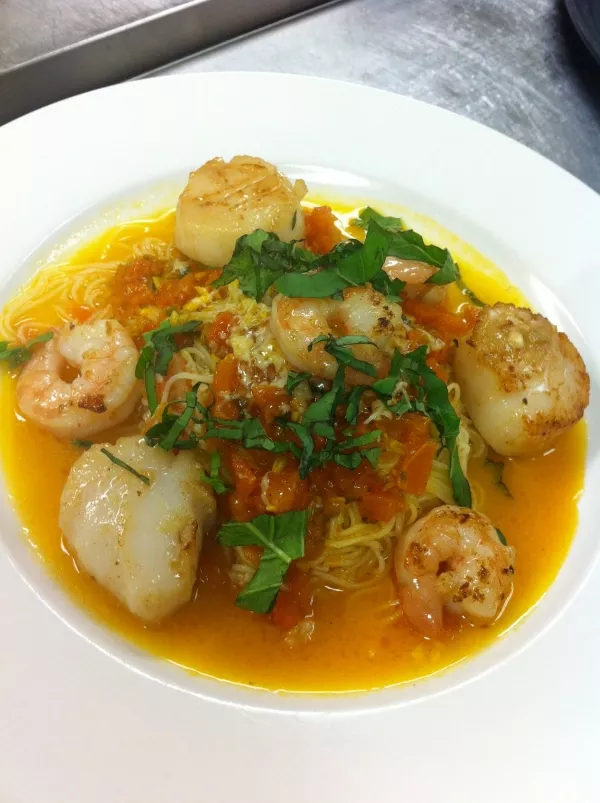 Recently I enjoyed one of my better restaurant meals so far in this millennium. It was dinner at a place I should have checked out sooner: Caterina.
The restaurant started out as Cucina Nassi in Sugar House, a private event dining venue managed by the Cucina Restaurant Group. Then, chef Jean Louis Montecot, formerly of Deer Valley's Goldener Hirsch Inn and Restaurant, became "available." According to Cucina Restaurant Group President Ken Millo, the banquet space was sitting empty and dark a few nights a week, and opening a small restaurant adjacent to the big ballroom seemed like a good way to breathe some life into the venue, especially given the "hole in the market here for French food."

Thus was born Caterina Bistro, which opened to the public for lunch and dinner. Well, as of this week, Caterina has come full circle: It's again a venue for private functions: weddings, banquets and such. Millo says that this is only a "temporary closure" of the bistro—a chance to focus on the upcoming holidays, with banquets a priority.

Schedule an event at Caterina and you'll probably get to work with manager Matt House, also formerly of Goldener Hirsch. He's a stellar GM and, at Caterina, serves as a jack-of-all-trades: manager, sommelier, server, host—whatever needs doing, he does, with exuberance. There is also a good chance you'll encounter French-born raconteur/chef/director-of-operations Jean Louis Montecot. He's well known for his table-hopping tendencies but, not to worry, there's a killer kitchen team that includes talented sous chef Christian Maymi and his sidekick Matthew Park, who flawlessly execute the tantalizing Caterina menu whether Montecot is behind the stove or not. During one visit, Montecot—whom I've known since his days at Sundance and Midway's Inn on the Creek restaurants—spent much of our meal bonding with my teenage son Hank, who loved him. Not everyone loves Montecot's shtick, but I always look forward to his zany sense of humor and ever-improving English.

And, damn, the food is good here. Do yourself a favor and order the "farm" cheese appetizer to kick off your event. I'm not sure what it has to do with farms, since the cheese is made in-house, but this light and airy burrata-meets-ricotta is heaven-sent, subtly spiked with garlic, drizzled with honey-lavender gastrique, sprinkled with pink peppercorns and served with lightly charred, crunchy grilled baguette slices.
Another knockout appetizer is a serving of three sea scallops, gently seared and perched atop tiny mounds of homemade sauerkraut. I know what you're thinking: scallops and sauerkraut? Me too. I had doubts. But the dish is phenomenal, adorned with a carrot and celery root puree, mirepoix and, of course ... bacon. It's like a mini seafood choucroute garnie, and your guests will love it.

One more starter worth highlighting is the citrus-soy roasted pork belly, which has a fair amount of heat from what I think was star anise and/or Asian five-spice seasoning. To be honest, I'm a bit tired of seeing pork belly on every other restaurant menu, but this was a revelation: a beautifully crisp exterior and a melt-in-the-mouth tender interior, served with haricot verts sliced in half lengthwise, fingerling potatoes and Parmesan potato crisps. The three appetizers I've recounted here are packed with flavor and yet are not precious or pretentious. Montecot isn't cooking food to look pretty on the plate—even though it is—he's striving to serve food that is simply delicious, and he's succeeding. His classical training as a French chef—including working with mentor Jean-Jacques Rachou of New York City's famed La Côte Basque restaurant—is fully in evidence at Caterina. Montecot is famous for clowning around, but his cooking is dead serious.

Naturally, even a basic Caprese salad is turned into something special when Montecot touches it. At Caterina, it's a colorful combination of red, green and burgundy colored heirloom tomato wedges topped with cubed buffalo mozzarella, basil, oregano, balsamic vinaigrette, and a unique touch: basil-seed "caviar."

Caterina is equipped to develop custom menus for your private affair. They can do vegetarian, for example. But, if you've got meat eaters in the house, you'll certainly want to indulge in the fabulous chef's cut steak. The cut of meat changes depending on what Montecot has access to. My night at Caterina, it was a beautiful, medium-rare piece of tender, thick, juicy boneless beef in what is called a Manhattan cut (a method of cutting a large New York strip loin down into smaller-size fillets). It's served atop a lightly grilled romaine heart wedge with sauteed snap peas, artichoke, bacon bits and a robust porcini mushroom demi-glace. I don't recall the last time I at a piece of meat that was so satisfying.

There are plenty of other good menu items, like salmon en croute, a spiced lamb burger with espresso cheddar cheese, sweet pea risotto, and corn meal-crusted rainbow trout. But, you really don't want to overlook the pork tenderloin. My son, Hank, called it the best pork he'd ever eaten, and commented, accurately, on the subtlety of its Dijon crust. It comes with Seahive Cheese potatoes gratin, grape tomatoes, warm wilted spinach, and pink peppercorn gastrique. I agree with Hank: the pork tenderloin was exceptional. And, what banquet would be complete without chicken? At Caterina, it's a seared breast with collard greens, apple, bacon, fingerling spuds and a delightful herb-spiked pan sauce.
Caterina: An excellent excuse to throw a party!
CATERINA
2155 S. Highland Drive
801-819-7555
Twitter: @critic1