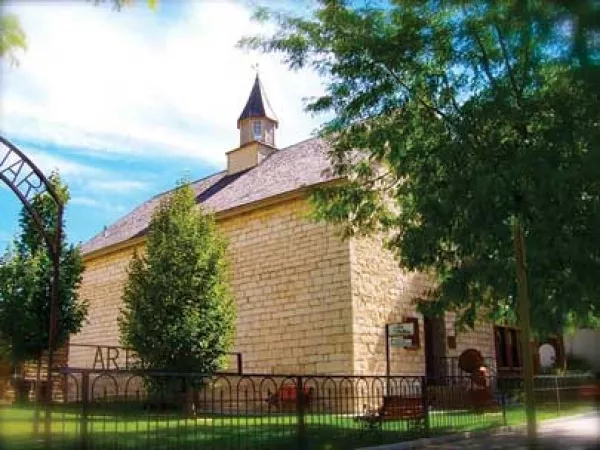 In the heart of rural Sanpete County, Ephraim City's website lists visitor attractions, like Snow College, an annual Scandinavian festival and the Central Utah Art Center. While nothing says "willkommen" like a Scandinavian festival, supporters consider CUAC a cultural attraction unique to the entire state, not just "Utah's Home Town," population 6,000. CUAC, which focuses on contemporary art, has drawn thousands of visitors to Ephraim every year and hosted national and international exhibits that have lined the walls of New York City's Guggenheim and Los Angeles' Getty Center.

But after six years partnering with the art center, officials say the city can no longer afford to support CUAC and served CUAC's operators with an eviction notice, giving them until Aug. 20 to vacate the building. Going forward, the city will collaborate with Snow College, focusing on local arts. City officials say CUAC, which occupies a historic building on Ephraim's Main Street rent-free and since 2006 has received $30,000 in support from the city, has failed to meet its obligation to provide educational outreach to an area elementary school.

CUAC Director Adam Bateman recalls the days before the CUAC became a venue for local, national and international acts, when the gallery was a simple artists' cooperative that attracted, he says, a fraction of its current visitors.

"When all that the center showed was landscape paintings, we had 400 visitors a year," Bateman says. "We started showing contemporary art, and we now have 9,000 visitors a year."

Bateman fears that under the administration of Mayor David Parrish, elected in 2009, the city has had more of a gripe with some of the edgier art exhibits CUAC has hosted than under past city government leaders. Bateman says a number of city officials have described CUAC's recent exhibits as not being "Sanpete Appropriate" and says the eviction amounts to censorship by the city.

Ephraim City Manager Regan Bolli disagrees.

"It's just a nonperformance issue," Bolli says. "It's really unfortunate because what they do, they do really well."

Bateman and Jared Latimer took over the nonprofit in 2005. The previous owner had renovated the historic building as an artists' studio and had made an agreement with the city to receive free rent on the building in return for doing community outreach. Bateman decided to make the center a place where local, national and international art would hang on the same walls and help bring new life to the then fledgling nonprofit. The new direction did come with more risqué exhibits, however.

In 2011, as part of national touring exhibition Camera Vivant, curated by New York City's AD Projects, CUAC featured Flaming Creatures, an abstract, non-narrative, feature-length film by Jack Smith, a peer of Andy Warhol. The exhibition also included a blind remake of Flaming Creatures by artist Bec Stupak. Bateman says the films' abstract depiction of the gay and transgender life drew the ire of some residents because of images of nudity in the films.

Bateman says several residents complained to the city and, since that time, Parrish has been vocally upset with CUAC's artistic tastes.

"None of the people who complained actually saw the show," Bateman says. He says in 2011 CUAC did let the city down on art education provided to the local elementary school. That year, CUAC did 15 percent less outreach than usual but also pledged to improve.

Bateman feels the center pushed too many buttons of the current administration. During a June meeting, the council discussed setting new evaluation goals for CUAC that, if unfulfilled, would result in a reduction of funding. Following that meeting, however, the city simply decided to evict CUAC and dedicate the space for a new local arts-centered partnership with local K-12 schools and Snow College.

"The discussion was always that if CUAC is not going to do over two years the things we've asked them to do, then we'll try to do it," Bolli says. "And we need that space in order to do it."

Bateman says, however, that the city has not given the center a chance, especially as it already works closely with the community, bringing in Snow College interns, doing outreach at the elementary school and having devoted roughly one-third of exhibition space over the past six years to local artists. Among the 9,000 annual CUAC visitors, Bateman says roughly half are county residents and the rest come from along the Wasatch Front.

While Bateman scrambles to figure out where CUAC could relocate in the county to keep providing central Utah with a venue for contemporary art, others in the arts community, like Adam Price, director of the Utah Museum of Contemporary Art in Salt Lake City, calls the eviction a "huge loss."
Price laments the venue being lost for contemporary rural artists, ones who, before Bateman and Latimer came around, lacked a venue for their art.

"It took someone with courage and vision to pull all the pieces together that were waiting to be united," Price says. "That was a very important thing they did."

Individuals interested in helping to support CUAC's relocation efforts can visit CUArtCenter.org for more information.