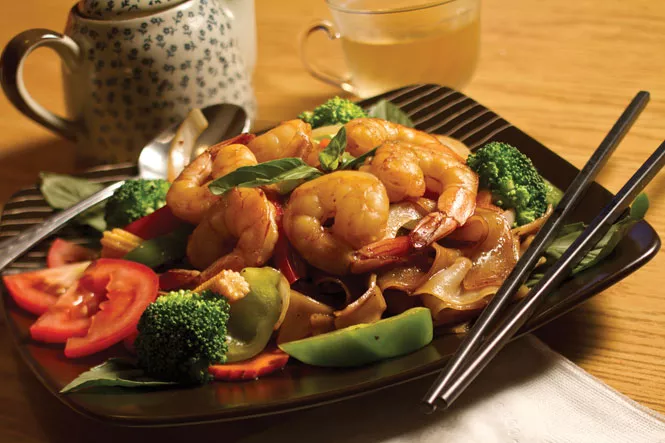 Chabaar Beyond Thai's Drunken Noodles with Shrimp
Of all the world cuisines I've had the pleasure of exploring, the food of Thailand may be the most complex. That's not too surprising, given the multitude of nations that surround Thailand and the vast array of Asian flavors that influence Thai cooking. The cuisine of Thailand is impacted by Laos, China's Yunnan province and Myanmar (formerly Burma) to the north; Cambodia and Vietnam to the south and east; and the Thai coconut-milk-flavored dishes we're so accustomed to are quite similar to Indonesian and Malaysian ones.
The complexity of Thai food is quickly evidenced by the fragrant aromas of most dishes, followed by a circus of flavors on the palate: sour, sweet, bitter, spicy and salty. A common dish like pad thai offers up all those flavor components, plus a complex and interesting texture—another trait of Thai cooking. Although the food needn't be fussy or precise—as found in molecular gastronomy or France's nouvelle cuisine, for example—it's anything but simple, and much more than just the sum of its parts. For me, Thai cuisine is, above all, about harmony.
We are blessed with an abundance of very good Thai restaurants in Utah, and one that's becoming a favorite of mine is Midvale's Chabaar Beyond Thai. It's the creation of Anny Sooksri, who also owns Tea Rose Diner and Siam Noodle Bar in Murray. And, like Tea Rose Diner (and true to its name), Chabaar goes way beyond Thai. American breakfast items like omelets, pancakes, waffles, eggs and hash browns mingle in the spirit of multicultural detente with Thai breakfast soups such as kow tom kai (rice soup with chicken, egg, scallions, celery, carrots and ginger). There's even a Thai vegan omelet that City Weekly and Devour Utah contributor Amanda Rock raves about: "a delicate crepe made from rice flour and served in the style of pad thai, with chopped lettuce, crisp cucumber, sliced carrot, bean sprouts, cubes of tofu and a generous sprinkling of peanuts." It's a Midvale melting pot, right down to the lunchtime Reuben and tuna sandwiches.
As good as the American staples are, I come to Chabaar for the flavors of Thailand and usually start with an appetizer of fresh spring rolls ($5). Aptly named, these rolls are a taste of spring itself: glass vermicelli-style noodles with crunchy carrots, iceberg lettuce, bean sprouts, cucumber and mint wrapped up in a rice-paper wrapper and served with a scrumptious peanut satay sauce. It's a generous serving of six 3-inch rolls for $5.
I'd heard others sing the praises of the drunken noodles (pad ki mao) at Chabaar, and I can see why. It's a big plate of stir-fried broccoli, carrot slices, bell pepper, tender boneless beef, onions, mushrooms, scallions, chili peppers, baby corn and tomato wedges with thick, wide rice noodles in a rich, dark sauce ($11). A number of folks rave about ordering drunken noodles with a fried egg on top, but I was talked out of it by our server, who said it was "untraditional." My noodles were delicious sans egg.
The pad thai ($13 with shrimp) is excellent as well: a hefty serving of thin rice noodles tossed with a tangy, citrusy and slightly sweet pad-thai sauce, scrambled egg, green onion and a half-dozen medium-size shrimp, topped with shredded carrot, bean sprouts and crushed peanuts, plus lime wedges on the side. It's nearly as good heated up as leftovers for lunch as it is fresh from the kitchen.
For those who prefer their Thai food on the mild, lighter side, I recommend Chabaar's Jungle Curry ($12) with tofu. It's a coconut-milk-free curry—a large bowl brimming with zucchini, mushrooms, carrots, baby corn, onion, pineapple (added at the suggestion of our server), bamboo shoots, bell peppers, snow peas and lightly seared tofu cubes in a dark broth flavored with kachai (Thai ginger) and chili paste. The pineapple added a pleasant sweetness that contrasted nicely with the curry.
Meanwhile, in Ogden, restaurateur Steve Ballard (Sonora Grill) is providing a low-cost introduction to Thai flavors at his new Thai Curry Kitchen. It's a cool concept: a Chipotle-style walk up & order eatery with a small but tantalizing menu that tops out at $8.95. There are three Thai salads, including a salad of green papaya, cherry tomatoes, long beans, mint, papaya dressing and chopped peanuts ($5.95 regular/$8.95 large).
There are six curry-bowl options ($4.95 regular/$7.95 large), three of which are vegetarian. Each includes a choice of brown or white rice. I loved the flavors of the coconut-milk-based red panang beef curry, with long beans, potatoes and peanuts in a delicious broth. Unfortunately, the meat was of poor quality: large, tough, chewy chunks as opposed to the tender slices I'm accustomed to in Thai dishes. A much better option is the green chicken curry with carrots, mushrooms, chicken, bean sprouts and fresh basil.
Kale lovers will enjoy the Papuan yellow curry with purple cabbage, kale, sweet potatoes and cherry tomatoes, while the more adventurous might try the tangy and slightly bitter sour-orange curry with cashews, long beans, tamarind and jackfruit. The vegetarian Jungle Curry features bamboo shoots, long beans, eggplant, mushrooms and baby corn.
Impressively, everything at Thai Curry Kitchen is made from scratch, right down to the deep-fried crispy shallots that are just one of many garnishes available at the modern, efficient eatery. It might not be the most authentic Thai food in town, but it's a good and inexpensive place to start.