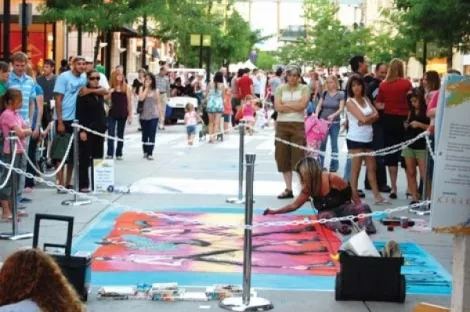 Today in Utah, more than 2,600 children, from toddler to teen, have been removed from their homes because of abuse, neglect or life-threatening conditions. For those thousands of children, only 400 foster families are available to provide a safe, secure and supportive environment.
Utah Foster Care Foundation seeks to decrease the ratio discrepancy and mend the displacement of the disadvantaged foster youth. Their mission is to serve Utah's children in need by recruiting and training foster parents, providing resources and services for foster families and creating a network of foster-family support groups.
This weekend, downtown at The Gateway, Utah Foster Care Foundation will be hosting the Eighth annual Chalk Art Festival: Lifelong Connections. This colorful event invites more than 100 different artists, ages 12 to 102, from all over the country, for a weekend of urban chalking and foster-care awareness. With blackboard crayon in hand, amateur and professional artists paint the pavement with images of inspiration. The free admission festival attracts more than 20,000 guests who can appraise the live entertainment, digest foster-care information and invest concern for Utah's urgent foster care need.
Many opportunities await. Get involved by sponsoring an art square or becoming a festival volunteer. Honor your father for Dad's Day by funding a chalk illustration in his name. Or just stop by and peruse the fine art of street painting and discover your own helping hand.
Chalk Art Festival @ The Gateway, 100 S. Rio Grande Street, June 18, 4–9 p.m. and June 19, 10 a.m.-9 p.m. ChalkArtFestival.org