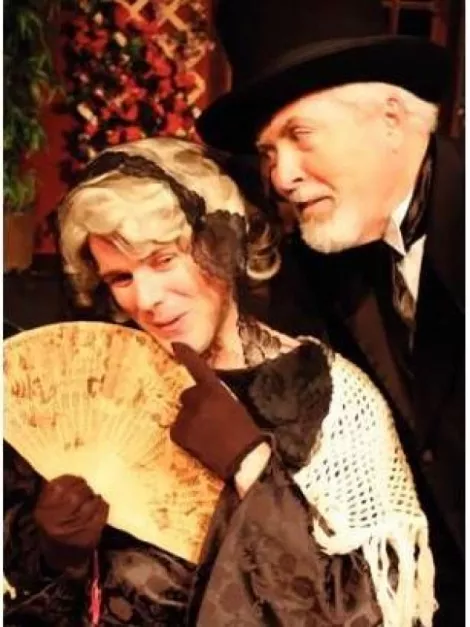 Often, I fear theatrical farce. Truly, I do. Even the most professional of productions can fail to achieve the masterful timing that's almost mandatory for door-slamming/identity-mistaking/ trouble-avoiding plots to work.

Brandon Thomas' Victorian-era farce Charley's Aunt—concluding its Pinnacle Acting Company run this weekend—is precisely the kind of thing that often falls flat on its face. The reason this one doesn't: Several terrific comic performances, and one masterful comic performance.

The premise is pure, you've-got-to-be-kidding-me farce: Oxford chums Jack (Derrick Rodgers) and Charley (Augustus Stoneman), desperate to have some time with the young ladies they pine for, arrange a luncheon at which Charley's visiting (and never-before-seen by Charley) widowed aunt will be the requisite chaperone. Only she postpones her visit at the last moment, leading the lads to cast their pal Fancourt Babberly (Jared Larkin, pictured) in drag as the dowager. Commence social occasions rife with confusion and panic.
Director Ron Fredrickson mounts an ambitious production that involves two complete intermission set changes, and performer entrances and exits through every possible portal in the building. But his real score was putting together an exceptional cast. Rodgers and Stoneman do fine work as the overzealous youths, while Alyssa Hickman Grove and Mitchell Hall provide the best of the solid support. And Larkin, in the toughest role, is simply hilarious, whether lamenting his disguise or secretly delighting in it. His performance is like a master class in how to nail a farce performance—which just goes to show that sometimes, a production can get it just right.

Charley's Aunt @ Midvale Performing Arts Center, 695 W. Center St., Midvale, through June 27. PinnacleActingCompany.org