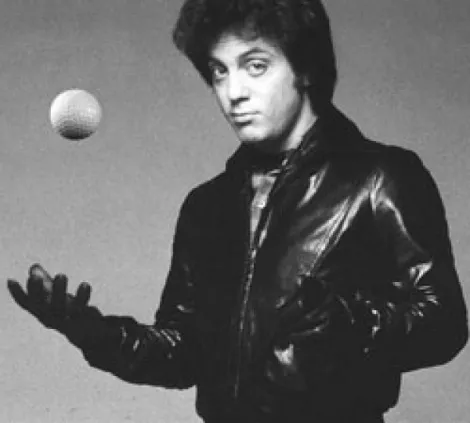 What if it all boils down to this: Billy Joel is right. You really do get more mileage from a cheap pair of sneakers.

People might ask, "What's the matter with the clothes you're wearing?" But they'd only further prove the point that Billy Joel is right, because he asked that question first.
I'm not trying to be quick with a joke or to light up your smoke, but universities should teach Billy Joel 101. With a B (for Billy) being the highest grade you could earn. If a pupil asks, "Should I try to be a straight 'A' student?" The professor's answer would be, "If you are, then you think too much."

Upper-level Joel would be a dissertation on cheapness. Cheap sneakers, cheap food, cheap entertainment. Possibly even a class in ornithology, because the birds say, "Cheap. Cheap."

You get the point there, piano man? Or am I movin' out too quick?

What we have here isn't a failure to communicate, but a new column for the City Weekly. We call it Cheap Shot. And I'll be your hostess with the least-est, looking for ways to do what you do but for less money.

You may learn how to save 3 percent on your tithing (lie) or 3.2 percent on your Pabst Blue Ribbon. The possibilities may be endless, but money isn't. So let's get cheap.

Today, we're taking a chip shot over to some public golf courses. Not to golf, but to eat.


Nibley Park (2780 S. 700 East) is a nine-hole golf course with a café that won't put a hole in one's wallet. It is on par with any cheap breakfast diner. Warning: More puns coming. Don't spend a Fore!tune eating here. If you putter around the house on the weekends, they're open on Sundays. Plus, Nibley is a short drive from downtown, so there is no need to put a tiger in your tank.

Starting at 7 a.m., the breakfast special of eggs, hash browns and bacon, ham or sausage with toast and coffee or hot chocolate is only $4. French toast is a oui $3. Or after 11 a.m., try the Western smoked barbecue-beef sandwich with fries ($4.75).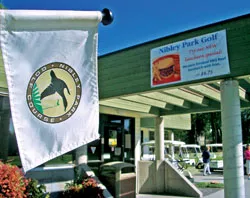 The outdoor seating or a booth by the window gives you a master's eye view of hole No. 9. This 122-yard par 3 has 121 yards of water between the golfer and the green. Enjoy your breakfast while watching golfers who think the object of the game is to fill up the pond with golf balls. If you hate golf, you'll love this view.

Two blocks east and a 5-iron north of Nibley is Forest Dale (2375 S. 900 East). Most golf courses have driving ranges, so you can get warmed up before your game. Forest Dale does not. They have the Red Onion Grill. Nothing gets a true sportsman going like a fried two-egg sandwich with cheese and sausage, ham or bacon ($3.35). Who needs a half-bucket of balls to warm up when you can get a full bucket of cholesterol?

On the west side of Interstate 15 is Glendale (1603 W. 2100 South). The great thing about Glendale is that it has porta-potties strategically situated all over the course. It's like the course designer said, "Here, we'll have a sand trap. There, we'll put a lake. And, if a golfer wants to cut the corner on hole No. 3, they can stop and do a No. 1 or a No. 2."

You'll see the logic in these outhouse obstacles, especially if your cartmate is putt-putting because he or she started the day downing a chili cup ($3.25) or eating a jumbo hot dog with grilled onions ($2.50).

Golf courses aren't just for golfing. And Billy Joel isn't just for worshipping. Now, if only I can get this story front page—in bold type. Then I can be a big shot tonight.
cw