I don't know what I was thinking. Dewey is a 3-month-old puppy, and I have a cat. But, when Mike called and asked if I'd watch Dewey for five days while he took his family to Disney World, I said, "Yes." And so began Mr. Dewey's Wild Ride.
Diggity Dog Resort (255 N. 400 West) will board a puppy for $25 a day. A bottle of Resolve carpet cleaner costs $5.99. The carpet-cleaning business is very competitive, but it still costs more to clean a four-room house than it does to board a puppy for five days.
In the feline world, I'm what's known as a cat whisperer. In a low voice I say, "Here's your food, there's your water and the litter box is in the basement." If I don't come home for a day or two, my cat, Mr. Evans, is asleep, the food is eaten and the litter box is full. Taking care of a cat is like following the instructions on a shampoo bottle. Feed. Litter. Repeat.
Forget horoscopes, numerology or personality questionnaires. My compatibility test is simple: Cat person or dog person? Dog people don't talk to each other. They talk to each other's dogs. They hang out in dog parks and say things like, "Aren't you cute?" and "What's your name?" Then they pull a plastic bag out of their coat pockets and pick up the dog's doo saying, "Oh, what a good boy! You're so smart!"
It's no wonder a dog is man's best friend. I'd be your best friend, too, if you followed me around constantly saying I was handsome and then neatly packaged my bodily movements.
All Good Dogs & Cats (2896 E. 3300 South) will treat your pet better than the Marriott treats you. They have elevated therapeutic chew-proof beds, Iams food and a big-screen TV showing Animal Planet. Five nights at All Good Dogs & Cats is only $110. A new pair of chew-proof proof hiking boots is $165.
There was more to learn while getting thrown into the dog world, which I learned quickly and on my feet. Literally.
One morning with Dewey, I was standing barefoot in my kitchen trying to figure out how a kitchen sink could spring a leak in the middle of the floor. While my first thought in the morning is coffee, Dewey's first thought is: That foot looks like a fire hydrant.
I also learned it's true what they say about dogs and cats. A cat only has a two-word vocabulary: "me" and "ow." Mr. Evans said, "Me," and Dewey said, "Ow."
Apparently, Mr. Evans has a short test for admittance into his house: Are you a dog? Since Dewey didn't meet his approval, I thought it caused my cat to be constipated. By Day 4, even though Dewey was covering the floor with "gifts" and "presents" like every day was Christmas morning, Mr. Evans didn't appear to be using his litter box.
At this point, it didn't matter how many times I took Dewey outside, he'd still come inside and do it in the house like a bear does it in the woods. Instead of trying to housebreak him; he broke me. So I gave him free reign to use my house like a litter box. That's how I found out Dewey was using Mr. Evans' litter box as though it was an all-you-can-eat Tootsie Roll buffet.
Maybe this is why dogs smell each other's butts. It's because their breath stinks.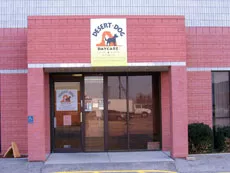 Desert Dog (1765 S. 900 West) has a Webcam (DesertDogDaycare.com), so you can watch your pooch while your dog is being watched. Chewed-up speaker wires, a cell-phone headset and three baseball hats cost less than one $26 night at Desert Dog.
There are cat people and dog people. There are some people who will do anything for a bottle of Jameson and a six-pack of beer. I've learned my lesson. It's official: I'm a cat person. Starting right meow.