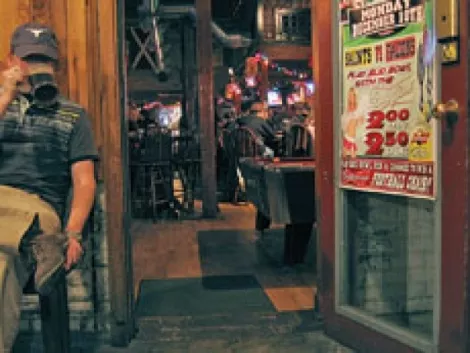 This is a good year to be from New England. The Red Sox won the World Series and the Patriots used a page right out of the oldest East Coast playbook: One if by land, two if by sea and three if by football.
Howdy, howdy, I'm from Texas. Not since Roger Staubach, Tony Dorsett and Debbie Does Dallas have I been so proud to be from the Lone Star State.
Sadly, though, being from Washington, I mourned with my Redskins when one of our teammates, Sean Taylor, was killed during a home-invasion robbery. Not only do I think that the Redskins should retire Taylor's No. 21 jersey, I believe No. 21 should be retired universally. Las Vegas should change blackjack to 22 and the minimum age to buy alcohol should be 20. If, by losing the number 21, we also get rid of senseless violence, then the people of the 23rd minus 2 century will thank us.
My father was in the Air Force. As a youth, this meant while he was busy defending the country spinning PR at the Pentagon "four out of five bombs agree: Freedom is a blast," I was moved across the country from school to school.
From the fifth to the 11th grade, I had to scope out new places to sit in unfamiliar cafeterias. I was called an Eskimo in Alabama after leaving Alaska. The Texans thought I was a Yankee even though I'd previously lived in Robert E. Lee's home state of Virginia. And in New Hampshire, after leaving Texas, I got a Revolutionary War ass-kicking when I said, "Y'all talk funny. Haven't you heard of the letter 'R'?"
Like a salmon swimming upstream to its spawning ground, I returned to the sacred, fertile place where I was conceived to go to college: Provo. At some point during my first few weeks of school at Brigham Young University, I had a "We believe what?" epiphany but stuck around because I was too lazy to move. Now, even though my blood may be full of caffeine, whiskey and second-hand nicotine, I still bleed blue for BYU football.
If there's a downside to being from everywhere, it's only seen at my MySpace page, where my hometown is listed as "No Hometown." The upside? It doesn't matter which team is playing Monday Night Football, I'm from there.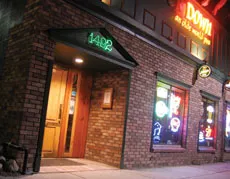 Lately, though, the "there" that I am from is the Piper Down. On Monday nights, the private club has a $2 bratwurst special with a stein of Budweiser or Bud Light for $2.50.

A few weeks ago, I met Ben Bonnet at the Piper Down, who was visiting from Denver. When it comes to the Broncos, Salt Lake is a sister city to the Mile High City; it seemed like we were cheering for our home team when the Broncos took the field against the Green Bay Packers. Denver lost, but I still felt like a winner because Sheboygan, Wis., is the bratwurst capital of America.

When you're from nowhere, it's easy to do the six-degrees-of-separation, "I'm from there" math. Since Green Bay is in Wisconsin and the capital of American brats is Sheboygan, if I love Piper Down's $2 brats, then I'm from Wisconsin: Go Packers.

The night the New England Patriots played Baltimore, I took my spot underneath one of the many flat screen TVs at the Piper Down. I graduated from high school, had my first kiss and got my driver license in New Hampshire. Obviously, I'm from New England. My Patriots baseball cap is proof to this theorem. Besides, with the winning streak the Patriots are on, why would I want to be from anywhere else, like Vernal—I was only born there.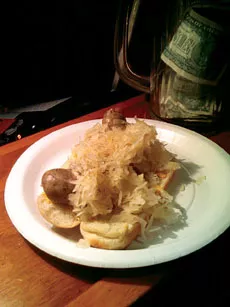 As I was cheering for my team, drinking Budweiser and eating sauerkraut-laden brat, someone said, "One week you're from Pittsburgh and the next, your face is painted with a Seahawk across your nose. And now you're from New England. Who are you for?"

"Not who, but what," I said. "I'm for $2.50 beer. And y'all should try this brat."