As a graduate from the School of Gianni, I knew exactly what to do when I saw his name on my caller ID: I sent the call to voice mail.
A few of you might know Gianni because as "Dr. Gianni Fever" he hosts Monday Drive Time on KRCL 90.9. I know Gianni because I worked with him when he owned SLUG magazine. After selling SLUG, he and I ran a two-man graphic design business called MG Graphics. The "G" stood for Gianni, but the "M" didn't stand for Phil. I guess I was like the silent "K" in knife, knee or knock. Knecessary but knot kneeded.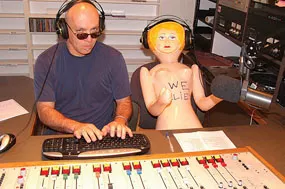 Aside from learning to make junk-mail flyers, postcards and brochures at MG Graphics, I learned there were two rules at the School of Gianni. No. 1: Never answer the phone. I thought this didn't bode well for business. Rule No. 2: If someone left a message asking for help, it was important not to return their call right away. In theory, the longer you delayed, the more they'd want you. Rule No. 3 stated there are always more than two rules. Rule No. 4 said if, by chance, you have to talk to someone on the phone, always place them on hold. This makes the person asking for the favor nervous. When you come back, they'll agree to anything.

Amazingly, not only did we stay in business, we were actually successful. By the time a client finally had jumped through all of Gianni's hoops and was able to speak to one of us, they were so desperate to get their design printed by deadline, we were able to charge more and do less. It was a unique business model.

After listening to Gianni's message, I almost made the mistake to call him right back. He invited me to be a "special guest" on his radio show and said I could talk about whatever I wanted. And I knew exactly what I wanted to say.
That very morning before Gianni's call, I had woken up with one thought in my bleary-brained head, "What cheap thing will I write about this week?" Stop reading this story right now and look at the bottom of the page. Go ahead, put the story on hold. I'll wait. OK, are you back? It clearly states, "Send cheap tips to comments@slweekly.com." Well, guess what? It seems as though the only person in the whole world who knows how to use a computer is my mother. Because each week at SLWeekly.com, she anonymously posts a message saying something like, "Cheap Shot should win the Pulitzer Prize. Don't forget to brush your teeth."

Honestly, my mom is simply happy I have a job. I could be writing content for a triple-X Website, the Taliban or Hillary Clinton and she'd leave the same congratulatory message. But you, dear reader, have neglected me. Not once has anyone written in saying, "Green Jell-O is cheaper if you buy it at the Great Salt Lake Mercantile."

Eventually, I called Gianni back and told him I'd consider being on his show only if I could get some cheap publicity for my column. Then I put him on hold, made a plate of nachos, ate them, and when he was good and desperate, I said I'd do it. He also agreed to have a bowl of M&Ms for me in the studio. But only the brown ones; I only eat the brown M&Ms. He has to separate out the other colors. The power of putting someone on hold is amazing.

As a writer, the only verification I get that someone reads these stories is when I go into a public restroom and find the City Weekly on the floor in the stall. Cheap Shots: helping Salt Lake City one movement at a time. But, on the radio, when I solicited ideas for this column, more than 20 listeners called in. Thank you.

Now, readers, you can still send comments to the paper because, of course, on the radio, we didn't answer the phone. It's just one of our rules.