It happened again. Last night I thought I was having a heart attack. My left arm went numb and my chest felt heavy. A repetitive, rhythmic sound woke me up. Was my brain oxygen-starved? Was this the bitter end of my heart beating?
I read a lot about diseases and death and heart attacks because, ever since I was young, I have had every illness known to mankind except for hypochondria. With my right arm, I clutched my chest to feel my nonbeating heart but, instead, I got a handful of fur. The weight on my chest, the cut-off blood supply to my arm and the odd noise in the room? It was because the cat on my chest is fat, and he snores. It doesn't happen often, but when Mr. Evans (the cat) jumps on my chest, he puts me into cardiac arrest.
My cat is fat because I buy him whatever food is on sale. If Purina made Pudding Chow, I'd buy the Neapolitan three-pack. Then, this week, I had to take Mr. Evans to the vet. While in myth and fairy tale, the tortoise can beat the hare in a footrace, in reality, the fat cat can't outrun the angry calico.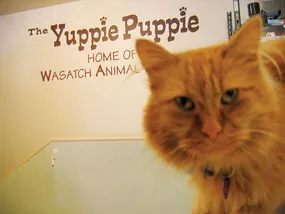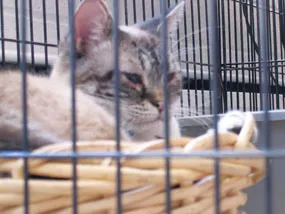 As we waited for the vet to come into the examination room, I stared at the open wound on Mr. Evans' back. It looked like the calico was the feline doppelganger to a Johnny Depp character called Kitty Scissorhands. I imagined, when the vet walked through the door, she was going to see Mr. Evans' injury and cuddle my cat with kind words and care that only four years of medical school could muster.

The door opened. "Your cat's fat."

I tried to explain I didn't bring my cat in for gastric-bypass surgery; it was the gaping hole on his back that was my big concern. But she ignored the blood and puss and kept poking at his belly, "Did you have to cut a hole in your house to get him here? Do you drive a car or a forklift? What do you feed Jabba the Cat?"

After reinforcing the surgery table, she stitched Mr. Evans' back and installed a satellite dish around his head. She was certain Mr. Evans wouldn't scratch out his stitches but worried he would eat them.

"Seriously," the Soupy Sales-like vet said, "Don't buy your cat food on Aisle 9 at the supermarket. Go to Yuppie Puppie. Otherwise, Mr. Evans will go to the grave early, and you'll have to bury him in a piano box."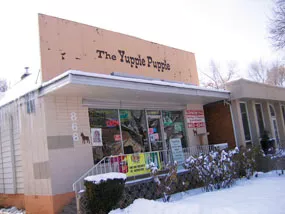 The easy part about visiting Yuppie Puppie (868 E. 900 South, TheYuppiePuppie.com) was finding cat food healthier than the Chemicals & Bits I usually buy; the hard part was leaving the store without getting another cat. Yuppie Puppie is also the home of Wasatch Animal Rescue (PetFinder.com/Shelters/UT85.html). As soon as you walk through its doors, you notice the pet store is carpeted in cats ready for adoption.

It was like stepping onto a Broadway musical mash-up of Annie and Cats. These Little Orphan Animals were on their best behavior. If I wanted a playful cat, then I only had to look at my feet, because a little black kitten was batting my shoelaces. If a more subdued one was my feline fancy, then the purring white kitten Snow White was a sleeping beauty by the cash register.

The Yuppie puts the dog in Puppie in their basement. This is where they keep the dogs waiting to be let out and into an adoptive home. All of these animals have been rescued from doggie death row, and for a nominal fee—which includes spay/neuter, shots and a check up—you can have a new best friend.

After visiting Yuppie Puppie, I'm considering whether or not to get a second cat. On the one hand, Mr. Evans might lose weight if he has a friend to play with. On the other paw, Mr. Evans loves this new food so much he might consider a kitten from the Yuppie Puppie an appetizer.