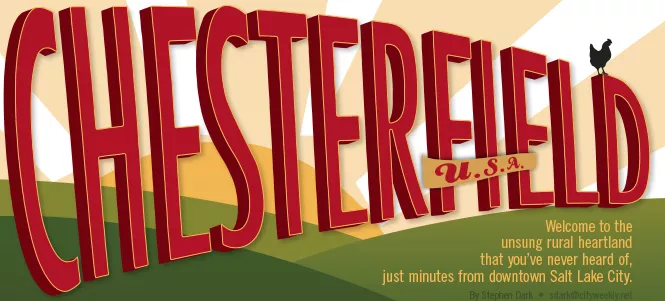 On a late spring afternoon on the far northeast corner of West Valley City, a Brink's security guard waits for a ride home outside the fenced-off lot of offices and armored vans, his lunchbox at his feet.
Palestinian-born Mohammad Jbailat crosses the street to ask a question. "Have you heard of Chesterfield?" The guard says no. Jbailat points behind him at dusty streets and tree-shrouded houses from which emanates the occasional cry of a rooster. That's the name of the neighborhood he drives through each day in his armored truck, Jbailat says.
Jbailat worships at the Khadeeja Islamic Center, a mosque located directly in front of Brink's. Its bulbous copper-orange dome and elegant faux-brick facade contrast sharply against the barbed wire-topped walls guarding whatever wealth the Brink's vans bring in every day. Jbailat looks at the neighborhood where Muslims have come to worship for 14 years. "I think it's pretty," he says.
The guard is not alone in his ignorance of Chesterfield. Ask most residents of the Salt Lake Valley, and chances are, while neighborhoods such as the Avenues and 9th & 9th ring immediate bells, they won't have heard of Chesterfield, which is only a 10-minute drive from downtown Salt Lake City. One of the oldest communities on the west side of the Jordan River, Chesterfield is bordered on the west by the busy commercial thoroughfare of Redwood Road, to the east by the Jordan River Parkway trail, to the north by Interstate 201 and to the south by the Redwood Recreation Center on 3100 South.
Ride Trax from West Valley City to downtown, and the train briefly glides through Chesterfield, offering glimpses of livestock in the back yards of half-acre-lot homes. It's this rural lifestyle that is at the heart of what makes the many unpaved roads of Chesterfield unique. While roughly one quarter of Chesterfield is zoned residential—notably the streets close to Redwood Road—the majority is zoned for agriculture. This allows residents to keep a certain number of livestock, including cattle, chickens, horses, rabbits, goats and even llama in corrals, coops, stables and their back yards. Animals roam around small homes. Shaggy sheep graze in one front yard, while a black rabbit in an unfenced yard nibbles at grass in another.
This bucolic portrait of hardscrabble Americana, where you are as likely to see a barefoot youth with a fishing pole over his shoulder as a man on a bicycle collecting scrap metal, lost its boundaries in 1980 when Chesterfield was swallowed up by the newly incorporated West Valley City. But, as WVC's director of Neighborhood Services Craig Thomas notes, while Chesterfield's geographical boundaries might have become "indistinct," its emotional boundaries—at least for its residents—endure. These residents remain fiercely committed to the neighborhood, and to its independence and rural values. "You do have some very vested residents who are very proud of where they live," says Thomas. "They see themselves as very independent down there. That's their home. They're never going to move, and the city is never going to tell them what to do."
Ask any lifelong Chesterfield resident—or any of the neighborhood's more recent arrivals, including refugees and Latino immigrants—about what defines their neighborhood, and one factor unites them: They all display an intense pride at being part of a rural community that, while historically looked down upon by neighboring townships east and west of the Jordan River, has seen its way of life not only survive but even thrive in a valley that has long since succumbed to the rise and fall of strip malls and high-density residential housing.
Other than its approximately 4,100 residents (according to a 2010 census), the only people who typically turn off Redwood Road into Chesterfield are there to drop off or pick up children at the American Preparatory Academy (APA), a 6-year-old charter school. Either that, or they are there to attend a service at one of five neighborhood churches, three of which were built in the past 15 years. Chesterfield's cheap lots made the area a prime location for large buildings for worship: "Where else can you buy an acre for less than $100,000 two miles from downtown?" Jbailat asks.
Apart from the background hum of freeway traffic, the only noises heard tends to be the crowing of a rooster, the clip-clop of a horse being ridden by an elegantly dressed Mexican cowboy and the croaking of frogs on the neighboring Redwood Nature Area. The Salt Lake County-owned reserve sits between Chesterfield's quiet streets and the Jordan river. "It now looks like the valley did before development," says West Valley City manager Wayne Pyle of the lush landscape.
As Pyle walks along the riverbank with a reporter, dozens of ducks placidly floating in the water erupt into the air as a bald eagle swoops down upon them. But human as well as avian predators have been part of Chesterfield's history, according to a half-dozen former and current law enforcement officers interviewed by City Weekly. They recalled working Chesterfield's night-darkened streets over several decades, battling meth labs and a few multigenerational criminal families.
However, contemporary Chesterfield, say police officers, is nothing like the mean streets of 30, 20 or even 10 years ago. "They are good people, although they do tend to be looked down on some times," says West Valley City's Thomas.
Everything has a balance, Jbailat says, and Chesterfield is no exception. "The outlaws came down here to party," he says. "Now, it's tipping back the other way." The churches—First Apostolic, Jehovah's Witness, Tongan United Methodist and the Khadeeja mosque—"brought good people to this area. One for sure," he adds with a laugh, meaning his mosque's spiritual leader, Imam Muhammed Mehtar. (One reason Mehtar bought a house in Chesterfield was so he could raise goats.)
Richard Nowak, who founded a Chesterfield-based nonprofit bird sanctuary, questions whether or not— as elderly residents die and developers apply to rezone agricultural land for condos—the community will fall prey to high-density developers. Nowak's neighbors, he says, "fear that eventually the city's going to turn this whole area into residential."
Pyle says he doesn't see developers attempting to push through high-density residential housing "in the foreseeable future" as far as the farm-holding dominated lanes of Chesterfield are concerned. The city, he continues, has no plans to change Chesterfield. "The development that happens there is pretty slow. It's gradual, reflective of the pace of life there, and that's a good thing."