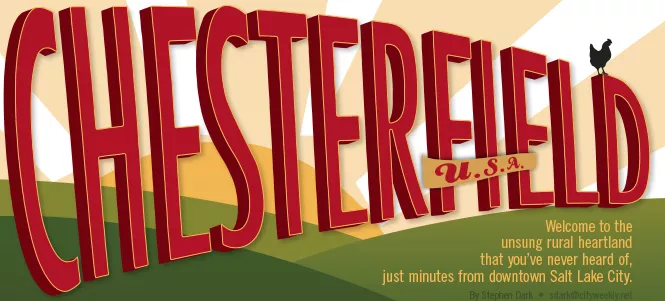 On a late spring afternoon on the far northeast corner of West Valley City, a Brink's security guard waits for a ride home outside the fenced-off lot of offices and armored vans, his lunchbox at his feet.
Palestinian-born Mohammad Jbailat crosses the street to ask a question. "Have you heard of Chesterfield?" The guard says no. Jbailat points behind him at dusty streets and tree-shrouded houses from which emanates the occasional cry of a rooster. That's the name of the neighborhood he drives through each day in his armored truck, Jbailat says.
Jbailat worships at the Khadeeja Islamic Center, a mosque located directly in front of Brink's. Its bulbous copper-orange dome and elegant faux-brick facade contrast sharply against the barbed wire-topped walls guarding whatever wealth the Brink's vans bring in every day. Jbailat looks at the neighborhood where Muslims have come to worship for 14 years. "I think it's pretty," he says.
The guard is not alone in his ignorance of Chesterfield. Ask most residents of the Salt Lake Valley, and chances are, while neighborhoods such as the Avenues and 9th & 9th ring immediate bells, they won't have heard of Chesterfield, which is only a 10-minute drive from downtown Salt Lake City. One of the oldest communities on the west side of the Jordan River, Chesterfield is bordered on the west by the busy commercial thoroughfare of Redwood Road, to the east by the Jordan River Parkway trail, to the north by Interstate 201 and to the south by the Redwood Recreation Center on 3100 South.
Ride Trax from West Valley City to downtown, and the train briefly glides through Chesterfield, offering glimpses of livestock in the back yards of half-acre-lot homes. It's this rural lifestyle that is at the heart of what makes the many unpaved roads of Chesterfield unique. While roughly one quarter of Chesterfield is zoned residential—notably the streets close to Redwood Road—the majority is zoned for agriculture. This allows residents to keep a certain number of livestock, including cattle, chickens, horses, rabbits, goats and even llama in corrals, coops, stables and their back yards. Animals roam around small homes. Shaggy sheep graze in one front yard, while a black rabbit in an unfenced yard nibbles at grass in another.
This bucolic portrait of hardscrabble Americana, where you are as likely to see a barefoot youth with a fishing pole over his shoulder as a man on a bicycle collecting scrap metal, lost its boundaries in 1980 when Chesterfield was swallowed up by the newly incorporated West Valley City. But, as WVC's director of Neighborhood Services Craig Thomas notes, while Chesterfield's geographical boundaries might have become "indistinct," its emotional boundaries—at least for its residents—endure. These residents remain fiercely committed to the neighborhood, and to its independence and rural values. "You do have some very vested residents who are very proud of where they live," says Thomas. "They see themselves as very independent down there. That's their home. They're never going to move, and the city is never going to tell them what to do."
Ask any lifelong Chesterfield resident—or any of the neighborhood's more recent arrivals, including refugees and Latino immigrants—about what defines their neighborhood, and one factor unites them: They all display an intense pride at being part of a rural community that, while historically looked down upon by neighboring townships east and west of the Jordan River, has seen its way of life not only survive but even thrive in a valley that has long since succumbed to the rise and fall of strip malls and high-density residential housing.
Other than its approximately 4,100 residents (according to a 2010 census), the only people who typically turn off Redwood Road into Chesterfield are there to drop off or pick up children at the American Preparatory Academy (APA), a 6-year-old charter school. Either that, or they are there to attend a service at one of five neighborhood churches, three of which were built in the past 15 years. Chesterfield's cheap lots made the area a prime location for large buildings for worship: "Where else can you buy an acre for less than $100,000 two miles from downtown?" Jbailat asks.
Apart from the background hum of freeway traffic, the only noises heard tends to be the crowing of a rooster, the clip-clop of a horse being ridden by an elegantly dressed Mexican cowboy and the croaking of frogs on the neighboring Redwood Nature Area. The Salt Lake County-owned reserve sits between Chesterfield's quiet streets and the Jordan river. "It now looks like the valley did before development," says West Valley City manager Wayne Pyle of the lush landscape.
As Pyle walks along the riverbank with a reporter, dozens of ducks placidly floating in the water erupt into the air as a bald eagle swoops down upon them. But human as well as avian predators have been part of Chesterfield's history, according to a half-dozen former and current law enforcement officers interviewed by City Weekly. They recalled working Chesterfield's night-darkened streets over several decades, battling meth labs and a few multigenerational criminal families.
However, contemporary Chesterfield, say police officers, is nothing like the mean streets of 30, 20 or even 10 years ago. "They are good people, although they do tend to be looked down on some times," says West Valley City's Thomas.
Everything has a balance, Jbailat says, and Chesterfield is no exception. "The outlaws came down here to party," he says. "Now, it's tipping back the other way." The churches—First Apostolic, Jehovah's Witness, Tongan United Methodist and the Khadeeja mosque—"brought good people to this area. One for sure," he adds with a laugh, meaning his mosque's spiritual leader, Imam Muhammed Mehtar. (One reason Mehtar bought a house in Chesterfield was so he could raise goats.)
Richard Nowak, who founded a Chesterfield-based nonprofit bird sanctuary, questions whether or not— as elderly residents die and developers apply to rezone agricultural land for condos—the community will fall prey to high-density developers. Nowak's neighbors, he says, "fear that eventually the city's going to turn this whole area into residential."
Pyle says he doesn't see developers attempting to push through high-density residential housing "in the foreseeable future" as far as the farm-holding dominated lanes of Chesterfield are concerned. The city, he continues, has no plans to change Chesterfield. "The development that happens there is pretty slow. It's gradual, reflective of the pace of life there, and that's a good thing."

BARE-ASS BEACH
Chesterfield's evolution from homes fashioned out of tents, railcars and dirt-floor shacks to a community of small farm holdings began in 1848, when Mormon pioneers first crossed the Jordan River to populate regions that became known as Chesterfield, Hunter, Granger and Redwood—the four areas subsequently incorporated into West Valley City in 1980. "Chesterfield has always been proud and fiercely independent of spirit," former WVC Mayor Mike Winder told City Weekly in 2012.
In Winder's history of West Valley City, entitled Let's Do It, he wrote that, by World War II, a financially strapped Salt Lake County was encouraging families to buy small, $10 lots in Chesterfield to build homes. They did, but the construction materials they had were meager at best. By 1940, 110 families had made Chesterfield their home—some of them in impoverished conditions. "Twenty-three of the 110 families inhabited one-room homes," Winder wrote. "Some were dugouts. Some were tents. Others were fashioned from 'rags, packing boxes and burlap. ... A one-time chicken coop houses a family of nine persons.'"
Louise Griggs has lived in Chesterfield for 69 of her 72 years. When she was a child in the 1940s, northeastern Chesterfield was a wilderness of saltgrass, she says, with no trees or streets. Old train cars—ice hanging off their walls in winter months—served as houses. "The only fun place we ever had was the Jordan River to swim in," she says—at a place they nicknamed "Bare-ass Beach."
Griggs was raised by Ma and Clark Griggs but doesn't know how or why she was adopted. She had two older biological sisters who were 5 and 7 when they were found wandering downtown Salt Lake City in 1946, victims of neglect, according to local newspaper stories at the time. She has been unable to locate them. "My one dream has been to find Frances and Luann," she says. "I don't know who I am, to tell you the truth. I was not well taken care of, but I was surely loved."
At age 5, she'd go down to the river, pitchfork a large carp, then take the fish to an African-American family who lived on Redwood Road, sell it to them for a dollar and, after walking a dozen blocks south, buy a foot-long hot dog and french fries at Arctic Circle. Fifty years later, after extensive flooding of the Salt Lake Valley floor in 1983, Griggs again used her pitchfork, this time in conjunction with a flashlight, against river rats at night digging under her fence to get at her baby ducks. "The only thing I could do was pitchfork them and that's what I done."
People made fun of the poverty of Chesterfield children, she recalls. The homes had outhouses. Families would pack water from nearby wells and run their laundry through a ringer. "That's what makes me appreciate everything I have," Griggs says in her living room, one wall dominated by a row of photographic portraits of the eight dogs she has owned.
"You know how many people ask me that?" she says, regarding why she has spent her life in Chesterfield. She says one big reason is, "I love animals, and I can have them here." She has horses, dogs and goats, some of them rescue animals. She whistles and calls, "Come!" and two of three horses in a corral behind her small single-floor house trot to the fence to have their muzzles stroked. Griggs is one of the few old-timers remaining. "Most of the people here, a lot of them died or moved away," she says.

"THE MUSCLE AND THE ASSHOLE"
For decades, Chesterfield was largely left to its own devices when it came to policing. The Salt Lake County Sheriff's Office had only four officers covering Chesterfield, Granger, Hunter and Redwood. After West Valley City was incorporated, former WVC cop Carl Dinger says, "they started enforcing laws, going into [Chesterfield and other neighborhoods], and it was brutal. It was like the Wild West."
Cops saw Chesterfield as a downtrodden, poverty-afflicted community, close-knit and uninterested in assimilating into the rest of the valley, officers say. According to one law-enforcement officer, in the 1980s, Chesterfield's claim to infamy was that, "The best dope was out of Chesterfield, Utah. It was Ground Zero for meth labs—at least until the early 2000s, when the Mexicans took over manufacturing and white boys got out of the dope game."
The era of methamphetamine labs died in 2003 when feds heavily restricted pseudoephedrine—a key ingredient in meth found in cold medications. Still, West Valley City Police Sgt. Todd Gray says, throughout his career, one thing remained a constant in Chesterfield: "There were seven or eight families where you arrested the father, the son, the grandson." He says a few residents still pursue thieving as a lifestyle, venturing out at night on bikes and scooters to steal metal or copper. "It's a way of life for them, how they get money for drugs."
William "Billy Mac" McCarthy came to know a few of those families intimately when, back in the early 1980s, he was a patrol officer for West Valley City, working Chesterfield on his own. One evening in fall 2014, the now-60-year-old ex-cop drove around Chesterfield, detailing in a South Boston drawl his recollections to a reporter.
McCarthy grew up in a housing project in Brighton, Mass. A few of the criminals he regularly ran up against in Chesterfield reminded him of some of the tougher characters he'd grown up with back East.
He and a fellow patrolman, Carl Dinger—another outsider, from New York state—made Chesterfield a personal project, McCarthy recalls. Those they chased would tell them, Dinger was "the muscle behind the asshole," the latter being McCarthy. Each Halloween, one Chesterfield home displayed an effigy of McCarthy in blue overalls putting a second mannequin into a makeshift jail. Dinger says, "They hated Billy, because he arrested them all the time." But McCarthy says he took it as a ribbing by longtime adversaries.
Chesterfield residents, McCarthy says, didn't accept the authority of his WVC badge, seeing themselves as accountable only to Salt Lake County. Most residents, he says, "were good, hardworking people." Those who did break the law abided by a code of sorts: "In 20 years, I close to never saw them steal from each other," McCarthy says. "If they did, they never reported it to us. They'd never rat each other out, no matter how much you'd try to twist them or flip them." The bad guys knew the game as well as he did. "My job is to arrest you; your job is to commit a crime," he'd tell them.
As McCarthy drives around the darkening streets, peering at small, dark houses where men he had arrested still live, he recalls the constant question, "What do you want McCarthy? Why are you always fucking with us?" His answer, he says, was "Because you're easy." He'd sit in a darkened car in the early hours and wait for someone to flick a lit cigarette out of their car window—which he says is littering—or drive by without an illuminated license plate and pull them over.
When he'd inquire who the driver was, usually somebody he knew well, the response would be, "Fuck you," to which he would reply, as taught to him by a supervisor, "Not without dinner and a movie."
At the end of his drive around his one-time stomping ground, the former cop turned private-sector worker, grows nostalgic. "I'd chase them, arrest them, let them go. 'Get you on the next one.' Wish I was still working here."

DEALER'S INFERNO
Not everyone, though, is a fan of Chesterfield. One former dealer who spent a year in Chesterfield in 2010, describes the community as an unwitting refuge for white supremacists seeking to hide out. He spoke on condition of anonymity for fear of retaliation from gang members he associated with.
"All these gang members have family members who live there and were raised in poverty," he says. "They purchased a house in Chesterfield and never left." Drug-related activity, he says, takes place in "somebody's mom's house, in a basement, in a garage, or a back yard. It's like this place in the middle of Salt Lake where everybody goes to hide. And it works."
Between midnight and 4 a.m., he would sit in someone's garage "smoking meth constantly and waiting for people to come over with stolen shit and trade it for drugs."
Outsiders, he says, are not welcome. "There was this underlying tone of something about to happen, something about to pop off," when he went out there. "If you didn't grow up there, and they didn't know who the fuck you are, something will happen to you."
Whatever the late-night gang activity, Sgt. Gray says contemporary Chesterfield is "a lot cleaner and quieter" than it was when he worked it. And credit for that, at least in part, he says, should go to West Valley City's compliance division.
Code-enforcement officer Ricardo Ramos, who has patrolled Chesterfield for 11 years, says his former boss told him all that mattered was, given Chesterfield's challenging nature, "Keep it clean and tidy."
He points to new houses that replaced near-derelict drug houses, where dozens of cars once congregated late at night. Then he slows down in front of a boarded-up property that belonged to a deported Peruvian man. Now, a bank owns it. "Banks are one of the biggest problems," he says. "They are slow to respond. $1,000 fine for them, it's just change."
One house close to the Trax line has been used as a dumping ground by its owner, Ramos says. Several cars, a 5-foot-tall lump of cement and acetylene tanks litter the yard. That morning, Ramos sent the owner a warning citation. If the owner does not act within 10 days, fines of $100-$400 per day will begin accruing. That same morning, Ramos is preparing to serve a $68,000 fine for numerous code violations to a property owner he cannot locate.
With Chesterfield, a code-enforcer's work is never done. "You start at one end, you work your way through, Ramos says. "Then, the next year, you start again."

TURKEY COURTSHIP
As much as Chesterfield resembles a country-lane refuge for those who value open space over curb-and-gutter improvements, it also provides a home for two nonprofits that provide shelter for wildlife. One is a sanctuary for abused and neglected horses, the other for rescued birds.
The Stable Place on Cassell Street was founded by Jayme Alexander. She moved to Chesterfield in 1999, after she found a 1 1/2-acre lot where she could keep her horses. "If people like you in the neighborhood, you won't have any problem," she recalls being told.
Alexander, a former truck driver, worked with Valley Mental Health and a private residential treatment facility helping children with behavioral issues work with traumatized horses. One horse had been beaten and was underweight, its mouth scarred from a previous owner using barbed wire as a bit to stop it from bolting. Another horse was rescued by Alexander's friend from a Vernal kill pen where horses are auctioned to be sent to Mexico and Canada for meat. "We take in in-need horses, we rehabilitate them, and we teach kids natural horsemanship," says Alexander. The children and the horses, she says, "both get rehab, so to speak." The horses are rehabilitated and adopted out. In total, Alexander says they've placed 30 horses "in their forever homes."
Alexander says Chesterfield "is the best place to live ever." Her daughter, Willow, rides a pony-drawn buggy to the local school, the American Preparatory Academy. The pony cart, Alexander says, "makes people smile." Chesterfield, she adds, "is our little inner-city paradise."
Several streets away is Avian Sanctuary and Protection, a bird refuge run by Richard Nowak. "If you are going to live in Chesterfield, you have to accept there are animals here," Nowak says, describing the neighborhood as a small oasis. He continues, "It depends which way the wind blows, as far as you know which animals are in which yards."
Nowak has a lot of avian company on his small property, taking in 326 birds in 2014. While no-kill shelters may spare cats and dogs, he says birds are euthanized after a week, so local shelters often bring them to him. Many of his feathered charges live in a 1970s-model single-wide trailer. "It's the only three-bedroom, two-bathroom chicken coop in the neighborhood," he says.
As he walks around his refuge, he's followed by Mr. T, a turkey that determinedly puffs up its plumage as it thrums, then softly rasps against the ground as it walks. Nowak sits in the front yard while, behind him, a parakeet named Charlie repeatedly squawks, "Come on in," and several African geese hiss protectively as he holds several chicks in his hand to feed them.
A quarter mile from Nowak's home-come-sanctuary, a natural bird refuge marks Chesterfield's eastern boundary. The Salt Lake County-owned Redwood Nature Area is a 63-acre mix of restored riparian wetland and manmade ponds and streams that feed its wetlands. John Sanders, Alexander's partner at The Stable Place, says this border means that Chesterfield—and their little horse farm—"has its own little nook of isolation."
The county purchased the land back in the 1960s. The effort to restore it to wetlands didn't begin in earnest until 2002. It remains one of the very few undeveloped larger spaces in the valley. Salt Lake County's Parks & Recreation director Lynn Larsen says the river is a "flyway for bird migration." Shorebirds such as avocets visit during their annual migrations. While some invasive plant species still remain, much of the wetlands now boasts poplars and bulrushes—an indication, Larsen says, that he and his volunteers are having success "keeping things as they were."

NEW ARRIVALS
While the reserve provides a bulwark against development to the east, residents argue the future of Chesterfield is further cemented by its five religious institutions: an LDS ward house near a business park on Chesterfield's northern edge, the First Apostolic Church, the Khadeeja mosque, the United Methodist Tongan Church and Jehovah's Witnesses' Kingdom Hall.
The First Apostolic was a former LDS ward house that was subsequently purchased by a religious group whose members angered local Mormons with their hostility toward the LDS faith—even running an anti-Mormon radio show.
In 1986, First Apostolic Pastor William Fitzgerald purchased the 1950s ward house for $65,000, he says. Children threw rocks at the windows, so he set out on a meet-and-greet campaign to distinguish his live-and-let-live attitude from the prior church's anti-LDS rhetoric. The First Apostolic has grown over the years to include a Spanish-language congregation that shares the building. Members believe in the literal word of the Bible and speak in tongues during the service "when the Holy Ghost is inside of us," Fitzgerald says.
With the addition of three new churches in the past 15 years and the American Preparatory Academy (APA) charter school, which opened in 2009, some residents believe the amount of traffic and activity these properties bring protects the community from further development. "Now they'll have a harder time of getting rid of us," Louise Griggs says.
Living one street over from Griggs, Mary Gordon—a 10-year resident whose daughter attends the APA—says the school "is the best thing that ever happened to this neighborhood" and has enhanced Chesterfield's crusty sense of community.
APA has 575 students grades K-9, 75 percent of whom qualify for free or reduced lunches. While predominantly a commuter school, some children from Chesterfield attend, although fewer than in the academy's first years when staff walked its streets, telling neighbors about the new school and encouraging parents to sign up for an enrollment lottery. Currently, the Chesterfield APA has 708 names on its waiting list.
Children in uniforms clap enthusiastically, leaning forward in their chairs, as they recite the Gettysburg Address from start to finish. Administrative director Debra Davies says APA's founder, Carolyn Sharette, opened her first school in a relatively comfortable Draper neighborhood, and was looking for "a place opposite of Draper," demographically, for her second school.
Chesterfield residents, Davies says, were excited by the school's opening. "Someone saw value in this community," she says. Still, it didn't go off without a few minor hitches: "The first day, we had a horse bite," Davies says. "Goats got over the fence and were running up and down the parking lot."
Although residents feel the churches and the school have been positive additions to their community, there is a downside: the rush of traffic to and from these institutions on roads that were once quiet. "People speed through here like it's nothing," Gordon says.

HORSE PRIDE
Along with the influx of churches and students, Chesterfield has also seen a growing Latino presence, reflected in the evenings by elegant Mexican cowboys exercising their horses on the streets.
Jose Martinez-Hernandez came to Utah eight years ago pursuing his dream of owning a restaurant. In Utah, he found a small shuttered restaurant on Redwood Road and Crystal Avenue on the western outskirts of Chesterfield. Its owner was operating a taco stand outside a salón de baile (dance hall). "It was bad, fallen," Martinez-Hernandez says in Spanish. He re-opened the restaurant under the same name of El Calor [The Heat] and built a menu that his cousin, Maribel says, defines what "authentic" Mexican food truly means. "It's like eating at home, it's exactly the Mexican taste," Maribel says. "If we want Mexican food, here's where we come."
Martinez-Hernandez serves handmade tortillas and his own specialty: mutton barbecue aka barbacoa de Borrego. Come the weekend, he says Latino families arrive from all over the Wasatch Front to eat there. Several years ago, he bought a home in Chesterfield a half block from his restaurant. "It feels like home," he says.
Refugees and families of Mexican descent who moved in over the past 20 years found in Chesterfield's agricultural zoning an opportunity to re-create the homes they left behind. West Valley City code enforcement officer Ricardo Ramos says he's encountered people of many nationalities who "come here, and it's like they still live like they did back in the old country. They tell me, 'This reminds me of my homeland.'"
That's a sentiment Jose Luis Pimentel shares. On a Friday afternoon, Mexican music wafts across an unpaved street from his home, which resembles more a rancho than a Utah agricultural holding. Bare-chested, Pimentel walks around his farm, reflecting in Spanish on crossing the Sonora desert at age 15 in search of the American Dream, with nothing more than a two-gallon bottle of water. It took him eight days to cross the border, plagued by snakes and scorpions. "It was an adventure, but it was very ugly," he says in Spanish.
He's worked for 29 years, he says, without a vacation, and he's tired. He started as a migrant farm laborer, then landscaper, construction worker and, finally, a restaurant worker. In 1994, he bought a house in Kearns but wanted to have a place where he could keep goats and horses, as his family did on their rancho in Mexico where he grew up. Several years ago, he discovered Chesterfield and bought a near-derelict property that was half-buried in garbage. It took many trips to the dump to clear it out, he says.
Pimentel shows off his goats and chickens, the latter of which he takes to markets in Provo and Ogden. His pride, though, is a statuesque, well-endowed black thoroughbred, which he calls El Pito (Spanish slang for "the penis"). He takes his horse out for exercise around Chesterfield's streets, where he knows most of the people and regards them as friends.

"A HIDDEN GEM"
Code-enforcement officer Ramos believes that Chesterfield, with its churches, its residents from many countries and its backwoods, country feel will remain faithful to its identity. "I think West Valley City has something like a hidden gem that I don't think any other city in the valley has."
The northwestern gateway to that gem is guarded on Redwood Road by a 45-year-old Union Labor Center, home to various union offices. Soft-spoken ironworker union rep Mike McDonald lived in Chesterfield after he married his wife who grew up there. "We bulldogged [steer-wrestled] and pretended like we were cowboys on Sunday and got drunk," he says.
It seems fitting that Chesterfield should have such a bastion of blue-collar values as the labor center watching over it. The old-timers, like McDonald, "guard [the center] with our lives," he says.
That kind of passion is evident in Louise Grigg's face as she talks about the land she has lived on nearly all her life. She gets up in the early hours for her job at L-3 Communications, working on computer boards. As she walks through her gate, she glances up each morning at the illuminated large cross, mounted on the Tongan church's roof, shining down through the trees.
"If I want to say something to God, I do," she says. Griggs looks around her garden as dark rainclouds gather overhead, and she prepares to head indoors. "I watched all these trees grow," she says about the poplars that huddle around her garden and shelter it from the silent street. Then, in simple terms any Chesterfield resident would understand, she says, "I'll die here," with a grateful smile.