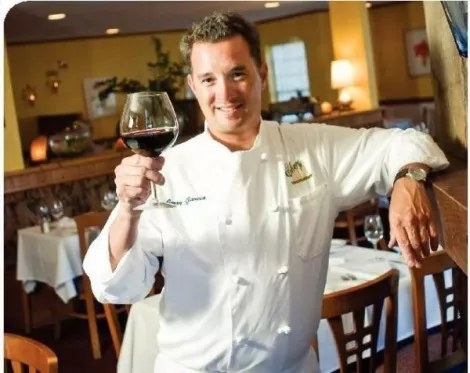 Don't mention The Dead. The Grateful Dead. Don't mention them at Chez Betty. Really. Just don't. Tom Bell, restaurant partner and brother of Chez Betty co-owner/chef Jerry Garcia says, "He's been known to simply turn around and walk away from tables when the subject comes up." He's been saddled by the name all of his life and he's heard all of the jokes. So, really: Don't mention the other Jerry Garcia. It's about the only time that the otherwise affable and outgoing (not to mention very talented) chef gets riled.

Naturally, the first thing I did when I visited Chez Betty during the Park City Food & Wine Classic was to ask Garcia about the Grateful Dead. He didn't hit me. But, I can tell you this: He'd much rather talk about his love of motorcycle racing (he and Tom are serious racers) or his love of cooking … or just about anything else.

Park City's Chez Betty restaurant is now in its 16th year. Bell and Garcia have operated it since 1996, after taking it over from the previous owners, Michael and Barbara Rapp. Over the years, I've seen Chez Betty grow and mature. It was one of Utah's first restaurants to showcase fusion cooking and pan-Asian flavors in combination with the rustic, mountain cuisine befitting a ski town. Last week, I dropped in for a Chez Betty wine dinner featuring wines from Chateau Ste. Michelle and Columbia Crest.

The evening kicked off with passed hors d'oeuvres and Domaine Ste. Michelle Blanc de Blancs bubbly, poured by the longtime Chez Betty barman/server known as Robo. In Robo's good hands, the party was off to a festive start; Ste. Michelle's tasty bubbles didn't hurt, either.

Sipping the sparkler, I got a chance to chat about the restaurant with Bell, who said they'd had a tough time this past winter. Just when things were looking good financially after all these years, the recession hit and affected many Park City restaurants. So, Tom and his crew are hoping that this summer their locals will come through. After all, it's Park City locals, primarily, who have been most loyal to Chez Betty over the years. Many people think of Chez Betty as a "destination" restaurant, but locals know better. The prices at Chez Betty are lower than at many of the town's higher-end eateries, the restaurant itself is warm and comfy, and the seasoned staffers know most of their repeat customers by name. Plus, there's free and easy parking at Chez Betty, which is located in the Copper Bottom Inn.

A rich soup made with Utah apricots, curried yogurt and Riesling paired well with 2007 Chateau Ste. Michelle Dry Riesling, and was followed by Honduranstyle ceviche: yellow-fin tuna with coconut and green chiles, which worked surprisingly well with 2006 Columbia Crest Grand Estates Chardonnay, an elegant and refined, feminine Chardonnay with a good balance of oak and fruit. I think the Chardonnay would also be a knockout with Chez Betty's sautéed turkey scaloppini with rock shrimp and chive risotto.

Moving on to zippy, hoisin-barbecue sauce-topped salmon with Pearl sake-lemongrass broth, I couldn't get quite enough of the Columbia Crest Walter Clore Private Reserve Meritage, served alongside. It's a classic Bordeaux-style blend of Cabernet Sauvignon, Merlot and Cabernet Franc. Bordeaux with salmon? Well, yes. It made sense with the smoky and spicy sauce—a clever and unexpected pairing.

When asked about creativity in the Chez Betty kitchen and how he creates dishes like spring pea and green curry risotto or "Low Country-style" shrimp & grits, Garcia is quick to share praise. He gives sous chef Brent Whitford credit for conceptualizing and creating many of the dishes on the Chez Betty menu and also makes sure to give props to his pastry chef, Amy Taylor. Chef Garcia strikes me as a generous, appreciative, soft-spoken, gentleman chef—the anti-Gordon Ramsay, if you will. It's a good thing, since the Chez Betty kitchen is small, and a screaming chef would be easily heard throughout the cozy dining room.

Throughout the evening, Joel Butler, master of wine and director of education for Ste. Michelle, deftly fielded wine inquiries from the mundane to the highly geeky, all with expertise and good humor. By the time we knifed into tender, medium-rare, panroasted slices of Kurabuta pork tenderloin with huckleberry-balsamic sauce, my tastebuds were getting fatigued, frankly. But the delicious pork reawakened my enthusiasm and the accompanying Chateau Ste. Michelle Ethos Syrah hit all the right notes.

With such a bounty of great food and wine, served up with big doses of friendly professionalism, I could barely put a dent in pastry chef Taylor's vanilla brioche bread pudding with brown sugar peaches, candied pecans and Mascarpone ice cream. But, reminding myself that this is my job, I forged ahead, right through the Ste. Michelle Late Harvest Chenin Blanc and that outstanding bread pudding. And, I'd do it all again in a heartbeat.

Maybe that's a good word to help describe Chez Betty: heartbeat. This is a restaurant with a heartbeat. There is heart and soul here, seasoned over the past 16 years. It's both a place of comfort (I think you'll always be able to count on finding the uber-popular New Zealand rack of lamb on the menu) combined with creativity. At its heart, though, there is a toasty warmth that permeates Chez Betty. I have little doubt that warmth will always be there for the taking. Just don't mention The Dead.

CHEZ BETTY
1637 Short Line Drive (Copper Bottom Inn)
Park City
435-649-8181
ChezBetty.com