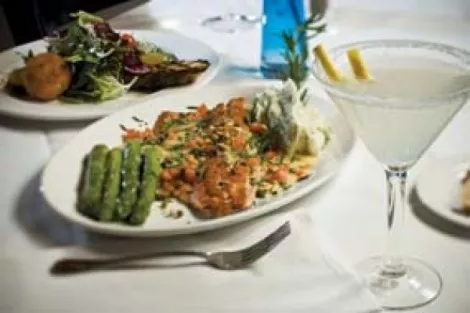 Over the span of a few days this month, I dined in two very interesting restaurants. One is just a half hour from Salt Lake City, the other much farther. I don't normally review out-of-state restaurants in
City Weekly
, but I found the similarities and differences between Park City's Mustang and 10 Arts by Eric Ripert in Philadelphia illuminating. Both are individually owned establishments; both are quite chic; and both could be considered "destination" restaurants. Neither is without flaws. n
Mustang in Park City's Marriott Plaza is the creation of chef and owner Bill Hufferd, who toiled for many years as the popular chef at Riverhorse on Main. The food at Mustang, like the décor, is vibrant. The restaurant is splashed with bold colors throughout; yellow-hued walls are adorned with modern abstract art, and there's a vivid rainbow of highlights throughout which helps create a lively atmosphere. Someone also has paid a lot of attention to the lighting design. At first, though, I found the atmosphere at Mustang a little confusing; I couldn't detect a steady "theme." But upon returning, I've come to enjoy the eclectic style of the restaurant.
n
I was eager to visit 10 Arts by Eric Ripert, the new Philly outpost of Le Bernardin's (New York City) famous chef. Le Bernardin is almost unanimously considered to be one of a handful of great American restaurants, which also includes Charlie Trotter's, Daniel, Chez Panisse, Union Square Café and the French Laundry. Walking into 10 Arts in Philadelphia's Ritz-Carlton is a humbling experience. A soaring domed rotunda defines the hotel lobby, which doubles as the 10 Arts lounge and restaurant. It's difficult to distinguish one from the other. Indeed, the scale of the place is so massive that, walking up to the hostess station, one feels a tad minuscule. But my son Hank and I were greeted warmly and quickly seated, albeit at the worst table in the place. That's probably par for the course when you dine with a 9-year-old. Still, there were only two other tables with customers on an early Saturday eve, so they didn't have to put us next to the service station. By contrast, at Mustang, we were asked where we'd like to sit. Score one point for Park City.
n
I was amazed that 10 Arts even had a kids' menu and even more amazed that it offered real food. I ordered a glass of chillingly overpriced Chardonnay and did the best I could to peruse the menu—in the dark. You see, 10 Arts—being situated in that massive rotunda—has no ceiling lights, or any ceiling at all to speak of. I mean, there's no place to hang lights from. So the only light is provided by colorful glass-encased pillars scattered here and there, and one oil-fueled tea light candle per table. 10 Arts is a great place for a dark and intimate rendezvous, but not such a great place for reading menus with your son. Score another point for Mustang, where you can see the menu.
n
We kicked off dinner at Mustang with a ravishingly delicious Lemon Drop cocktail ($9.95) and, for me, a glass of Coppola Sauvignon Blanc ($7.95) before wading into the carpaccio of filet mignon ($12.95), kissed with Sagra EVO and topped with arugula, radicchio and curls of fresh Parmesan. At 10 Arts, I had carpaccio ($15), too. This one was a plate of tissue-thin orange-pink tuna slices, judiciously adorned with minced chive and shallot and dressed with the subtlest hint of olive oil and lemon. It was a rare case of tuna carpaccio in which I could really taste the tuna, which in most restaurants is overdressed. Mustang's beef carpaccio was equally satisfying. A tie.
n
Our 10 Arts server Stephani was exceptional. She rolled with the punches of having to make chocolate milk from scratch for my kid (no charge, by the way) and provided an almost ghostly presence—mysteriously appearing out of the ether (or maybe just hiding in the 10 Arts shadows) when needed, out of sight when not. As much as I enjoyed the friendly and outgoing approach of our Mustang man, he was a little too present, maybe because it was a slow night. One point for Philly.
n
Le Bernardin is famous for its bouillabaisse, so of course, that's what I ordered at 10 Arts. Frankly, I wasn't elated with the portion size for $33. A jumbo-size bowl was strewn with two or three clams and a couple mussels, one large head-on prawn, dainty half-moons of potato, a wonderful fennel-infused broth and a thin 4-inch by 4-inch trout "tile." Oh, and a single toast point. The bouillabaisse was divine; there just wasn't enough of it. And Ripert's french fries ($8) bummed me out: short, stubby and skinless little rosemary and garlic fries. A bigger disappointment was my son's pasta, labeled as tagliatelle with marinara ($9), but wound up being alphabet noodles instead. He may be only 9, but Hank prefers tagliatelle.
n
At Mustang, my thyme and garlic-marinated ribeye steak ($38.50) was doused with too-salty herb butter, and although cooked medium-rare, the meat was tough and chewy. The fries accompanying the ribeye might have come from a Sysco container, but were still better than Ripert's. Chef Hufferd's Utah red trout ($32) was flawless: delicate and tender in a silky lemon-butter sauce with capers, minced Roma tomatoes and toasted pine nuts. In the entrée category, 10 Arts and Mustang both excelled and disappointed. Another tie.
n
Surprisingly, the tab at Mustang was almost identical to my 10 Arts bill: Both were steep. But I'd gone to Mustang equipped with a $25 discount coupon (with two entrees), plus a $5 corkage fee, which softened the pain a bit, as did the validated free parking (10 Arts cost me $18). And, hey, saving a little coin in this day and age is a winning formula, no matter where you dine.
n
n
MUSTANG
n890 Main, Park City, 435-658-3975, MustangParkCity.com
n
n
10 ARTS BY ERIC RIPERT
n10 Avenue of the Arts, Philadelphia, 215-523-8273, 10arts.com tttt