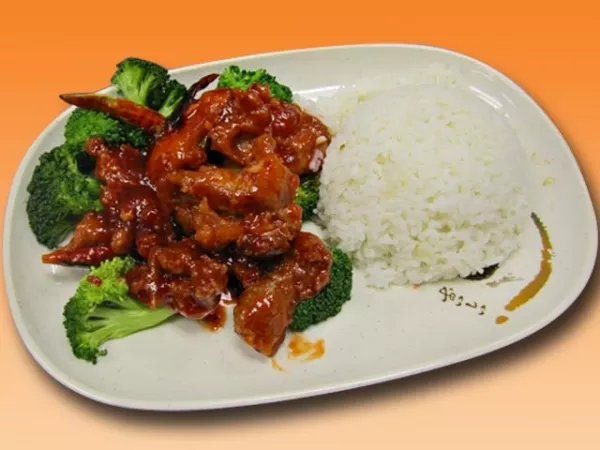 It's always a bit complicated to write about Chinese food in this country, since Americans' ideas about what constitutes Chinese cuisine vary as much as the actual regional cooking of that country. For folks of my parents' generation, good Chinese food was chop suey, egg rolls, moo goo gai pan, egg foo yung and a handful of other dishes introduced to America a half-century or longer ago. For many Americans today, it's ham fried rice, potstickers, sweet & sour pork, or the ubiquitous General Tso's chicken and anything kung pao that defines Chinese cooking. More recently, the pan-Asian fare of places like Panda Express and P.F. Chang's seems to have grabbed Americans' attention.
So, when people ask for Chinese-restaurant recommendations, I usually ask first what dishes they like. There are literally dozens of places along the Wasatch Front to get adequate versions of beef & broccoli or General Tso's chicken. But there are only a handful where you can find duck feet in oyster sauce, cod with pickled cabbage, Chinese hot pots, salt-baked shrimp and the like. I've already reviewed most of my favorites: Szechuan Garden in Sandy, Red Maple and J. Wong's in Salt Lake City, and Bountiful's Mandarin restaurant. But, it's been many, many years since I dwelt on the best of them all: Little World. And I recently discovered a couple of Davis County Chinese eateries that are worth visiting, too. Read on.
Like many, my first encounter with Little World Chinese Restaurant (1356 S. State, Salt Lake City, 801-467-5213) was a shocker. I've never used the term "anti-ambiance" before, but it might apply here. The former Winchell's Donut shop hasn't changed much since the Winchell days, with the exception of roast ducks hanging here and there and a lot of high-volume Chinese being spoken/shouted in the kitchen. Booth seating takes up most of the small restaurant, and customers must walk outside, around the small building and through an unmarked back door to use the restroom. J. Wong's, this is not.
But don't let the (lack of) décor scare you away. Little World would fit nicely into the world's best Chinatowns. And contrary to what I've read in some online postings, I've never had anything but prompt, courteous—even friendly, at times—service there. And no, they don't have a clue who I am. Maybe I get better service because I don't order the cream-cheese wontons ($5.95) or ham fried rice ($6.80), although they are available. If you can't handle the ambiance or service, there's a take-out window at Little World that should fit your needs nicely.
I can't resist the potstickers. The plump, firm dumplings are handmade in-house, stuffed with ground pork and Napa cabbage, and seasoned with a hint of star anise (six for $5.80). They're easily the best potstickers in town (yes, even better than Ho Ho Gourmet). The hot & sour soup ($1.35) is another must-have when I visit Little World: rich, spicy broth spiked with Chinese black vinegar and bits of roast pork, tofu and cloud ear mushrooms. I hope they never realize that folks would happily order the heavenly hot & sour soup at three times the current price.
It would take a tome the size of a Salt Lake City phone book to do justice to the 300-plus dishes available at Little World—not counting family dinner combos for three to eight people. I've yet to try the deep-fried intestine (beef, I assume) or the crab and fish-stomach soup, for example. But I have made my way through much of the menu over the years, and have some favorites to recommend.
First though, a piece of advice: Head for the back of the Little World menu where "chef's specialties" are listed. This is the good stuff—the things that Chinese patrons order. For instance, you can't go wrong with a big plate of steamed Manila clams bathed in a silky black-bean sauce, with onion and chopped green peppers ($12.95). A similar dish featuring tender chicken chunks and green beans with black-bean sauce ($8.90) is also delicious.
On a cold day, I love a big bowl of soup—specifically, the roast duck with egg noodles ($7.45). It's a heaping pile of skinny al dente Chinese egg noodles (similar to ramen) in a steaming, light duck broth with bok choy quarters and hacked up, bone-in roast duck—not the easiest thing to eat with chopsticks, but worth the effort. Not so incidentally, portion sizes at Little World are extremely generous. Clams with black-bean sauce came with enough steamed rice to feed four people. The phrase "bang for the buck" comes to mind. So, be adventurous, go forth, and enjoy the best Chinese food this town has to offer.
Or, drive north, where you'll find some really good fast-service Chinese food at Kaysville's Mandarin Café (242 N. 300 West, Kaysville, 801-544-2221)—a small, clean place tucked away in a little shopping center. If you don't mind mixing your meat with shellfish, the Hunan beef with scallops ($9.95) is excellent, as is the delicious, spicy ma po tofu ($6.95).
A few miles farther up the road, in Clearfield, is a terrific new Chinese eatery called Sichuan (1266 Legend Hills Drive, Clearfield, 801-774-8646). Among the dishes I'd happily return for are shrimp with garlic sauce (not too garlicky) ($11.95), ma po tofu with pork ($7.95), salt & pepper shrimp ($11.95), Sichuan shredded pork ($8.95) and, my favorite, perfectly spiced Sichuan chicken, with hints of anise and plenty of heat from whole, dried red chili peppers ($8.95).
Yes, Grasshopper, there is outstanding Chinese food here—if you know where to look.