Page 2 of 3
The Latter-day Liberal
Being a Mormon and a Democrat is not unheard of. But an LDS, Democratic legislator who actually gets stuff done is a unique Saint indeed. Sen. Ben McAdams, D-Salt Lake City, however, sees no contradiction or anomaly between his politics and his faith.
"People ask me how can I be a Mormon and a Democrat, and I think for me it's very simple—I'm a Democrat because I'm a Mormon," McAdams says.
McAdams is proof that not only are liberal Mormons not outcasts from some lost tribe, but that they exist and can, in fact, be effective policy leaders.
McAdams joined the state senate after working as a senior adviser to Salt Lake City Mayor Ralph Becker. He served his first session in the 2011 Legislature and passed the most bills for his party—11 out of 19 proposed bills.
McAdams, who grew up in West Bountiful, says as a lifelong church member, his formative days were apolitical, but that he did hearken to the progressive call—ironically, while serving an LDS mission in the slums of Sao Paulo, Brazil, one of the world's largest and most impoverished cities. It was there that the disparity between education access for poor and wealthy Brazilians struck an idealistic Elder McAdams as fundamentally unfair.
"Really, on my mission in Brazil is when I became more socially conscious of the opportunities that good public policy could afford people—and that bad public policy could close off to people," he says.
McAdams hit the Hill strong in 2011. He passed a package of bills aimed at thwarting various forms of securities or investor fraud that so often strike Utah. McAdams drew upon his legal experience in securities law to draft legislation that, among other things, enhanced penalties for those who use common religious or fraternal affiliations to help part investors from their money. Besides his background in securities law, McAdams' motivation was drawn from outrage at how LDS communities are so often plagued by con men who dupe investors by using their common faith to lubricate their deals.
"I've chosen to raise my family in Utah," McAdams says. His family lived in New York for several years, but he and his wife were ultimately drawn back to Utah. "People here are friendly and welcoming. They're quick to see the good in others, and I think it's outrageous ... that so often people will turn that against us and use our trust and willingness to see the best in others to take advantage of people and rob them of their savings."
It was a series of bills that enjoyed widespread support among his conservative colleagues on the Hill, but not every bill got such a shot. McAdams was unable to move a bill to extend nondiscrimination protections in housing and the workforce for LGBT Utahns past the Senate Rules Committee. McAdams feels that with polling showing a majority of Utahns supporting statewide protections for LGBT Utahns, his bill may have better traction in the next session.
A sensitivity to LGBT issues is another attribute that McAdams says is uniquely tied to his faith. It's another that goes back to his days as a bright-eyed missionary. He recalls a missionary companion who mentored him when he was new to the mission and struggling to adjust.
"The successes I think I had on my mission—and I'm not talking about baptisms necessarily, but in terms of moral growth and becoming somebody respectable—a lot of those values he taught me," McAdams says. Years after he left the mission field, McAdams stayed in touch with his former companion and remembers how touched he was when he came out to McAdams and his wife, admitting that he was gay. Having had struggles with the church, he eventually left the faith.
"That was really a big moment for me when he came out ... realizing that it didn't change anything," McAdams says. "I still view him like a brother and look up to him and support his decision to be who he wants to be."
You May be A Mormon Liberal If …
Doctrine & Covenants Section 93, Verse 36 ("The glory of God is intelligence, or, in other words, light and truth.") is underlined in your scriptures.
"If you're familiar with LDS theology, there's a statement by Joseph Smith that the glory of God is intelligence," McAdams says. "That speaks to a core LDS value: We value knowledge and learning. Joseph Smith said we should seek learning from the best books, and not just books that support my point of view. If you value learning and education, you may be a Mormon Democrat."
For McAdams, that's a principle lost on members who disavow the near global consensus in the scientific world on climate change or evolution. He also points to sermons of King Benjamin from The Book of Mormon who called on his people to serve one another, the sick and the needy.
"If you think that it's a moral value to care for those who don't have the opportunities and financial means … that's a democratic value."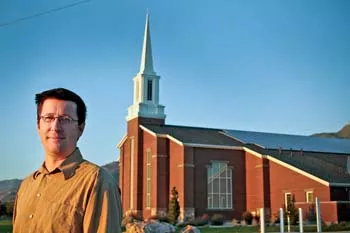 A Green-Meetinghouse-Designing-Machine
For architect Jonathan Kland, LDS scriptures and environmentalism go together like Lego building blocks. A young Kland learned the joys of building as a toddler Lego prodigy, building everything he could think of, including a miniature Noah's ark. As a young LDS kid growing up in Southern California, his parents also taught him something else that would leave an impression on his future—good old-fashioned Mormon cheapness, er, thrift.
"My parents are very conscientious about not wasting—I think that's a Mormon trait," Kland says. "Making use of the things we have and not getting something just because it's new if what you have is useable and still workable—those are the principles I was raised with."
Kland received his undergraduate degree in construction studies at BYU and a master's in architecture from the University for Florida before working in architecture firms in San Francisco and Portland. He believes his church's teachings about being a "good steward" to the Earth mean that conservation is the key to honoring one of God's greatest creations.
"I think the greatest gift we have been given is the planet—this Earth," Kland says. "I think that's where religion plays a role. It says the creation of the Earth is sacred and it helps motivate us through a love of the Earth and a love of God and a love of all living things."
Kland says many Mormons tend to see natural resources in terms of timber to chop and oil to drill coming from Genesis Chapter 1 Verse 5, where God gave man "dominion" over the Earth. Kland has a hunch for why the scriptures informed his beliefs differently than they did some of his LDS brethren.
"I think it had something to do with not growing up or living in Utah," Kland says. Growing up LDS outside of Utah was a learning experience for Kland, who became aware of the energy drain homes have on the environment when studying architecture in Florida. He took that passion and now, with a missionary-like zeal, has taken on the crusade of green building that uses few resources and leaves as tiny a footprint on the environment as possible.
Kland worked for the church between 2008 and 2010, during which time he helped draft designs for clean, green and Leadership in Energy and Environmental Design-certified meetinghouses.
In 2010, the church built a prototype meetinghouse in Farmington that attained LEED Silver certification and was lauded for its solar-panel energy system and its special plumbing fixtures, which reduce water use by 50 percent. During that same time period, Kland worked to develop a model for smaller LDS meetinghouses outside of Utah. He helped design modular energy-efficient meetinghouses that allow the option of building onto the meetinghouse in energy-efficient ways as the congregation grows over time. Construction on the prototype is expected to begin on a site adjacent to the Kansas City Temple later this year.
You May Be An LDS Environmentalist If …
You have a garden.
For Kland, once you get past debates about climate change, LDS principles of thrift and self-reliance make it easy to understand why it's easy being green … and Mormon.
"As recently as the '80s, [former LDS Church President] Spencer Kimball always said. 'Plant a garden.' He'd say that over the pulpit," Kland says. Families who grow their own instead of relying on restaurants or the agriculture industry, he says, help themselves out, as well as the planet. "You don't get more local or sustainable than that," Kland says. "That's a huge step to living off the grid, if you will, and a lot of people do that. Not only is it cheap, but it connects you with your environment."