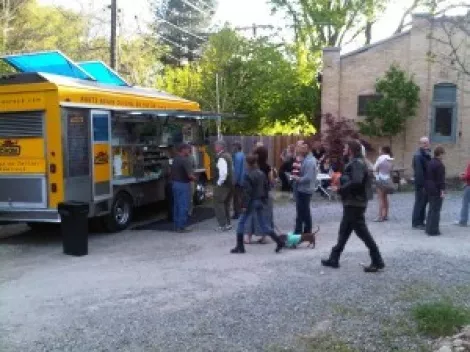 Lunch at the Chow Truck.
chowtruck.com
Fast Food
T
he Chow Truck, which sells its bistro fare out of a food truck, is being forced to move every two hours because of a Salt Lake City law that prohibits them from staying in one place for any longer, even in a private lot. Owner SuAn Chow met with city officials on June 9, and afterward tweeted that "everyone is in support of making progressive changes" to the laws. Lisa Harrison Smith, Salt Lake City Mayor Ralph Becker's spokesperson, said the city is studying the issue. That sounds good, but what's too study? Portland has loosened food-truck laws in recent years and now has a burgeoning mobile-food culture (click here for a PDF about Portland's use of food carts for urban revitalization). Apparently, however, the city would prefer to study and study more while also enforcing ridiculous laws. What's next, those pesky lemonade stands?
Giving One Percent
The Crusade for the Homeless is urging Utahns to donate 1 percent of their income to help end
chronic homelessness. Founder Jack Gallivan told The Salt Lake Tribune that participation from just 20 percent of Utah residents could bring in $100 million. The money would go to the the Housing First effort, which has built 500 low-income housing units that permit people to rent apartments by paying just 30 percent of their income. While the ultimate goal of the group—to end homelessness within 10 years—may seem ambitious, their approach actually aims to help the homeless. That's a welcome change from the inconvenience that the homeless seem to pose for Salt Lake City officials.
Safety at the Pump


The oil spill that fouled the waters of Red Butte Creek, killed fish, stained birds and closed Liberty Park will not cause any grief for motorists. According to Chevron officials, crude oil supplies are fine, which is good news to the AAA of Utah's Rolayne Fairclough, who told the Tribune that "it would be a very unfortunate time" for a gas shortage. After all, it's summer, which means Utahns need to drive large vehicles hundreds of miles, generally pulling a trailer loaded down with other gas-guzzling toys. Hey, gas prices have already weathered the BP oil spill—they actually dropped 16 cents in the last month in Utah—so it would be a tragedy if the Chevron pipe break caused prices to jump.