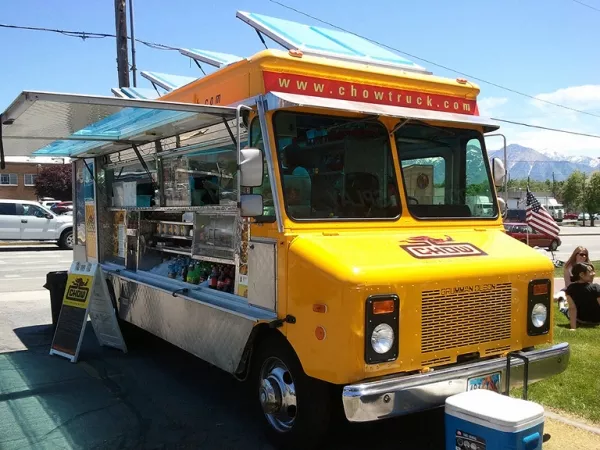 Chow Truck Parks
When I ran into SuAn Chow recently, I was happy about the news she had to share—and Davis County residents will be, too. Her Chow Truck (ChowTruck.com) was Salt Lake City's first "haute cuisine" food truck, and it has become a staple of our city's moveable feast, offering Asian-inspired tacos, sliders, salads and other tasty items. Well, shoppers at Farmington's Station Park will soon be able to enjoy Chow's chow as well: A brick & mortar Chow Truck location is opening in the west pavilion of the shopping center. "With more space and equipment, I've been able to add some fun new items to the menu," Chow says. "For example, we're doing a grilled airline chicken breast with citrus aioli and plum-ginger sauce." In regard to moving indoors just as the weather is turning frigid, she adds, "It will also be a treat to have air conditioning in the summer and heat in the winter at Station Park."
Ceviche in the City
Where food fads are concerned, the rapid rise of Peruvian fare in the United States is one I'm happy to get behind. It seems to me that ceviche is quickly replacing sushi in popularity as one of America's trending foods. Well, if you'd like to experience the diversity of Peruvian flavors, head to The Infinity Event Center (26 E. 600 South) on Saturday, Dec. 6, for Taste of Peru. The event is an international gastronomic fair showcasing Peruvian cuisine in Utah with cooking exhibitions, food and drink samplings and tastings, contests, live music and more. Participants include Puro Peru Peruvian Grill, Del Mar al Lago, Ceviche 801, Inca Cola, Pisco Portón and others. Tickets are $3 and can be purchased at SmithsTix.com.
More Habit to Love
The Habit Burger Grill (HabitBurger.com) has opened its sixth Utah location, this one at 508 W. Antelope Drive in Layton. As always, Habit kicked things off by donating 100 percent of proceeds during its opening days to local nonprofits. The beneficiaries were Utah Easy to Love, Northridge High School and The Utah 1033 Foundation, which aids families of fallen police officers.
Quote of the week: Beauty does not season soup.—Polish proverb